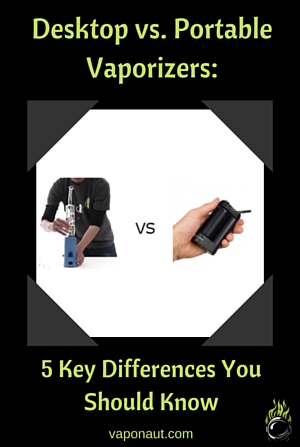 Are you the outgoing and adventurous type…?
Or are do you like to spend your free time from the comfort of your own home?
Different vaporizers suit different lifestyles.
While the decision to go for a desktop or portable vaporizer might seem easy…the choice does get harder when:
You're on a tight budget;
You want to vape outside but vapor quality is one of your top priorities (trust me… it really should be);
You usually vape in a home environment, but want the possibility to vape outdoors as well.
If any of the above applies to you, you've come to the right place.
In today's post you will learn the five (5) most important differences between desktop and portable vaporizers…
Really, the differences go further than one being portable and one stationary…
…and if you absolutely need to make a choice, you need to know these differences.
But more importantly…
You will learn that you actually don't have to make a choice.
Here's why:
There are portable vaporizers with desktop qualities, and;
You can get both a desktop and a portable vaporizer, which actually are of great quality.. if you have a budget of at least $300.
But first let's build you a solid foundation, starting with the first key difference…
Or browse by paragraph: Click any of the links below to jump to each paragraph:
1. The Most Advanced Vaporization Technologies
2. The Bigger They Are… The Harder They Hit
3. Why Desktops Are Better for Long Sessions & Easier to Share
4. Give Yourself Options with Advanced Inhalation Methods
5. One KEY Advantage of Portable Vaporizers
Summarized The Portable vs. Desktop Debate
Exceptions to The Rule
1. The Most Advanced Vaporization Technologies
Just like with a computer, the bigger a vaporizer is and the more power it has access to…
…the more advanced and the more sophisticated the technologies used in it are.
From halogen bulb heating elements heating your herb in a matter of seconds, to advanced heat-retention algorithms keeping the temperature in your herb chamber super-consistent…
Desktop vaporizers are the cream of the crop when it comes to vaporization technology.
On a frequent basis vaporizer manufactuers hit the market with freshly baked and patented vaporization technologies and it's hard to keep track, but some of the most noteworthy technologies specific to desktop vaporizers are the following:
Precise & reliable temperature control in 1-2 degree increments;
Extremely powerful heating elements with 100% convection-style heating;
Advanced inhalation methods (balloon/whip);
Forced air vapor delivery, for if you're drawing capacitiy is low (or you're just really lazy);
Inegrated water- and air-filters for moist and extra clean vapor.
Now:
All of these technologies lead to many advantages, but three (3) of these advantages you as the user will benefit the most from.
Continue below to find out what these four (3) main benefits are. But realize there's ONE thing portable vaporizers can't be outclassed in…
2. The Bigger They Are… The Harder They Hit
If there's one thing desktop vaporizers outclass portable units in…
…it has to be producing big and powerful clouds of vapor that are potent enough to put you down on the floor, begging for mercy!
What makes desktop vaporizers so powerful compared to their portable little brothers?
It's the sheer fact that they are powered through a standard A/C power plug. Compare this to a 2000-3000 mAh battery and it's no contest really…
Desktop units reach far higher power levels than their portable brothers.
What does this mean for you?
Extremely powerful and advanced heating elements, producing colossal clouds of thick and milky vapor, potent enough to power you through the sound barrier.
3. Why Desktops Are More Efficient and Easier to Share During Long Sessions
Everyone's got a different vaping pattern:
Maybe you like to vape on-demand, just quickly get in a couple of hits and get out;
Or maybe you really like to take your time, sit back and puff it up slowly in an extended vaping session.
Of course this is also fully dependant on the situation you're in while vaping…
If you're at a concert you're not going to pull out your luxury sofa, pull out your big-ass desktop vaporizer, sit back and enjoy a 3 hour vaping-session.
But for for those of you who do like long sessions, a desktop vaporizer will be the most efficient choice.
Here's why:
Desktop vaporizers usually make 100% use of convection style heating.
What this means for you is that your herb will only get exposed to the heat when you're drawing, conserving your herb between draws.
This in contrast to almost any portable vaporizer, where once you power it always some conduction heating is present. This is because portable vaporizers are so compact that the heating element always is close to the herb chamber.
If you don't want to waist any herb with a portable, you better finish up your bowl quickly.
But I don't care about efficiency, I just want a vaporizer that's easy to share with my buddies. And a small cordless vaporizer just seems way easier to share…
If you like long sessions, you know… those sessions with more than just a few draws per person (like you are on the weed welfare program)…
You'll soon come to realize, that small portable vaporizer of yours just doesn't cut it with more than two (2) people…
Medicating takes too long with those powerful but tiny clouds.
Besides it's quite annoying to constantly have to refill the bowl.
You need something that produces big and tasty clouds, and does it fast, so sharing becomes EASY:
Yes you guessed it…
A desktop vaporizer!
So why are desktop vaporizers easier to share during long sessions?
Desktop vaporizers have large bowls/herb chambers and more powerful heating elements.
If you would want it, you could fill up your big desktop bowl completely (keep in mind to never fill your bowl up more than 80% to keep a proper airflow). Combine this with the efficiency of a powerful, 100% convection heating system…
…and you got all the ingredients for a pure, unadulterated, extended and efficient vaping journey. No constant grinding and refilling!
If group-vaping is your thing, of all desktop vaporizers, balloon-style vaporizers like these are your best option:
Here's why:
Balloon-style vaporizers are foolproof in their use;
Balloons are super easy to pass;
Balloons are large enough to serve multiple people, and;
Are quickly ready for use with a powerful desktop vaporizer pumping vapor like nobody's business.
But even if you don't like long sessions and efficiency is a top priority for you…
A desktop log vaporizer like the E-Nano with its small bowl, will provide you with a more efficient vaporization experience than almost any portable vaporizer!
4. Give Yourself Options with Advanced Inhalation Methods
With a portable vaporizer you directly inhale from the mouthpiece, nothing fancy just simple and decent direct-draw inhalation, which definitely has benefits in terms of efficiency and flavor.
But efficiency and flavor are only one part of the equation…
With a desktop vaporizer you have more inhalation methods that have their own pros and cons, and for some of you the benefits of these inhalation methods will outweigh the benefit of a little extra efficiency and a bit better flavor that direct-draw inhalation provides.
So what are these mystical inhalation methods I'm talking about?
Here they are:
Detachable balloons (bags) for cool and huge clouds of vapor while staying mobile. Balloon-style vaporizers are the easiest vaporizers to use and simply the best for group-vaping;
A whip for massive and intense draws, while keeping a comfortable distance between you and your vaporizer.
Integrated water cooling for even bigger and more intense draws… seriously if you want to get close to a bong-like experience you should check out vaporizers like the VapeXhale Cloud EVO or Life Saber Vaporizer.
5. One KEY Advantage of Portable Vaporizers
After reading all these benefits of Desktop Vaporizers you might be wondering:
Why would I ever get a portable…?
Simple!
Because:
You want to be able to vaporize while you're outside or on the move;
You just want your vaping companion with you anywhere you go, while not having to carry a suit case;
Not being tied to an AC cord is kind of liberating, even when you're home and you just swear by this convenience.
Even if you could carry a practical handheld desktop vaporizer like the Plenty or Life Saber Vaporizer quite easily with you, you would need an electrical plug around, plus it's hard to be discreet with a machine that's bigger than your head…
…and this obviously can be a deal-breaker for many.
Portable vaporizers provide you the flexibility and mobility to vaporize discreetly, anywhere your heart desires at any time your mind chooses to.
Summarized The Portable vs. Desktop Debate:
Why go for a portable:
Useable anywhere at any time;
No cords or wires;
Discreet;
Small;
Easier to get a quick solo session in.
Why go for a desktop:
The most advanced vaporization technologies.
More powerful (higher potency, better taste and bigger clouds of vapor);
Way more convenient in group-settings;
Made to facilitate and more efficient with long sessions;
Advanced inhalation methods.
Exceptions to The Rule
Now that we've discussed the 5 most important differences between portable and desktop vaporizers, we can mention the vaporizers that are exceptional and don't conform to these differences. There are a few portable vaporizers like:
These vaporizers easily produce vapor quality that rivals that of the average desktop vaporizer (although you might wonder how 'portable' the relatively large MIGHTY is).
Then there are desktop vaporizers like the:
Which are actually as small as a bigger sized portable and can be carried around quite conveniently and used as long as you have an electrical outlet to plug it in.
When making your ultimate decision… just remember:
Portability and a powerful performance don't always have to rule each other out.
And Finally…
Now that you've learned the 5 key differences between desktop and portable vaporizers you've got a solid foundation to make the right choice.
But more importantly…
You now know there are portable vaporizers with desktop qualities and desktop vaporizers with 'almost' portable qualities…
And you learned that if you got a little money to spend (starting at $300), you can get some great combo packages that will make sure your every dirty little vaping desire is met.
If you enjoyed this post and want more, please become a fan on Facebook and click share to spread this timeless and unbounded vaporizer knowledge ;-).