Today you'll learn the pros and cons of vaping your weed vs. smoking it.
You'll also learn that vaping marijuana isn't completely without health risks. And how you can vape in the safest possible manner.
Of course, it all starts with getting a safe vaporizer.
Because if you don't get a safe vaporizer, you risk damaging your health even more than smoking.
How?
Some vaporizer materials like plastic isn't always heat-resistant. With a faulty design, your vaporizer can release toxic chemicals when heated. The last thing you want is inhale these toxic chemicals.
To avoid health risks it's important that you get a vaporizer from a reputable brand. Preferably with a proven track record.
Getting a safe vaporizer from a reputable brand is a topic on its own, which you can read about here.
Today's article compares vaping with a safe vaporizer to smoking weed.
Table of contents
The Alternative: Vaping Weed with Dry Herb Vaporizers
The 5 Biggest Benefits of Vaping Weed vs Smoking It
The Downsides of Vaping vs. Smoking Marijuana
Let's begin. First up…
Health Risks of Smoking Weed
Smoking, whether its marijuana, tobacco, or any other plant material:
Irritates;
Inflames, and;
Potentially causes irreversible damage to our delicate respiratory system.
Burning plants like marijuana causes the release of:
toxins,
irritants,
tar, and,
various carcinogens.
When you smoke, you take all these harmful compounds into your body. Decades-long research shows that compounds inside cannabis smoke are harmful to human health.
For example:
Tar damages lungs, airways, and the mouth through themanys toxic elements in it (1). Plus it covers the cilia in the lungs causing them to stop working and potentially die;
Cannabis smoke contains many of the same carcinogens as tobacco smoke (4). No clear links have yet been found between smoking cannabis and cancer. But you can't rule out that smoking cannabis increase your risk of lung cancer. Why? Exactly because it contains many of the same carcinogens as tobacco smoke.
Some studies emphasize this last point that:
Even though no links have been found yet, cannabis smoke could increase cancer risk.
Other studies emphasize that:
As long as no links are found, we can assume smoking cannabis doesn't increase cancer risk (5).
The bottom line is:
The effects of cannabis smoke on cancer risk are far from conclusive at this moment.
But we do know that smoking cannabis can increase respiratory symptoms (6). Symptoms like:
the smoker's cough;
wheeze;
sputum production;
general airway inflammation;
trouble exhaling.
Smoking cannabis may not cause cancer. But it's a fact that smoking cannabis will damage your respiratory system in other ways.
And don't think these are only 'light' or harmless conditions.
Studies show heavy cannabis smoking can increase risk of severe bullous lung disease and pneumothorax (7, 8, 9, 10). Both of these conditions can cause irreversible lung damage.
The Alternative: Vaping Weed with Dry Herb Vaporizers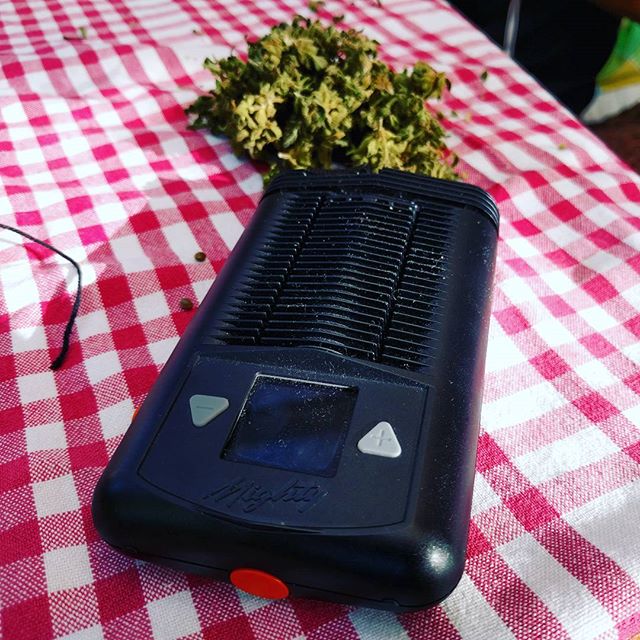 You can vape cannabis in different ways. Some of the earliest adopters vaped weed with a light bulb. I don't recommend this method because it comes with its own set of health risks.
The most straightforward way to vape cannabis is using a dry herb vaporizer. These devices are specifically designed to vape weed.
A dry herb vaporizer works through the following 3-step process:
It heats your marijuana to a temperature that's below its combustion point;
It converts the active ingredients in your marijuana into smokeless & inhalable vapor;
It delivers this vapor directly to your mouth, so you can inhale it.
The 5 Biggest Benefits of Vaping Weed Compared to Smoking It
There's no doubt:
The biggest benefit of vaping your weed, instead of smoking it, is harm reduction.
1. Vaping Weed instead of Smoking It Reduces Your Exposure to Harmful Compounds
Studies show that cannabis vapor contains less:
tar,
carcinogens, and,
other toxic by-products,
than cannabis smoke (12).
Burning plants creates a multitude of compounds that are harmful to human health. By vaping you release much fewer of these compounds.
But this doesn't mean that vaping marijuana is 100% safe. Vaping doesn't reduce your exposure to harmful compounds completely. By vaping cannabis you still expose yourself to a small fraction of the toxic by-products that get released with smoking.
How much vaping exactly reduces your exposure to harmful compounds remains unclear. But research of Public Health England estimates that e-cigarettes are up to 95% less harmful than cigarettes (11).
A different study found that cannabis smoke has over 100 toxic byproducts that are absent in cannabis vapor (12).
Prevention is key in health-related matters. But if you already have respiratory issues, a quality vaporizer could be the solution. Here's why:
Research shows a vaporizer can reverse respiratory symptoms caused by smoking cannabis (13).
It's important to note that when you vape at a temperature above 392°F(200°C) you risk inhaling benzene and other toxic by-products (14). Less than smoking, but still more than you would, staying below 392°F(200°C).
If you get a vaporizer from an unauthorized dealer, you risk getting clones. You could even get vaporizers with faulty designs and outright dangerous materials. Think of dangerous designs like lead soldering near the heating element. Inhaling lead is extremely toxic. When buying a vaporizer always make sure that you get it from an authorized dealer!
Also, read up on vaporizer safety before buying a vaporizer.
2. Vaping Weed is Cheaper than Smoking It
This might sound strange…
But getting an 'expensive' vaporizer will actually save you large amounts of money in the long run. This holds especially true if you're a heavy user.
Besides, not every dry herb vaporizer costs more than $100.
The two biggest factors that make vaping weed cheaper than smoking it, are:
Cannabis vapor has a 80% denser concentration of cannabinoids than cannabis smoke (15);
A vaporizer sends the vapor directly from the herb chamber into your mouth. There's little opportunity for vapor to dissipate into the air. If you light up a joint, you will waste precious cannabinoids. Smoke at the tip of the joint simply dissipates into the air (and can never be retrieved).
With a vaporizer, you will use less herb to get the same level of medication.
Over a period of a few years, this can add up to thousands of dollars (depending on how heavy of a user you are). Vaping can save you half the cannabis you would use with smoking.
To really squeeze every cannabinoid out of your cannabis, you have to vape the right way.
For example:
Vaping at the right temperature leads to even higher concentrations of cannabinoids (16).
More cannabinoids not only medicate and protect you better. But more cannabinoids also means more value for your money.
3. Get a Cleaner Taste
Although smoking pure marijuana tastes well, with a vaporizer it's much easier to taste all the subtle differences in flavor between different strains.
Because there are almost no toxic by-products, the taste is purer and cleaner.
Plus, you can control your flavor with the temperature settings of your vaporizer. Temperature control makes fine-tuning your vaping experience easier than fine-tuning your smoking experience.
For example:
Terpenes are what give different cannabis strains their unique taste and smell. Most terpenes have a low boiling point. If you keep the temperature setting of your vaporizer below 356°F(180°C), you will vaporizer most terpenes. But you will avoid taste-polluting compounds. The result? A much stronger and cleaner flavor than smoking can ever possibly give you.
4. Your Clothes and Room Won't be Stinking of Smoke
One thing that I absolutely hate about smoking is the smell it leaves you with.
Especially in a confined space like a living room, over a longer period of time, smoke can ruin furniture.
One benefit of vapor is that it dissipates 10 times faster into the air than smoke.
Smoke keeps lingering around for days in your clothes and furniture. Tar, which is a by-product of burnt plant material, sticks on surfaces and fabrics. If not removed tar can stay fabrics for years.
Vaping weed still produces a smell, but it's significantly less than smoking.
5. Stop Producing Second-Hand Smoke
Don't you hate it when someone is puffing his cigarettes right next to your face?
Besides the fact that it's annoying as hell, it's extremely unhealthy as well.
As it turns out:
If you vape your weed, you won't be poisoning anyone with second-hand cannabis smoke (17).
This is especially important if you smoke at home.
In a confined space like a living room, the effects of second-hand smoke are even worse for your health. But not only your health. Also for the health of anyone else in that room.
The Downsides of Vaping Cannabis Compared to Smoking It
Vaping Gives You a Different high
It's true that vaping doesn't give you the exact same high as a joint or big hit from a bong.
Smoking has a stronger (not necessarily better though!) effect on the body and the mind. It can give you the typical sludgy lethargic feeling.
Some people call it 'couch-lock'. It keeps you locked on the couch because you're tired to do anything else.
There are different explanations for couch-lock.
But one hypothesis is that the toxins inside cannabis smoke make you feel tired.
According to most users vaping weed gives you a much cleaner high. A high in which you are not numbed and glued to your couch.
Instead, you will experience a high where you feel:
more energetic,
clear-headed, and,
stimulated.
Vaping Gives You a Different Taste
It's also true that vaporizers with low-quality materials alter the taste of your weed in a negative way.
But the opposite is true for vaporizers with high-quality materials:
They'll give your cannabis a much cleaner taste than smoking.
High-quality vaporizers only have materials that don't negatively affect the original taste.
The best part?
Because vapor is much cleaner than smoke, you'll taste all the subtle differences between strains much better. It will be much easier to pick the best-tasting strain.
Using/Cleaning Vaporizers Takes Time
How long it takes to use your vaporizer is highly dependent on the vaporizer you have.
Preparation time with any on-demand vaporizer is usually just 10-20 seconds. Session vaporizers need a little bit longer, usually around 1 to 3 minutes.
Cleaning really depends on the brand and type of your vaporizer, with some vaporizers needing virtually no cleaning, and other vaporizers needing more extensive cleaning (glass parts, whip, bowl, screens, etc.).
But generally cleaning your dry herb vaporizer, won't take longer than 10 minutes a week.
What's Next?
If you want to say goodbye to smoking and vape your cannabis, find one in of these articles:
These guides are your machete, with which you'll clear up the technical jungle. You'll understand vaporizers in no-time.
This guide is your machete, with which you'll clear up the technical jungle and only the bare essentials will be left…so no vaporizer will have any secrets left for you.
If you want to keep smoking (which I don't recommend), then at least get a bong to filter out toxins with water. For a list of the ones we currently recommend read the following article:
Click the button below to share this article on your favorite social media platform. Or follow us on Facebook/Instagram.
Scientific References:
John D. Adams, Kathleen J. O'Mara-Adams, Dietrich Hoffmann, Toxic and carcinogenic agents in undiluted mainstream smoke and sidestream smoke of different types of cigarettes,

Carcinogenesis

, Volume 8, Issue 5, May 1987, Pages 729–731,

https://doi.org/10.1093/carcin/8.5.729

Tashkin, D. P. (2013). Effects of Marijuana Smoking on the Lung. Annals of the American Thoracic Society, 10(3), 239–247. https://doi.org/10.1513/annalsats.201212-127fr

Levine, A., Perry, M., Chang, A.

et al.

The 1993 Walter Hubert Lecture: the role of the p53 tumour-suppressor gene in tumorigenesis.

Br J Cancer

69,

409–416 (1994). https://doi.org/10.1038/bjc.1994.76

Hall, W., & MacPhee, D. (2002). Cannabis use and cancer. Addiction, 97(3), 243–247. https://doi.org/10.1046/j.1360-0443.2002.00003.x

Zhang, L. R., Morgenstern, H., Greenland, S., Chang, S. C., Lazarus, P., Teare, M. D., . . . Hung, R. J. (2014). Cannabis smoking and lung cancer risk: Pooled analysis in the International Lung Cancer Consortium. International Journal of Cancer, 136(4), 894–903. https://doi.org/10.1002/ijc.29036

Tashkin, D. P., Coulson, A. H., Clark, V. A., Simmons, M., Bourque, L. B., Duann, S., Spivey, G. H., & Gong, H. (1987). Respiratory symptoms and lung function in habitual heavy smokers of marijuana alone, smokers of marijuana and tobacco, smokers of tobacco alone, and nonsmokers.

The American review of respiratory disease

,

135(1), 209–216. https://doi.org/10.1164/arrd.1987.135.1.209
Beshay, M., Kaiser, H., Niedhart, D., Reymond, M. A., & Schmid, R. A. (2007). Emphysema and secondary pneumothorax in young adults smoking cannabis. European Journal of Cardio-Thoracic Surgery, 32(6), 834–838.

https://doi.org/10.1016/j.ejcts.2007.07.039
Lee, M. H., & Hancox, R. J. (2011). Effects of smoking cannabis on lung function. Expert Review of Respiratory Medicine, 5(4), 537–547.

https://doi.org/10.1586/ers.11.40
Goodyear, K., Laws, D., & Turner, J. (2004). Bilateral spontaneous pneumothorax in a cannabis smoker. JRSM, 97(9), 435–436.

https://doi.org/10.1258/jrsm.97.9.435
Fiorelli, A., Accardo, M., Vicidomini, G., Messina, G., Laperuta, P., & Santini, M. (2013). Does cannabis smoking predispose to lung bulla formation? Asian Cardiovascular and Thoracic Annals, 22(1), 65–71.

https://doi.org/10.1177/0218492313478954

Public Health England. (2015, August 28). E-cigarettes: an evidence update. Retrieved from https://www.gov.uk/government/publications/e-cigarettes-an-evidence-update

Gieringer, D., St. Laurent, J., & Goodrich, S. (2004). Cannabis Vaporizer Combines Efficient Delivery of THC with Effective Suppression of Pyrolytic Compounds. Journal of Cannabis Therapeutics, 4(1), 7–27. https://doi.org/10.1300/j175v04n01_02

Earleywine, M., & Barnwell, S. (2007). Decreased respiratory symptoms in cannabis users who vaporize. Harm Reduction Journal, 4(1), 11. https://doi.org/10.1186/1477-7517-4-11

Gieringer, D. H. (2001). Cannabis "Vaporization." Journal of Cannabis Therapeutics, 1(3–4), 153–170. https://doi.org/10.1300/j175v01n03_10

Fischedick, J., Van Der Kooy, F., & Verpoorte, R. (2010). Cannabinoid receptor 1 binding activity and quantitative analysis of Cannabis sativa L. smoke and vapor.

Chemical & pharmaceutical bulletin

,

58(2), 201–207. https://doi.org/10.1248/cpb.58.201

Pomahacova, B., van der Kooy, F., & Verpoorte, R. (2009). Cannabis smoke condensate III: The cannabinoid content of vaporisedCannabis sativa. Inhalation Toxicology, 21(13), 1108–1112. https://doi.org/10.3109/08958370902748559

Kaur, T., BCIT School Of Health Sciences, Environmental Health, & Heacock, H. (2020). Can exposure to second-hand cannabis smoke be harmful? BCIT Environmental Public Health Journal. Published. https://doi.org/10.47339/ephj.2020.20