Although vaping dry herb with the right vaporizer, using the right techniques, is less harmful to your health than smoking…
It can come with a few side effects.
Today you're going to learn what side effects you can experience when you're vaping cannabis with a dry herb vaporizer.
For example:
Most people don't know your vapor contains significantly more benzene, which is a known carcinogen, when you vape at a temperature of above 392°F(200°C).
Let's get started.
Irritation of Airways
Although dry herb vaporizers cause much less irritation in the airways than smoking a joint, you can still experience some irritation.
This holds especially true for vaporizers that produce harsh vapor.
Although harshness of vapor can have different causes, one main cause of harsh vapor is the high temperature of the vapor.
Hot vapor usually is caused by either:
a very short vapor path, or,
vaping with too high of a temperature.
Both these causes are related.
A vaporizer with a very short airpath usually leads to hot vapor.
The longer the vapor path, the more time the vapor has to cool down:
With a short vapor path, the moment the heating element creates the vapor, you're basically inhaling it:
Hot vapor can be harsh and more irritating for your airways.
The other cause of harsh vapor is using too high of a temperature setting while you're using the vaporizer.
Cannabis can be vaped in the following temperature range: 320°F(160°C) – 446°F(230°C).
If you go higher than 446°F(230°C), you risk combusting your herb. If you go lower than 320°F(160°C), you don't vaporize a significant amount of cannabinoids.
But also:
The closer you get to 446°F(230°C) the harsher the vapor will be. And the higher the chance you'll irritate your airways. If you want to avoid harsh vapor, it's best to keep the temperature below 392°F(200°C).
Whether vapor gets harsh at a specific temperature is highly dependent on the vaporizer. Some vaporizer have cooling mechanisms incorporated into their design. Other vaporizers have no inherent cooling mechanism.
With most vaporizers, if you do want to vape at higher temperature settings (above 392°F/200°C), it's important that you use a bubbler. A bubbler is very effective at cooling down vapor.
By controlling your vaporizer's temperature, you don't only control the harshness of your vapor…
But to a certain extent, you can even control the ratio of cannabinoids and terpenes present inside your vapor with the temperature.
Learn more about cannabis vaping temperatures.
Vaporizer Finder: Answer a Few Questions and Let Us Find the Best Vaporizer for You in Less Than a Minute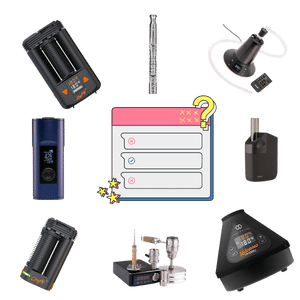 Exposure to Toxins Through Vaping Temperature
Yes, dry herb vaping is less harmful than smoking. But dry herb vaping still exposes you to toxins.
Various studies estimate that cannabis vapor is 80-90% less harmful than cannabis smoke (1).
But it's not completely harmless.
Here again, the higher your vaping temperature the higher the number of toxins you expose yourself to.
For example:
When you vape above 392°F(200°C), you risk inhaling significantly more benzene than below this temperature (1). Less than you would expose yourself to smoking, but still something to consider.
Benzene is a carcinogenic compound (2). So to minimize your benzene exposure, you should vape under 392°F(200°C).
But benzene is just one of the possible toxins you can inhale while using a dry herb vaporizer.
Cannabis vapor still contains some irritants and toxins that can be found in cannabis smoke.
It's unclear to what extent long-term exposure to these toxins is harmful to your health. There are currently no studies that looked at the long term effects of vaping cannabis at high temperature settings.
But if you want to stay on the safer side, vape below 392°F(200°C).
The only exception is when you vape because of other cannabinoids than THC.
Studies found cannabinoids like CBD and CBG get released in much higher concentrations in the temperature range between 392°F(200°C) and 446°F(230°C) (3).
So if you have CBD flower, you should probably vape between this temperature range.
But toxins while dry herb vaping can come from other places as well.
Contaminants In Cannabis: Microbes, Heavy Metals and Pesticides
Cannabis plants can be contaminated.
The most common cannabis contaminants are:
microbes like mold and bacteria,
heavy metals like lead, and,
pesticides.
Various studies that looked at quality of legal and illegal cannabis obtained in the U.S. found that the majority of cannabis is contaminated with toxins.
For example:
A study in 2021 that analyzed 93 seized samples obtained from local police in Austria (4), found that 41 out of 93 samples (44 %) had one or more contaminants like:
synthetic cannabinoids,
pesticide residue, or,
mycotoxins.
A different study done with legally grown cannabis flower from Oregon, U.S., found that 7 out of 100 samples had residue from unregulated pesticides, or pesticide residue levels way above what's legally allowed (5).
Now:
Ingesting pesticides and other contaminants commonly found in cannabis flower, aren't risks that are caused by dry herb vaporizers.
But using a dry herb vaporizer will not save you from ingesting these contaminants if your cannabis is contaminated.
It's important that you get your cannabis from trusted sources. Better yet, always look for a certificate of analysis with full panel testing.
Example of a contaminant test for CBD flower:
A lot of hemp flower sellers only show a test with a cannabinoid-profile. But if you want to be on the safer side, you should only go for flower that comes with a contaminant test as well.
It's even better if you can grow your own. Then you're always assured that you have clean product.
Using Vaporizers with Dangerous Designs
If you use an unsafe vaporizer you risk damaging your health.
What's an unsafe vaporizer?
For example:
A vaporizer with lead soldering around the heating element.
If you inhale lead microparticles over a long period of time, you risk experiencing dangerous side effects from your vaporizer.
Other examples are plastic in a portable vaporizer that isn't heat-resistant. Non-heat-resistant plastic will start degrading over time because vaporizers get very hot. Degraded plastic can start eroding into your vapor. Inhaling plastic microparticles over long periods of time can lead to dangerous side effects.
It's always important to get a vaporizer from:
a reputable brand, and,
from an authorized dealer.
There are loads of fake and imitation vaporizers for sale on marketplaces like Ebay or Chinese E-commerce websites like Alibaba.
Avoid buying vaporizers from these places.
Read op on vaporizer safety before making any purchase.
Conclusion
Vaping with the right vaporizer, using the right techniques is less harmful than smoking cannabis.
But you can still experience side effects like:
irritation of your airways, and,
exposure to toxins.
For example:
A dry herb vaporizer will not save you from side effects caused by contaminated cannabis.
What's Next
More vaporizer guides:
Scientific Sources:
Gieringer, D., St. Laurent, J., & Goodrich, S. (2004). Cannabis Vaporizer Combines Efficient Delivery of THC with Effective Suppression of Pyrolytic Compounds. Journal of Cannabis Therapeutics, 4(1), 7–27. https://doi.org/10.1300/j175v04n01_02
Smith, M. T. (2010). Advances in Understanding Benzene Health Effects and Susceptibility. Annual Review of Public Health, 31(1), 133–148. https://doi.org/10.1146/annurev.publhealth.012809.103646
Pomahacova, B., Van der Kooy, F., & Verpoorte, R. (2009). Cannabis smoke condensate III: The cannabinoid content of vaporisedCannabis sativa. Inhalation Toxicology, 21(13), 1108–1112. https://doi.org/10.3109/08958370902748559
Stempfer, M., Reinstadler, V., Lang, A., & Oberacher, H. (2021). Analysis of cannabis seizures by non-targeted liquid chromatography-tandem mass spectrometry. Journal of Pharmaceutical and Biomedical Analysis, 205, 114313. https://doi.org/10.1016/j.jpba.2021.114313
Maguire, W. J., Call, C. W., Cerbu, C., Jambor, K. L., & Benavides-Montes, V. E. (2019). Comprehensive Determination of Unregulated Pesticide Residues in Oregon Cannabis Flower by Liquid Chromatography Paired with Triple Quadrupole Mass Spectrometry and Gas Chromatography Paired with Triple Quadrupole Mass Spectrometry. Journal of Agricultural and Food Chemistry, 67(46), 12670–12674. https://doi.org/10.1021/acs.jafc.9b01559