In this review of the MIGHTY and the MIGHTY+, you're going to learn why we always rated the MIGHTY as the number 1 portable vaporizer at Herbonaut. And why now rate the MIGHTY+ as the number 1 portable vaporizer.
But even the MIGHTY vaporizers aren't for everyone. You're going to learn who they're for, but also who should look for a different portable vaporizer.
The best part? You're getting simple but effective tips to optimize the performance of these beastly portable vaporizers.
Review Procedure
We have rated the MIGHTY and MIGHTY+ on the following metrics:
Extraction-speed and clouds;
Vapor quality;
Safety
Reputation and reliability.
Ease of use;
Efficiency
Temperature Control
Value
Battery-life;
Portability.
The minimum score for every metric is one (1) and the maximum score is five (5).
The final rating is a weighted average and a reflection of the metrics that we find most important when rating a vaporizer.
The following metrics carry the most weight in our reviews:
Extraction-speed and clouds;
Vapor quality;
Safety, and;
Reliability.
Needless to say, both the MIGHTY and MIGHTY+ score very high on these four metrics.
Before we write up a review of a vaporizer, we use it for 2-4 weeks while scoring it on the above-mentioned metrics.
Well, the MIGHTY is our most used vaporizer. Not 2-4 weeks, but we have used this vaporizer for 7 years now. We know everything about this vaporizer.
And the MIGHTY+ has seen a good amount of use as well.
Before we start the review, it's important to understand that the MIGHTY+ is essentially a slightly upgraded MIGHTY.
Its noteworthy upgrades are:
Improved charging with USB-C (you need a 45W USB-C charger and it's not included with your purchase);
Ceramic-coated bowl to prevent from wear and tear. The ceramic coating also reduces cleaning downtime (this is the best update);
Being able to stand straight (the OG MIGHTY needed a separate stand for this);
An improved heating element (didn't experience any difference).
Other than these upgrades, the MIGHTY and MIGHTY+ are exactly the same vaporizer. They perform the same.
MIGHTY+ Vaporizer Review Summary
Pros and Cons
­ Creates dense, hard-hitting clouds
­ Most consistent vaporizer
­ Comes with official medical certifications
­ Very easy to use
­ Easy to maintain: just 1-2 mins downtime after every session
­ Long battery life: 90 minutes
­ Big, bulky and pricey
­ Lots of plastic gives it a cheap feeling
­ Batteries are expensive to replace (unless you DIY, but then you'll potentially void the warranty)
­ Old vaporizer technology, slow heat-up time, no on-demand hits
Go to the best deal for the MIGHTY+:
Various Stats vs the Average
Extraction-speed and Clouds (4.5)
This is where the MIGHTY+ outshines most other portable vaporizers. The only portable vaporizers that extract faster and produce even bigger clouds than the MIGHTY+ are:
Newer generation vaporizers with on-demand heating systems, or,
Butane-powered vaporizers.
But the problem with the newer generation on-demand heating-based vaporizers is that they're finicky. They're not the most reliable of vaporizers, they have higher defect rates than average and their battery life usually sucks.
And the problem with butane vaporizers is simply that not everyone enjoys using a butane torch lighter while vaping. It can be hassle compared to simply turning your vaporizer on and waiting for it to heat up.
When it comes to consistent and reliable battery-powered vaporizers, the MIGHTY+ is one of the fastest-extracting, big-cloud-producing vaporizers there is.
While it takes some time for the MIGHTY+ to get going (90ish seconds)…
Once it's up and running, it can extract all cannabinoids and terpenes out of a full 0.3-gram bowl within 3-4 minutes.
If you want to extract this fast, just make sure to turn up the temperature to a minimum of 392°F(200°C).
But even at the low- to mid-range temperature settings…
The MIGHTY+ hits like a Boeing 747 and does it consistently, as long as you respect the minimum grams of herb needed to produce satisfying hits (0.1 grams with the dosing capsules).
There are only a few vaporizers that hit harder, and all of them are either:
Premium-quality desktop vaporizers that need access to a standard electrical outlet, or;
Newer generation on-demand portable vaporizers that are finicky and haven't proven their long-term reliability, or,
Butane-powered portable vaporizers.
The biggest reason why the MIGHTY produces such powerful hits is related to its heating element.
Storz and Bickel is known to manufacture extremely powerful heating elements. Literally, all of their vaporizers are true powerhouses that hit harder than vaporizers from most other brands.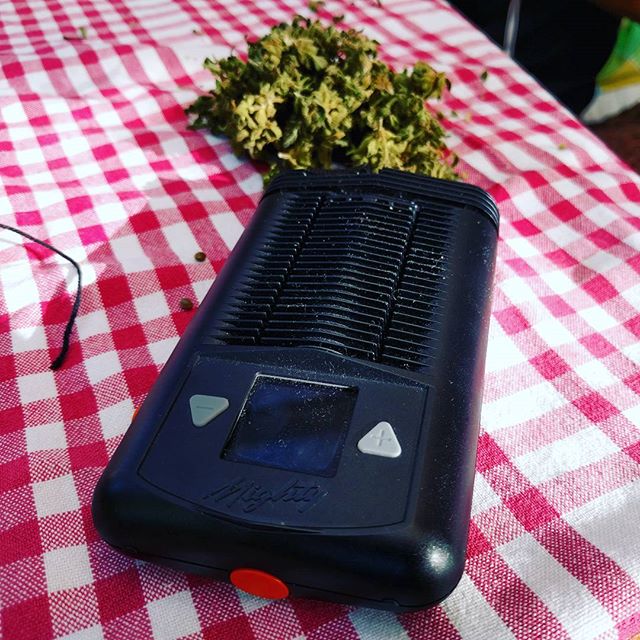 Supposedly, another powerful mechanism at play with this vaporizer is the combination of conduction and convection heating.
Although convection is the preferred heating mechanism for vaporizers from a vapor quality and efficiency-standpoint, according to Storz and Bickel "the conduction ensures that there is vapor created from the very first breath"…
And I can't really argue with this since even the very first draws are really, really potent.
Vapor Quality (5)
Vapor quality is made up of:
How pure the flavor is, and;
How smooth the vapor is, or the lack of harshness.
The flavor is very high quality.
While there are a few on-demand vaporizers like the Firefly 2 with even better flavor…
The MIGHTY+ produces vapor that's:
Very pure;
Cool, and;
Smooth.
The conduction heating (even though it's a small part) and the plastic air path probably are the biggest obstacles to letting the MIGHTY+ really be up there in terms of flavor with the Firefly 2 for example.
Although the integrated cooling unit of the MIGHTY+ is very effective…
When it comes to the highest temperature settings (above 392°F / 200°C), it may not be enough to take all the harshness away.
If all you do is vape at 392°F (200°C) or above, a bubbler would be helpful. When you want to use a bubbler make sure to get the MIGHTY/CRAFTY bubbler attachment. This attachment will make connecting your MIGHTY or MIGHTY+ to your favorite bubbler a breeze.
We also have tested extensively how consistent the MIGHTY and MIGHTY+ are in retaining the flavor, a few minutes into the session.
The results:
While the flavor of the vapor coming out of most portable vaporizers deteriorates halfway through your session…
The MIGHTY and MIGHTY+ are extremely consistent both in producing:
Great tasting;
Smooth, and;
Hard-hitting vapor,
all throughout the vaping session.
Safety (5)
Officially these are not the exact same vaporizers, but the differences are so small that this shoots the MIGHTY's safety rating up from an 8 to a 10!
The heating element and air path
The outside of the MIGHTY+, but also parts of the inside are, mostly plastic, this includes parts of the air path.
Plastic doesn't really have a great reputation in the safety department.
What can we say about the plastic used in the MIGHTY?
The plastic used in the MIGHTY gets advertised as 100% food-safe and heat-resistant.
Should you trust Storz and Bickel on their word?
The older (2014) models of the MIGHTY and CRAFTY do seem to have an issue with their design:
The plastic around the cooling unit can crack with the prolonged use of your vaporizer. Whether this is because of improper molding or because of the heat weakening the plastic is unknown.
Either way, it could have safety implications. And even though the newer 2017 and 2018 models of the original MIGHTY and the even newer MIGHTY+ don't seem to have this issue, be very conscious of this part of your vaporizer. When you see any crack in your housing, it's time to send your unit back and claim your warranty because cracked plastic can leak toxic chemicals.
The heating element, like with every Storz and Bickel vaporizer, is made of aluminum. Aluminum is fine in terms of safety, as long as it's of a good enough quality (which I 100% trust it is).
One of the notable upgrades of the MIGHTY+ is the ceramic-coated bowl. The metal bowl of the original MIGHTY wasn't unsafe, but ceramic does prevent some wear and tear. So in that sense, the MIGHTY+ got even slightly safer.
Separation air path and electronics
The air path of the CRAFTY is fully separated from the electronics (this has been proven by taking it apart). And even though I didn't crack open a MIGHTY to scrutinize its internals, the MIGHTY is the bigger brother of the CRAFTY, so I'm pretty sure we can assume the MIGHTY's air path is separated from its electronics as well. And the MIGHTY+ has the exact same design as the MIGHTY.
Besides Storz and Bickel is the only manufacturer which submits their vaporizers to safety regulatory institutions for approval and is the manufacturer of the only vaporizers with official medical certifications (the Volcano Vaporizer as well). Although it's always smart to be careful and treat every vaporizer on its own, I think it's safe to assume that Storz and Bickel knows how to design safe vaporizers.
In case you're wondering why you would want your vaporizer's air path separated from its electronics, read up on vaporizer safety.
Note: Doing online research, you might find a couple of reviews where the reviewer mentions the vapor having a plastic taste. We never experienced this, however, this does not mean these reviewers are not telling the truth. To minimize the chance on vapor tasting like plastic do the following BEFORE starting your first session (first as in the first time you ever use it):
Fill the bowl with a tiny amount of herb;
Set the temperature to the highest;
Leave your MIGHTY on for 20 minutes;
Take a couple of draws during these 20 minutes WITHOUT inhaling the vapor/air, just immediately blow it out after your draw.
Reputation & Reliability (5)
Storz and Bickel is one of the most well-known vaporizer manufacturers.
It's a German company and they designed one of the most reliable vaporizers of all time: the Volcano.
They definitely have a great reputation.
The MIGHTY has been around for 8+ years now. The MIGHTY+ has been around since 2021.
In the safety paragraph, I already explained that with the older (2014) models the plastic around the cooling unit can crack with prolonged use of your vaporizer.
I've had my original MIGHTY for 7 years now and it still didn't crack (and I use it often).
In fact, the whole vaporizer is still in great shape. Apart from the battery working just a bit shorter (70 minutes instead of 90, which is normal after 6-years of heavy use), it performs absolutely the same as when I got it.
Both the MIGHTY and MIGHTY+ are some of the most reliable heavy-duty portable vaporizers you can get.
In case anything goes wrong:
Storz and Bickel does provide 2 years of warranty, which is on the short side but enough to replace any subpar unit (any faulty unit will die in less than 2 years). Their customer services department also has a decent reputation and they're known to be forthcoming and helpful in case you run into troubles with your MIGHTY (within the warranty period).
Ease of Use (5)
Learning curve
Both the MIGHTY and MIGHTY+ vaporizers are truly 'just turn it on and vape' vaporizers at the highest level.
There is zero (0) learning curve involved with both. You just put your herb in the bowl, turn it on, wait 90-120 seconds and start drawing.
There are only 3 buttons: the power button, and two (2) temperature arrows. To help you conserve battery it even has an integrated auto shut-off function set at 1 minute.
Now:
This auto shut-off sounds great on paper but the 1-minute timer is annoyingly short. To reset this timer click the temperature arrow buttons to reset the timer.
You will know when it turns off because it will clearly vibrate.
Draw resistance
There's no draw resistance. The MIGHTY and MIGHTY+ are extremely free-flowing. This is very rare with portable vaporizers, so it's a great option for anyone who hates to use force when drawing.
Maintenance/cleaning downtime
Cleaning the MIGHTY and MIGHTY+ is also easy. However, deep cleaning does take some time: 10 minutes.
Like with all vapes I would definitely recommend a short and sweet after-session clean-up:
Just quickly clean your bowl and the screen at the bottom of the bowl to prevent the air path from getting blocked. Do this with a Q-Tip Cotton Swab and some ISO alcohol.
Do a deep cleaning session every 15-20 sessions to really keep your MIGHTY performing optimally. For the full cleaning, tutorial scroll down till the end of the review.
Efficiency (4)
Convection / conduction ratio
Because the MIGHTY and MIGHTY+ function with a hybrid heating system (conduction combined with convection), their efficiency isn't as good as a full convection vaporizer.
Because conduction heating is not good for session-efficiency. Conduction heating continuously cooks the herb inside your bowl whether you're drawing or not. Whether you want it or not, some activated cannabinoids will go wasted when you use either of the MIGHTYs.
Bowl size
Also, its bowl is too large for proper micro-dosing. This means the MIGHTY's threshold-efficiency is not great (the minimum amount of herb that's needed to produce potent vapor).
Even with the liquid pad to compress and fill up your bowl or using the dosing capsule, the minimum amount of herb you'll need to produce decent vapor is 0,1 grams.
On the bright side:
Because the MIGHTY is so potent and consistent, this 0,1 grams WILL completely kick your ass.
Plus the integrated auto shut-off timer (of 1 minute) helps you conserve at least a little bit of herb in case you forget to turn it off.
The big bowl makes it one of the better portable vaporizers to share with friends and also one of the better portable vapes for those long and intense sessions.
Temperature Control (4.5)
Both the MIGHTY and MIGHTY+ operate with a precise temperature control system.
The temperature setting ranges from 104°F – 410°F (40°C – 210°C), and is adjustable in 1-degree increments.
The only problem I see is the maximum temperature cap at 410°F (210°C). While this maximum temperature will be enough for 90% of people, the select few people that NEED those extremely intense sessions that you get at 446°F (230°C) might be disappointed by this maximum temperature setting.
The MIGHTY Vaporizers are a great choice for any true connoisseur. With the precise temperature control, you'll be able to change your temperature in slight increments and taste the most subtle differences in the flavor of your herb.
But even if you don't care about these sophisticated vaping techniques, it's amazing to have such precise temperature control.
Let me explain:
The physical and psychoactive effects of marijuana (in layman's terms: the 'high'), are highly dependent on the temperature you use while vaping.
If you want full control over the effects of your marijuana, precise temperature control is an absolute must. And the MIGHTY provides you with this.
Also, keep in mind:
You will be more efficient with your herb with a precise temperature control system. Starting at the lower temperature ranges, then working your way up, is the most efficient way to vape your herb.
Its heat-up time is 90-120 seconds and you will know it's ready when your unit vibrates. 90-120 seconds heat-up time is on the longer side and is one of the reasons why you can't be quick and stealthy with the MIGHTY.
It also shows the MIGHTY's technology is aging. The newer generation portable vaporizers heat up your herb within 30 seconds.
Battery life (4.5)
Both the MIGHTY and MIGHTY+ operate on two (2) strong batteries and it can be used for 90 minutes straight without needing a recharge. This is way above the industry average, most portables go only as far as 60 minutes.
As you can see, big portable vaporizers do come with their benefits, and one big benefit of large portable vaporizers is their battery life.
If you're wondering what 90 minutes of continues mean for me:
I get 8-9 sessions per charge with around 15 draws per charge.
Portability (1.5)
Size & weight
The MIGHTY and MIGHTY+ are really large for a portable vaporizer.
With its dimensions of 5.5 x 3.2 x 1.2 inches (14.0 x 8.0 x 3.0 cm) and weight of 0.5 lbs (235 g), the MIGHTY can't be qualified as a pocket vape.
Even though it fits in most pockets, it won't feel comfortable with all the space it takes and its hefty weight.
Smelliness
If you're going for those huge clouds that this monster is capable of, naturally, there's going to be some smell involved.
It's nothing out of the ordinary though and if you need to be discreet in terms of odor, just take smaller draws. You don't always have to chase those clouds after all.
Design (4)
Design isn't a metric we include in the weighted average because all the other metrics cover the design aspect of a vaporizer.
However, you may still find a description of its design interesting.
The MIGHTY is a powerful vaporizer, both in its performance and its looks. The rugged heat-resistant plastic body, combined with its bulky design, make the MIGHTY one of the most impressive 'portable' vaporizers to behold.
But impressive doesn't mean beautiful. The MIGHTY honestly is quite an ugly vaporizer.
The MIGHTY definitely doesn't look sophisticated, sleek or elegant like some other portable vaporizers like the DaVinci IQ and PAX 3.
Now, it might not be an elegant vape, but the build quality of the MIGHTY is premium.
Holding the MIGHTY in your hands, you'll see each and every part of is made with the utmost care.
Storz and Bickel didn't skimp on any parts of the MIGHTY. Even though this vaporizer is mostly plastic, every part that clicks and twists feels durable and well-designed.
Discreetness of design
The MIGHTY isn't discreet whatsoever. Of course, there's its big size. There's no way you'll be able to hide your MIGHTY anywhere. Even in your pocket, it will stick out like a sore thumb.
Then there's the mouthpiece that immediately gives away the fact that it's a device that delivers 'something' to be inhaled. Anyone even a little bit in-the-know will immediately understand what the MIGHTY is.
Plus, it's a session vaporizer with a heat-up time of 90-120 seconds. Quickly and discreetly getting in a few quick hits is impossible with the MIGHTY.
Conclusion
The MIGHTY and MIGHTY+ Vaporizers truly live up to their name. After many years it came out in 2014, the original MIGHTY still is one of the mightiest portable vaporizers. Together with its smaller brother the CRAFTY+, high and MIGHTY it stands on the top of the vaporizer food chain.
If you're looking for a portable vaporizer and:
Fast extraction;
Hard-hitting clouds;
Pure flavor;
Smooth vapor, and;
Long-term reliability
Are important to you…
There currently is no better choice than the MIGHTY+.
It's also the ONLY portable vaporizer with an official medical license.
If stealth and discreetness are important to you rather go for the CRAFTY+ because the MIGHTY+ is too big to qualify as a pocket-vape. Otherwise, definitely go for the MIGHTY+. You'll have twice the battery power and it's just a much more reliable device in general.
Its efficiency is above average, but not great.
It's one of the most consistent portable vaporizers you'll ever use. The flavor and potency don't deteriorate even towards the end of your session.
Using and cleaning the MIGHTY+ is extremely easy and convenient.
It is a pricey vape though and if you're looking for a cheaper option that is almost as powerful as the MIGHTY+ (but worse in every other category), take a look at Boundless CFX or compare the MIGHTY+ to our other top-rated portable vaporizers.
Where to buy the MIGHTY Vaporizer:
Compare the MIGHTY to its biggest competitors:
Tips and Tricks for the MIGHTY and MIGHTY+
How to grind your herb
Use a fine grind. Go as fine as you can.
How to pack your bowl
The new S&B dosing capsules work BEST for smaller amounts of herb;
If you fill the bowl less than 80%, always use the liquid pad to compress your herb.
How to draw your vapor
Draw slowly and controlled, to keep the temperature in the herb chamber consistent.
The best temperature for the MIGHTY Vaporizer
Here's a general guideline:
Up till 356°F(180°C): Best for flavor and very light, mostly mental medication;
356°F(180°C) – 392°F(200°C): Great flavor with great medication level, bodily effects will be more apparent;
392°F(200°C) and up: Best if you don't have anything else to do that day, very strong level of medication, heavy bodily effects.
Realize that all of these effects are at least, if not more so dependent on the particular strain you're vaping with.
If you want to dive deeper on vaping temperatures and how they affect your medication, read our full guide on the best temperature to vape weed.
How to reset the auto shut-off timer
Use the temperature up and down arrows. Don't mess with the power button. It's the part that is most prone to breaking.
Stir your herbs
You don't really need to stir with the MIGHTY. But if you're obsessed with optimizing performance:
After 6-8 draws stir the herb in your bowl. You will get maximum extraction this way.
Deep Cleaning Tutorial
What you'll need for the big clean-up:
Isopropyl Alcohol;
Q-Tip Cotton Swabs;
One (1) dry paper towel
One (1) water-dampened paper towel;
Stir tool (works best) or the included pick tool at the bottom of your MIGHTY;
New normal screen (included with the MIGHTY);
Potentially new seal rings (included with the MIGHTY).
The cleaning process of the bowl:
Pick the old screen out of the bowl with your stir tool/pick tool;
Hold your MIGHTY Vaporizer upside down and brush anything that's in there out with the brush that comes with your vaporizer;
Place a new screen at the bottom of the bowl;
To clean/replace the seal ring that's wrapped around the top of your bowl use the pick tool at the bottom of your MIGHTY to first get it off by getting the pick under the seal ring;
Clean the seal ring with your dampened paper towel and put it back on.
The cleaning process of the top cooling unit:
Unscrew the cooling unit off of your vaporizer;
Separate the top piece of your cooling unit from the bottom to expose the inner parts;
Take a Q-Tip Cotton Swab and dip it in your Isopropyl Alcohol;
Start rubbing out the inner parts of your cooling unit;
When you're done take the water-dampened paper towel and rub out the inner parts once more;
Pick off the two seal rings with the MIGHTY pick tool;
Take a dry paper towel and dampen it in the Isopropyl Alcohol;
Clean the seal rings with your Isopropyl Alcohol dampened paper towel
Take the water-dampened paper towel and wipe your seal rings one more time
And put them back on.
Use the MIGHTY pick tool to push out the screen that's found at the bottom of your cooling unit;
Take a Q-Tip Cotton Swab and dip it in your Isopropyl Alcohol;
Clean the hole that's exposed by taking out the screen;
Either clean your old screen or replace it with a new one (recommended) and use your MIGHTY pick tool to place your screen in proper way by snapping the edges;
This whole process will take a meager 10 minutes and a big cleaning session every 15-20 sessions is very modest!