You'll probably agree with me when I say:
When it comes to growing indoors…
What type of light to use is one of the most confusing topics when you're getting started.
While there are pros and cons for using any type of grow light…
There has been 1 type of grow light which has made massive strides in the past few years:
Light Emitting Diode (LED)
Ask any experienced grower who has tried a quality LED light…
And most will tell you LED technology has come so far, that it actually has become the preferred method for growing your plants.
And with good reason.
Compared to other types of lighting LED is:
Cheaper long term
Needs little to no extra ventilation to cool your plants
And gives higher quality yields (higher THC%)
Which is why in today's post we will look at the 5 best LED lights currently on the market…so your plants will get the best food (light) and bless you with the highest quality yields.
Let's get started…
How to Rate LED Lights
Light is the MAIN INGREDIENT for growing high yield plants.
But how can you rate the quality of light?
Well, it's specifically the range and ratio of different wavelengths/colors of light and your light's intensity which are of paramount importance.
And the only REAL way to measure the range of wavelengths and your light's true intensity is not by watts per square foot as most people think…
…but by PAR and PPFD.
Let me explain.
What's PAR and Why It's Important
PAR stands for 'Photosynthetically Active Radiation'.
PAR is not a way to measure the intensity of your light…
But it's a denominator for all the different wavelengths/colors of light that plants use for photosynthesis.
If you forgot…
Photosynthesis is the process of plants of converting light energy into chemical energy (your plant's main food).
Now:
For your plants to grow properly your LED light should have ALL the different wavelengths/colors of light that make up PAR…
But especially important are the blue wavelengths (for vegetative growth) and the red wavelengths (for the flowering process).
Luckily…most LED manufacturers are aware of PAR and design their lights in such a way that all the different wavelengths/colors of light that are needed for your plant's photosynthesis are available through their lights.
And the lights in THIS list actually have specific vegetation / flowering spectra, which are easily activated with a simple switch.
This is also the main reason why LED lights are more efficient than HID lights (HPS and MH).
HID lights have ALL the different wavelengths/colors. This includes wavelength/colors that fall outside of the PAR range!
What this means is that HID lights actually waist quite a lot of electricity, because they're using electricity for colors wavelengths that fall outside of the PAR range and thus are useless for your plants.
If you get the right LED light (like one from this list), your light will only have the wavelengths/colors of light that fall into the range of PAR. This means the full spectrum of wavelengths/colors coming out of your light are being used by your plants, and no electricity goes wasted.
But PAR doesn't say anything about the light's intensity…which is KEY in getting strong plants as well.
What's PPFD and Why It's (not) Important
PPFD stands for 'Photosynthetic Photon Flux Density'.
PPFD IS a measurement and it says how many light photons hit a given square meter per second.
A photon is the most basic and smallest unit of light.
Essentially, what PPFD does, is measure the intensity of your light.
This means to rate the quality of a LED light, PPFD is one of the most important metrics.
Of course, there are also metrics like build quality, reputation, reliability and customer service that are important when considering your LED light…
But PPFD is what truly matters to your babies (plants).
Below is shown how much PPFD is needed MINIMUM for your Cannabis plants to grow properly:
255 μmol m(-2)s(-1) – 347 μmol m(-2)s(-1) PPFD on a 24 hours daylight schedule.
383 μmol m(-2)s(-1) – 520 μmol m(-2)s(-1) PPFD on a 18 hours daylight schedule.
510 μmol m(-2)s(-1) – 694 μmol m(-2)s(-1) PPFD on a 12 hours daylight schedule.
Be careful…there's such a thing as "too intense light".
But the threshold of this is above 1500 μmol m(-2)s(-1) and you won't get there very easily with the lights in this list.
There's a HUGE 'but' with PPFD though…
Even if we know the PPFD of a particular LED light, we don't know how it was measured…
If you measure the PPFD in the square RIGHT below the light you will get different values than further to the sides.
You will also get different PPFD values if you measure from different heights…the closer you measure to the light, the higher your PPFD will be.
So even the PPFD isn't the most reliable metric…as it doesn't tell us exactly about the light's spread or its penetration.
Ideally, the PPFD tells us the average PPFD over several square feet…including those to the sides of the coverage area.
But again, we usually don't know this.
If PPFD isn't reliable either…what's left?
We don't completely toss away PPFD in the garbage can…
Although it's not the most reliable metric, it does say something…depending on the transparency of the LED company.
But if we really want to get a complete picture…
We're simply going to have to look at the results of different lights in different growing setups…which means reading and comparing lots of grow journals.
And EVEN this rating process has many caveats…
You can't just compare one setup to another…there are countless variables that impact the yield of a growth.
Nonetheless, when we compare similar grow setups where only the LED light used is different…
We can cautiously conclude which LED lights provide a higher yield than others.
Now you know how LED lights should be rated…
It's time you understand how many watts to get for your specific space/setup…
Because unfortunately, most LED manufacturers don't disclose any information about the PPFD values of their lights.
And although watts per square foot doesn't say much about the light's intensity…
It currently is the only way to really decide how big and powerful of a light you need to get for the size of your specific grow setup.
So, we're back to square 1.
How to Choose a LED Light for Your Specific Setup
As a general guideline, you should try to get a MINIMUM of 50 watts per square foot with a LED light. This guideline is by no means perfect, but will definitely help you get started.
50 watts per square foot means that:
A 400W light will cover a 3 X 3 ft space.
A 900W light will cover a 4 X 4ft space.
A 1600W light will cover a 5 X 5ft space.
But I'm talking about the real wattage value! The actual power draw, the actual watts that your light pulls out of the wall.
Let me explain.
Many LED light manufacturers give their specific model a name like 'MARS II 400'. The confusing part here is the '400'.  A MARS II 400 does not have a real wattage value of 400. Its actual power draw is 177 watts.
So ALWAYS look for the actual power draw of a light. don't get confused by the name. And when I'm talking about 50 watts per square foot, I'm talking about 50 watts of actual power draw per square foot.
This means for example, with a 3 X 3 ft space, you will need at least 2x MARS II 400 (2x 177 real watts = 354 watts of actual power draw) to cover the full space (and this is actually still on the lower side of things).
Also, do realize the following when choosing a specific model:
In many cases, it's better to get multiple lower wattage LED lights instead of getting a single high wattage LED light, and position them in such a way that your plants are covered by light from different angles.
This is because LED just doesn't have the best spread compared to other types of lights…and the more lights you have, the better you can position them and the better the spread of your light will be.
Another important note:
It's extremely important that you put your lights as close as possible to your plants, because this will directly affect the potency of your buds…
But it's just as important to not put your lights too close to your plants.
But what's 'too close'?
Here's a general guideline for how far to keep your lights from the canopy for the brands in our list:
MARS and VIPARSPECTRA LED Lights
Germination and Clones: 24" – 30" inches above the plants – Growth switch only;
Vegetative: 18" – 24" inches above the plants – Growth switch only;
Flowering: 12" – 18" inches above the plants – Growth and Bloom switches together.
Platinum LED and Advanced LED XTE Lights
Germination and Clones: 36" – 40" – VEG switch only;
Early Vegetative Stage: 24" – VEG switch only;
Late Vegetative Stage: 24" – VEG and BLOOM switches together;
Flowering: 18" – VEG and BLOOM switches together.
Now that you know how to choose a specific size for your specific space…
Let's get down to business with the 5 best LED lights.
1. MarsHydro MARS II LED
The MarsHydro MARS II LED lights might not be the highest quality…
But they are of a good enough quality to grow high quality plants that give a proper yield.
And especially when we look at their price point…
These LED lights simply provide the best value for money in the LED market (not counting DIY LED kits).
You can be sure the full light spectrum that's needed to grow plants (PAR) is covered with any MarsHydro light.
The best part?
With a simple switch…you can switch between the different ratios of wavelength/colors that are optimal either for the vegetative or flowering stage of your plants.
These lights come with 5W LED chips, which recently has become the industry standard.
Unfortunately, MarsHydro doesn't disclose any official information about the PPFD values of their lights…
There's a Youtuber who measured the PPFD values of his MarsHydro MARS II 400 light and came to the conclusion that at 18 inches the average PPFD was 383 Umol…which is enough to grow Cannabis on a 24-hour light-schedule…
…but is really the bare minimum for Cannabis. So you either need to put them closer than 18 inches (12 inches should be doable) or get a more powerful version than the 400.
Either way, if you're looking for a light that's insanely powerful, you will be disappointed. But you can EASILY get 2 MarsHydro MARS II LED lights, for less than the price of 1 extremely powerful LED light like one from Advanced LED (talking about same watt lights here).
The warranty isn't the best (1 year). And the customer service is largely based on 'we send you the replacement diodes but you replace them yourself'…
Because if you send it to the Mars Service Center you'll have to wait at least a couple of weeks before your light is fixed. Most of you will see this as an upside though, because who wants to wait weeks for a light repair…?
But the main reason why these lights take the number 1 spot:
When checking grow journals with the MarsHydro MARS II…
You'll see the yields are impressive. And this light probably has the biggest fan base of any LED grow light…
You really can't argue with the value these lights provide considering their price point.
Click to see most recent price – (Amazon)
If you want a GREAT yield, keep the following guidelines in mind when choosing an exact wattage model (400W, 600W, 900W, etc.):
400W = 60cm X 60cm or 2′ X 2′ (4 square feet)
700W = 80cm X 80cm or 2,6′ X 2,6′ (7 square feet)
900W = 90cm X 90cm or 3′ X 3′ (9 square feet)
1200W = 105cm X 105cm or 3,5′ X 3,5′ (12 square feet)
1600W = 120cm X 120cm or 4′ X 4′ (16 square feet)
Next up we have another MarsHydro light, the:
2. MarsHydro Reflector Series
The MarsHydro Reflector Series is another great option if you're looking for a cheap light that's still of good quality…
Its build quality and light quality is close to that of the MarsHydro MARS II.
But there are some noteworthy differences:
The gap between the LED diodes is wider on the Reflector series.
A wider gap results in wider coverage and less heat…
…but also in less light intensity (PPFD) and less strong penetration capacity.
Ultimately, it won't matter that much…
But the choice you're making here is a choice between quantity and quality.
Let me explain.
Theoretically speaking and in a comparable setup, you will get more yield with the Reflector series (wider coverage and more light photons with same watts) and you will get higher quality yield with the MARS II series (stronger light intensity and deeper penetration into the canopy -> better PPFD).
Click to see most recent price – (Amazon)
Next up is the:
3. VIPARSPECTRA Reflector Series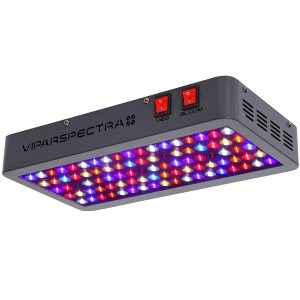 The VIPARSPECTRA Refelctor is similar to the MarsHydro LED lights…
In that it's a Chinese budget light which provides great value for its price.
The quantity and quality of your yield with these lights will be comparable to that of the MarsHydro lights.
I personally don't see any difference in quality with the MarsHydro lights from the hundreds of reviews and grow journals…
MarsHydro has been around longer and built a more solid reputation as a manufacturer of budget LED lights…
But VIPARSPECTRA lights do get 3-year warranty vs the 1-year of MarsHydro.
The bottom line is:
If you're looking for budget LED lights that provide great value for money…but for whatever reason you just don't want the MarsHydro lights…
These are the lights you should go for.
Click to see most recent price – (Amazon)
Now:
For the majority of growers reading this, this is as far as they should go. Choosing one of the first three options in the list will keep the bill down and get the job done.
For those who are ready to take it a step up, let's continue…
4. Advanced Platinum LED
The Advanced Platinum LED lights provide a better light intensity per square foot than the MarsHydro lights.
We compared many grow journals…and simply see that with a similar setup, Platinum LED lights provide more and a higher quality yield (with Cannabis this translates to more potent and dense buds with a higher THC%).
From this we can cautiously conclude that the PPFD values of this light are better.
It could also mean that these lights provide a better ratio of light spectrum for plant growth (PAR, and then mainly blue and red wavelengths)…
…or both. In any case, the light is simply of a better quality, which will result in a more potent yield (the amount of watts per square foot kept the same).
These lights also run cooler than budget lights like MarsHydro or VIPARSPECTRA…which is great for longevity.
The bottom line is:
Build quality-wise and light intensity-wise, the Advanced Platinum Series are a step up from the MarsHydro and VIPARSPECTRA.
Click to see most recent price – (Amazon)
A word about the origin of these lights…
According to their website, the LED diodes in this light are 100% American made…which is rare for LED lights.
And this could be enough reason for some of you to pick these LED lights over the MarsHydro or VIPARSPECTRA lights.
Here's why:
Most LED lights are manufactured in China.
China doesn't have the best reputation in terms of quality control…
There are plenty of horror stories about low quality Chinese LED lights biting the dust after just a few weeks of use…
Western countries simply do have a better reputation in terms of quality control.
And the 5-year warranty you get with these lights really prove they trust their own craftsmanship as well.
Plus, their customer service has raving fans all over.
But I really doubt the whole light is manufactured in the U.S. If I would have to take a guess it's only the diodes that are.
Last in our list is the:
5. Advanced LED XTE
When we're talking about 'premium quality' LED lights…
The Advanced LED lights operate with LED chips of the best LED brands:
The chips from these brands last 2 to 3 times longer than the standard Epistar and EPILED chips…which are used in 90% of other (budget) LED lights like the MarsHydro II or VIPARSPECTRA.
But if you're looking for a light that will last a long time…
It's important that not only the chips are reliable…but the rest of the light as well.
As it turns out:
The build quality of the Advanced LED lights is so good…you'll have to treat your LED like a rag doll, year in year out, to break it.
Here's why the build quality of the Advanced LED lights is so good:
They have a superb thermal design and run cooler than most other LED lights. A cool light is a happy light and will last much longer. A bonus is that you're less likely to need expensive fans to cool your plants.
One problem which leads to overheating and other kinds of failures in ANY electronic device, is the build-up of dust…not with the Advanced LED lights. They have handy dust covers on their fans to prevent this detrimental process.
This manufacturer has also been around for at least 7 years…building a loyal fan base of happy customers throughout these 7 years…
And it definitely is admirable if you can do this in the LED industry, which is plagued by low quality products and companies with horrible customer service.
Click to see most recent price – (Amazon)
LED Light Accessories
You will need a way to hang your lights.
And the best way to do that is with some quality:
These rope ratchets are sturdy as hell
If you want to make things easy on yourself, you should also get a timer to control your light cycles:
Othersie you'll have manually turn on/off your lights, which is a hassle, trust me.
One Last Word…
You don't have to go for a premade LED light.
If you're tech-savvy you could build your own LED kit.
There are many guides and tutorials on the web, which will show you how to build a very powerful LED light that will be quite a bit cheaper than the premium premade LED lights.
But in my opinion, they still won't provide the same value for money as the budget LED lights in this list.