Today, you're getting a list of the best vape juices that you can currently buy.
If you're new to vaping, you might think it's a smart move to get the cheapest e-liquid that you can find.
Before you go out and do exactly that, there's something you have to know:
There are huge differences between brands in terms of quality and safety.
But it goes even deeper than that:
There are many different types of e-juices.
Whether you:
Are looking to quit smoking;
Want to create huge clouds, or;
Value flavor above anything else,
For every style of vaping, there's a 'best' option.
Indeed, the quality of your vaping experience is not only dependent on your vaporizer. Getting the right type of e-liquid is absolutely essential as well.
This is why in today's post we'll look at the highest quality vape juices on the market, covering every type, from the best brands.
Let's get started with our top 3:
VaporFi

(Best Overall)

Naked 100

(Best Tbco-flavor)

Beard Vape

(Best Value)

Price
Features
Third-Party Lab-Tested?

Do they test for toxins/contaminants? Are the results publically available on their website?

✔

✔

✖

Diacetyl- & Acetyl Propionyl-Free?

These are harmful compounds that are present in some vape juices

✔

✔

✖

FDA Registered?

Are their vape juice formulas and manufacturing facilities registered with the FDA?

✔

✖

✖

Best Flavor?

Best rated by us and reviewers

Catch Ya Latte
Tobacco American Patriots
Cinnamon Funnel Cake
1. VaporFi Any Juice (Safest & Most Transparent)

If there's one vape juice brand, which subjects their juice to countless independent third-party lab-tests and is backed by numerous safety certifications, it's VaporFi.
VaporFi is the most transparent and one of the only vape juice manufacturers in the world that produces its products in FDA-approved manufacturing-facilities.
On top of this, all of their formulations are FDA-registered as well. In addition, all of their important ingredients like nicotine and glycerine have third-party lab-test reports showing their quality.
There's ZERO guesswork involved in what it is you're exactly inhaling with VaporFi.
VaporFi is 100% transparent about their ingredients and had all of its ingredients lab-tested with published reports.
All this quality control and transparency do come at a price though. VaporFi juices are among the most expensive premium juices around.
But if you want the best possible peace of mind you can get while vaping, you will gladly pay this premium price.
Onto the 'subjective' side of things:
Do all of these certifications translate to an amazing-tasting juice as well?
If you're into coffee flavors, I think the Nictech "Double Espresso" juice is definitely in the top coffee juices you will ever try.
But if you're looking for other types of flavorings like fruity or tobacco, there are juice manufacturers who just do it a bit better (Naked 100, Kind Juice).
They do have a wide variety of flavors, and you can custom blend the exact make-up of your juice, specifically the:
PG/VG ratio (a higher ratio of PG will result in a stronger throat hit and resembles a real cigarette more, a higher VG ratio will result in bigger clouds, but a less strong throat hit);
Number of flavors (you can combine

3 different flavors and choose out of 31 different flavorings

) and number of flavor shots (the more shots, the stronger a particular flavor will be present), and;
Nicotine-level of your juice (0-18mg).
If you want to test out a few different flavor combination, you can easily and cheaply do so with the:
What's the bottom line?
If you want the safest vape juice that's manufactured in FDA-approved facilities and has its ingredients registered and controlled by the FDA or if you're looking for the best coffee flavor, check out VaporFi e-juice.
Recommended flavor: Double Espresso
Click here to see current sales:
Next up we have a premium juice, which is specialized in tobacco flavors.
2. Naked 100 Tobacco American Patriots (Best Tobacco Flavor)

If you're looking to recreate the smoking experience, but haven't found that true cigarette tasting juice yet, look no further.
The "Tobacco American Patriots" line from Naked 100 is the most authentic tobacco-tasting vape juice out there.
While it isn't a Naturally Extracted Tobacco (NET) juice, it tastes better than most of NET juices.
The flavorings in the juice taste exactly like real tobacco leaves.
Before this juice, NET juices were the best-tasting tobacco juices.
But the problem was that NET juices weren't the cheapest, here's why:
Extracting tobacco flavors in this way is a time-consuming and expensive process. But if you were a true connoisseur or just wanted the best tobacco tasting juice out there, these juices were your best choice.
Well, this all changed with Naked 100 Tobacco American Patriots.
This juice tastes better than most NET juices, but is significantly cheaper.
A premium juice should not only be about the top-quality flavor though. There's nothing that can replace the peace of mind that comes with independent lab-test results, which proves your vape juice is completely free from any toxins or artificial/synthetic compounds.
Well, Naked 100 provides you EXACTLY that assurance:
All of their juices are as pure and clean as it gets (the test results are free for anyone to check on their website). They only use clean ingredients. Naked 100 is a highly transparent vape juice manufacturer.
What's the bottom line?
If you want to recreate the smoking experience, or are into tobacco flavors, Naked 100 Tobacco American Patriots is a great option for you.
Click here to see current sales:
Next up we have the best value for money option.
3. Beard Vape Co. (Best Value for Money)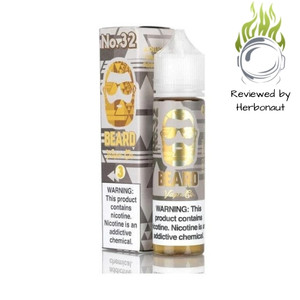 If you're looking for a high-quality e-juice, but don't want to pay a premium price, Beard Vape Co. juices are your best option. It's the number 1 'value for money' juice brand out there.
It's a 'budget' vape juice brand, which means it's quite a bit cheaper than premium juices, but the quality is better than you would expect for its price:
While most budget-juices taste quite underwhelming, Beard Vape juices have a 'full', but not overwhelming taste.
Now:
A 2015 lab-test from VaporShark found that some Beard Vape juices contained diketones like diacetyl and acetyl propionyl.
This test was done more than 7 years ago. It's unclear whether their juices still contain diacetyl and acetyl propionyl.
So Beard Vape isn't the most transparent brand.
If you want to be on the safe side, you can stick to the juice that was tested and found not to contain diacetyl and acetyl propionyl:
#64 Blue Raspberry | Hibiscus
Or you can simply skip this brand. Because some of the health risks related to vaping come from potentially unclean juices.
Now:
Some flavored e-juices can really be in-your-face intense and not everyone's into that.
If you're not into highly intense flavors, you'll be glad to know that most Beard Vape juices have a light, subtle taste.
Very intense flavors can quickly lead to 'vapor's tongue'. Vapor's tongue means you're getting desensitized to vape juice flavors and they all start to taste the same.
Beard Vape juices being light and subtle of flavor, will greatly reduce this risk.
An added bonus with these juices is that they usually require little to no steeping! Most Beard Vape juices you can use straight out of the mail.
The bottom line is:
If you're looking for a high-quality juice with a full, but not too overwhelming flavor, for a very modest price, which is ready to be used straight out of the mail, you won't find better value for your money than Beard Vape juices.
Click here to see current sales:
If you are looking for an intense flavor-packed and fruity experience, next up we have…
4. Naked 100 Hawaiian POG (Best Fruity and Tropical Flavors)

Taking fruit flavors to a next level, Naked 100 is the king in tropical, sweet, and intense e-juice flavorings.
Tasting this juice will literally be like an orgasm for your taste buds…IF you're into sweet and intense fruit flavorings!
The sweetness and intensity of this juice will be too much for some of you.
And if you use a single Naked 100 flavor for a too long period of time, chances are, you will suffer from vapor's tongue:
Every other juice will taste like nothing.
This is why I highly recommend getting at least 3 different flavors and switching between them during any single day. Never get yourself used to one single flavor, especially with such an intense brand as Naked 100.
But if you keep up this rule, you're in for a 'one-of-a-kind' tropical, fruity ride.
And if you're wondering whether this juice is lab-tested and free from any diketones like diacetyl and acetyl propionyl:
In the past, there was only one Naked 100 juice that contained diacetyl and acetyl propionyl: "Amazing Mango". Third-party lab-test reports showed that the other flavors were free from diacetyl and acetyl propionyl. These lab-test reports are currently not published anywhere. Although Naked 100 may have updated their manufacturing process for this specific flavor so that it's free from diacetyl and acetyl propionyl, unless we see proof, I would stay away from Amazing Mango.
One thing Naked 100 is highly transparent about however is the authenticity of their products. Every bottle of Naked 100 comes with a QR-code that's linked to their online authenticator so you can make sure that you're using an authentic Naked 100 product and not some fake home-crafted imitation product.
The bottom line is:
If you're looking for the best fruity, tropical-flavored e-liquids, Naked 100 is the juice you have to get.
Recommended flavor: Hawaiian POG
Important note
: Stay away from "Amazing Mango" juice,
independent
test results have found this is the only Naked 100 juice that contains Diacetyl!
Click here to see current sales:
Not everyone is looking for a pricey premium vape juice. If you're looking for the cheapest juice, which still has good quality, next up we have…
5. Mt Baker Vapor (Cheapest)

If you're looking for the cheapest e-juice, you have many options.
But if you're looking for transparency, a good reputation, and flexibility in the exact composition of your juice in terms of PG/VG and nicotine, Mt Baker Vapor takes the number 1 spot of all cheapest vape juices.
Now:
They are not as transparent and 'certified' as VaporFi. But more transparent than most juice manufacturers:
They provide Safety Data Sheets (SDSs) for each and every flavor that they sell.
These documents provide info on the ingredients, whether the ingredients are on any carcinogenic or irritant compounds list, and general safety info.
This should be enough for anyone but the most health-obsessive vapers.
Spending less on expensive certifications and lab-tests does have a positive side to it:
Mt Baker Vapor juices are 2-3 times cheaper than most premium juices.
The best part?
Although e-liquid flavor is a highly personal matter, Mt Baker Vapor vape juices do have a good reputation in the flavor department.
But always keep 1 thing in mind when getting Mt Baker juice:
Steep it for at least 2 weeks. Most of their juices taste like absolute crap when you use it straight out of the mail.
Pro tip: If flavor really is a high priority for you, I highly recommend getting flavor shots with your original juice. A single drop really makes a difference.
These are the flavors that I personally like the most:
The bottom line is:
Mt Baker Vapor is not a premium vape juice manufacturer.
This vape juice not backed by countless certifications and lab-tests. And their flavored juices don't have the 'wow-factor'. But it is the best cheap vape juice you can get, they have superb customer service and provide very fast shipping in the US.
Click here to see current sales:
6. Liquid State (Best Dessert/Creamy Flavors)

So, up until this point we've covered the best sweet, tobacco, and coffee flavors.
If you're looking for the best dessert/creamy flavors though, you won't find a better e-juice than Liquid State juice.
While most of their juices have a good creamy touch, there are specifically 2 juices that are the sole reason why you can find this manufacturer in our best-of list:
Apple Butter, and;
Cali Colada.
Both of these juices have at least 3 different outspoken flavors, layered and blended in such a smooth way, that you will really taste and feel what a perfect 'complex layering of flavors' means.
Now:
Creamy-flavored juices do have the worst reputation in terms of being polluted with diacetyl and/or acetyl propionyl.
The easiest way to get a juice creamy/buttery is unfortunately with diacetyl and/or acetyl propionyl.
Well, Liquid State proofs that you can make amazing creamy dessert flavors without ANY diacetyl or acetyl propionyl.
These are some of the few creamy/buttery/dessert juices which are actually clean.
Click here to see current sales:
Next up we have an organic e-liquid.
7. Kai's Virgin Vapor (Best Organic)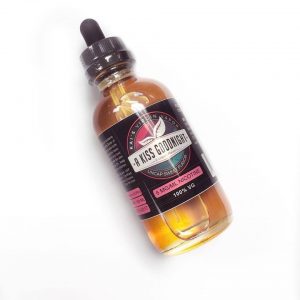 These days, it seems there is an 'organic' version of literally anything. And so it is with vape juices.
There are a few organic vape juices around, and the best one that I've tried definitely is Kai's Virgin Vapor.
Organic vape juice means that ALL the ingredients in the juice are natural AND organically grown or extracted from organically grown matter.
This also means you cannot find an organic vape juice that contains anything other than 100% Vegetable Glycerin (VG) as a base ingredient.
Here's why:
Natural Propylene Glycol (PG) doesn't exist! PG is a synthetic compound.
Any flavorings in this juice, are 100% organic, extracted from real organically grown fruits and leaves.
If you believe in organic products and are obsessive about health, this is actually the vape juice that will give you the best possible peace of mind.
Now:
As much as I hate to admit, non-organic vape juices generally do taste a bit better than their organic brothers. But of all the organic vape juices I've tried, Kai's Virgin Vapor definitely is the best one:
If you're into chocolate flavors you will especially like Death By Chocolate.
Click here to see current sales:
Next up we have a healthy alternative to nicotine-based e-juices.
8. CBDfx Vape Oil (Best CBD Vape Oil)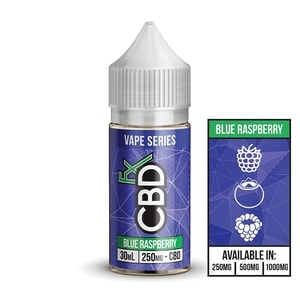 The list wouldn't be complete without one of the best CBD vape oils.
With CBD vape oil, you have to be especially careful with your purchase.
Let me explain.
If you get some CBD vape oil, chances are that you want actual CBD in your juice. Well, FDA-tests have shown that there are lots of CBD oils and vape oils, that actually contain little to no CBD in them.
So, if you get CBD vape oil, you have to get it from a trustworthy source.
This is where CBDfx comes in.
CBDfx is an American CBD vape oil producer, who's specialized in CBD vape oils.
They provide the full results of their lab-tests (found on their product pages) and prove their product contains the amount of CBD, that they say it contains.
Now:
CBD works better in synergy, with all the different hemp-derived compounds (other cannabinoids, terpenoids, and flavonoids). Most CBD vape oils however only contain CBD.
CBDfx vape oil also contains terpenes, which are thought to play an important role in enhancing the benefits of CBD.
This is one of the only CBD vape oils that contain other hemp-derived compounds than CBD, and therefore, in theory, will get you the best results.
Click the button below to go to the CBDfx website:
Warning: never vape edible CBD oil! You can catch Exogenous Lipoid Pneumona (1).
For a more extensive list of our current best options to vape CBD, check out our list of:
Quality and Safety of E-Liquids
Whatever e-liquid you get, please, ALWAYS get it from a reputable and transparent e-liquid manufacturer.
Let me explain.
Reputable means that the manufacturer has no history of scamming and/or lying about what's in their e-liquids.
In the past few years, there have been some companies that blatantly lied about whether their vape juices contain diacetyl for example. Tests showed that there was diacetyl in their juice, while they stated there was none.
Now:
Inhaling small amounts of diacetyl isn't immediately disastrous for your health. But if a manufacturer lies about this, then what else might they lie about?
I personally wouldn't trust a company that has lied about something as important as the ingredients in its vape juice.
Besides, even though diacetyl is not immediately a big danger to your health, if you are obsessive about minimizing health risks, you don't want any diacetyl in your vape juice in the first place. Because it is a health risk after all.
Why take any risks, if you can easily avoid them?
There are enough juices around that prove they have no diketones like diacetyl and acetyl propionyl in them.
This is no place for naming and shaming the companies in question. Just be careful to do your due diligence or stick to the manufacturers in this article.
Then onto transparency.
A transparent vape juice means that the manufacturer shows through independent 3rd party lab-testing, what exactly is in their e-liquids, and hopefully, that it's completely free of any toxins and diketones.
But even when there are some questionable compounds in the juice, IF the manufacturer is transparent, at least they will show it. So they leave it up to you whether you want to take the risk of inhaling these particular compounds.
It's possible to take quality control and transparency to an even higher level:
Some manufacturers have certified manufacturing labs, and;
Governmentally approved certifications that prove their product is safe.
While using vape juice from a non-transparent manufacturer, containing questionable compounds, is not something you will immediately notice while vaping…
(in fact: juices with diacetyl and/or acetyl propionyl can taste better than juices without these compounds, especially for buttery and creamy flavors)
The type of vape juice you use in contrast is something that can instantly make or break your experience.
Therefore, it's important you really understand what type of juice is suited for what purpose.
The Different Types of Vape Juices
For most of you, getting the right type of vape juice probably is more important than getting the 'safest' vape juice.
But if safety is your highest priority, besides getting a vape juice from a transparent and reputable manufacturer, I highly recommend you vape with:
Unflavored Vape Juices
Unflavored vape juices don't have any artificial or natural flavorings in them.
They're either a combination of PG/VG or just pure VG-based, with some nicotine mixed in (if you want nicotine, of course, you could always get nicotine-free vape juice).
Does this mean unflavored juice tastes like nothing?
Actually, VG has a natural sweetness to it, so unflavored juice with at least some VG in it tastes mildly sweet.
Vapers who've been vaping unflavored for some time, usually find that flavored e-liquids are massively over-flavored.
It's just like drinking tea: if you've been drinking it without sugar for years and then put 2 sugar cubes in it, you will wonder how people can even drink such a sweet drink.
But being sweet is not the reason vape juice flavors are a potential health risk for you.
In the past few years, research has shown that (some) flavored e-liquids can cause damage to the cells and bacteria in your mouth:
Study 1: flavored e-liquids promote oral disease by killing cells in your mouth that protect your body from dangerous bacteria (2);
Study 2: flavored e-liquids promote oxidative stress and inflammatory responses in your mouth by causing DNA damage to periodontal cells (3).
Whether this is the result of the flavorings themselves or pollutions which can come with e-liquid flavorings, remains an unanswered question.
Either way, if you want to be on the safe side, use unflavored vape juices.
Flavored Vape Juices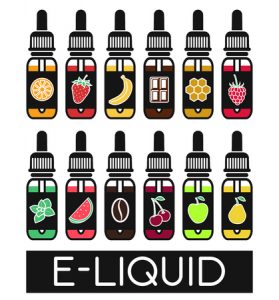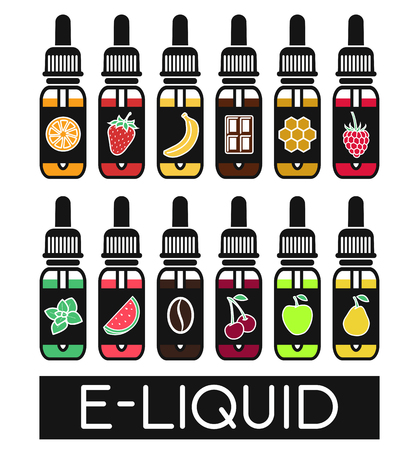 Flavored vape juices do have artificial or natural flavorings in them.
For some of you, these flavors will be the sole reason why you picked up a vaporizer.
And there are hundreds of different flavors.
Whether you're looking for chocolate, strawberry milk, or coffee milkshake flavor…you can be 100% sure that whatever flavor you're looking for, someone has made it.
Although I personally care more about safety than anything else, I must admit:
Some of these flavored e-liquids taste really well.
I like tobacco flavors, but I can't guarantee that you will.
Vape juice flavors are a highly personal matter. And what one person likes, the other despises.
All you can do here is test, test, and test.
Nicotine-Free Vape Juices
Not all of you will want to vape nicotine.
In fact:
If safety and health are a top priority for you, I highly recommend vaping with unflavored and nicotine-free juice. Here again, it's important that you get your juice from a reputable manufacturer. One study found that some 'nicotine-free' juices do have substantial amounts of nicotine in them (4).
Nicotine has been shown to be a harmful and addictive substance (5).
I always recommend slowly phasing it out of your life (because of health reasons)!
PG/VG Ratio
The base ingredient of any vape juice is PG (Propylene Glycol) (6), VG (Vegetable Glycerin, also called Glycerol) (7), or a combination of these 2.
Most vape juices are a combination of PG and VG, and when just starting out, I highly recommend you start with such a combination which can be 50/50, 70/30, or any other ratio (just get both of them in there).
Just remember the following when choosing your ratio:
The more VG, the bigger and more powerful your vapor production will be. This is why I highly recommend taking a low% of nicotine if you're going to go for those huge clouds (like you would with DTL or sub-ohm vaping).
Also, VG produces more of a 'lung hit'. It's heavy on the lungs and quite comparable to breathing in air of very high humidity.
PG has different characteristics.
The more PG you have, the stronger the hit on your throat will be (it will be more similar to a real cigarette) and the more pronounced the taste of your juice will be.
Note: High nicotine juices can also produce a stronger 'throat hit', plus it will definitely affect the flavor as well (some like it, some don't, all you can do is test).
The bottom line with types of vape juices:
Now that you understand all the different types of vape juices…you can choose the type that will suit your specific purpose.
To recap what you should pick according to vaping stereotypes:
Health-obsessive vapers: unflavored and nicotine-free e-juice or CBD vape oil;
Flavor-junkies and connoisseurs: High PG and flavored e-juice;
Cloud chasers / high-wattage vapers: High VG e-juice with low levels of nicotine.
Ex-smokers: high PG e-juice with decent amounts of nicotine.
Steeping
Not all e-juices taste well straight out of the mail.
For example:
Mt Baker Vapor is well-known to taste underwhelming when you use it as soon as you get it.
If you ever get yourself in the position where the juice that you've just ordered, just tastes underwhelming or even awful…
Steep it!
Steeping means putting your juice in a cold and dark place for 2-3 weeks while shaking it up every now and then.
After these 2-3 weeks, your juice should be tasting like it was supposed to taste.
But even premium juices, which taste well straight out of the mail, will taste even better with some steeping.
Again:
Not every juice needs this, especially fruity flavors are usually ready to be used, straight out of the mail…
However, if you have cream, milk, custard, or tobacco flavors, I highly recommend steeping anyway.
Below is a great and informative video on steeping e-liquids:
Vapor's Tongue
If you've ever used a single flavored juice heavily for weeks on end…
Chances are, you've suffered from it:
Vapor's tongue.
Vapor's tongue means that your taste buds get burned out from extended periods of exposure to the same flavor, over and over again.
Luckily, vapor's tongue is easily preventable.
All you need to do is:
Get 3-4 different flavors and alternate between them, every single day.
Even better:
Alternate between them during a single day.
Or just vape unflavored e-liquid…
What's Next…
If you're looking for a new vaporizer and are ready to venture into the world of box mods and vape tanks, check out our buyer's guides on these devices:
After your box mod, you will need a vape tank and we covered the best ones here:
If you're looking for a simple vape pen, which is plug-and-play-ready, check out the following buyer's guide:
If you want the smallest possible vaporizer to vape your e-liquid, check out our buyer's guide on electronic cigarettes, cig-a-likes, and pod mods:
If you want to know what health risks you expose yourself to when vaping, check out our massive guide where we review the latest science and give tips on how to prevent the major vaping health risks:
Lastly, if you want to connect with us, become a fan on Facebook or follow us on Instagram by clicking the links below.
Scientific References: