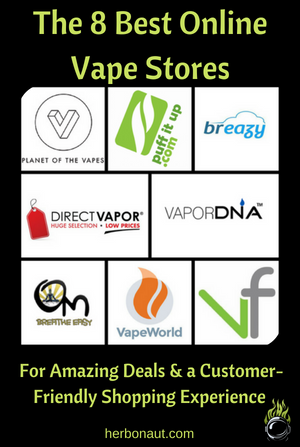 When buying anything online…
The first thing that comes to mind is:
How reliable and trustworthy is this online store?
Because when spending your hard-earned money, you want to be 100% sure that:
In any case of issues: you can send your purchase back for an exchange or refund,

effortlessly

;
Your answers and requests to customer service get handled quickly and effectively.
Now:
Since the vaping industry is a new one, and there aren't many established online vape stores yet…
You choosing wisely where you get your vaping gear from, becomes even more critical.
Today you're getting a list of the best online vape stores, which have proven they are:
Trustworthy and reliable;
Have great customer service, and;
Offer fair prices for their products;
Let's get started.
DirectVapor (E-Cigs, Box Mods, Vape Pens, Vape Tanks, Vape Juices)
Although relatively new…
DirectVapor quickly grew into one of the major online vape stores in the past 3 years.
They provide a HUGE selection of vaping gear. Any type of vaporizer or vaporizer part you're looking for, you will find it at DirectVapor.
They carry gear from all the top brands like:
Lost Vape;
Smok;
Innokin;
Eleaf;
Plus many more brands.
But what really made DirectVapor earn an amazing reputation quickly, are their insanely customer-friendly services:
You always get the lowest price that you can find (they will price-match any US-based online vape store);
You get a 60-day warranty for manufacturer defects for the bigger items like box mods, including free roundtrip shipping;
15 Day Return Policy – No Restocking Fee
No Clone Zone – 100% Authentic Products
The most customer-friendly service though?
You always get fast and free shipping with your order. There's no minimum order-limit.
You want to order a cheap $10 vape juice or cheap $5 coil? Do it at DirectVapor, and they'll send it to you for free.
Now:
When reading reviews online about DirectVapor, you will find a few examples of customers not being happy with the customer support.
However, it seems most of these reports are dated during the times that DirectVapor was coming online.
Although, as a customer, you shouldn't tolerate any subpar customer service…
In the beginning stages of any online store, there are always some things which need to be ironed out.
In the case of DirectVapor it was their customer service.
But as time went on, they have proven that customer service is now a top priority for them:
You will have a tough time finding anything but positive reviews of their customer service in the past year.
Next up…
VaporFi (E-Cigs, Box Mods, Vape Pens, Vape Tanks, Vape Juices)
While VaporFi doesn't have the best reputation in terms of vaping hardware…
Their vape juices deserve a lot of respect.
Here's why:
Being backed by countless independent 3th-party lab-tests and certifications…
These tests and certifications proof that the ingredients of their e-liquids are:
Free of toxins, and;
Of the highest quality.
VaporFi is the most transparent and officially approved vape juice manufacturer in the world.
There's ZERO guesswork involved in what it is you're precisely inhaling with their vape juices.
Now, regarding their vaping hardware:
The quality of it is good, but unless they're on sale, you're paying more than for comparable vaping hardware from other brands.
But there's 1 thing that VaporFi does provide with ANY VaporFi piece of vaping gear…
Something which alone makes them deserve a spot in this list:
You get a 30-day satisfaction guarantee on ALL VaporFi hardware.
This means you can test out a VaporFi box mod or vape pen, and if you don't like it, return it for a full refund.
This guarantee doesn't apply to their e-liquids, but such a satisfaction-guarantee is extremely rare in the vaping industry.
On top of this, you get:
Free

domestic shipping on ALL US orders.
Quality – E-Liquid with over 30,000 Flavor combinations to choose from
$20 dollars Cash Back on Every 200 Points Earned – Every$2 spent equals 1 Point
Free Device Upgrade – Evry dollar Spend with VaporFi is Tallied up and applied towards Free Device upgrades for Any device up to $125
Warranty – 90 Day on VaporFi Devices – 30 Day on 3rd Party
24/7 Customer Support
Your shopping experience doesn't get more customer-friendly than this.
Next up…
VaporDNA (E-Cigs, Box Mods, Vape Pens, Vape Tanks, Vape Juices)
Being the only online vapor store, to have received a circle of excellence award from BizRate…
With VaporDNA you can be 100% sure that you're getting your vape gear from a first-class vape store.
They've proven over and over again why they're so good:
They ship fast;
Provide comprehensive information on their product pages;
Provide adequate customer support.
Of course, any online vape store will give you these guarantees on paper…
But with VaporDNA all of their claims are backed by 10000+ reviews, of which 90% are positive.
Like you would expect from a vaporizer super-store, they carry an extensive variety of vaping products.
But what you'll like most about VaporDNA:
They're always one of the first stores to carry new products.
A new box mod with innovative new temperature control technology came out?
VaporDNA will make sure they're the first store to stock up on it. Especially with DNA box mods, they're always the first store to carry them.
Now:
Even though VaporDNA doesn't provide any price-matching like DirectVapor for example…
Their prices are fair compared to other US-based online vape stores.
Especially their box mods are well priced…
Bottom line?
If you're looking for the newest vape gear, with a 90% chance, you'll be left extremely happy with customer service…
Check out VaporDNA:
Next up…
Breazy (E-Cigs, Box Mods, Vape Pens, Vape Tanks, Vape Juices)
They started as mostly an e-liquid seller…
But in the past few years, have grown their assortment considerably.
Breazy now offers every type of vape gear that you can imagine: from vape mods to any kind of RBA.
E-liquids are still their specialty though:
They provide the widest variety of juice brands that you will find in any vape store.
The other side of the coin:
Although they do offer every type of vape gear that you can imagine…
The variety in models is not the best.
For example:
You will find a wider variety of box mod models at VaporDNA or DirectVapor.
Also, I feel their prices are slightly on the higher side for hardware…
But their outstanding customer service more than makes up for it.
If you look at reviews.io, you'll see a whopping 91% of reviewers recommend shopping at Breazy with an average rating of 4.5 out of 5 stars.
With Breazy you can be sure you get top class customer service and an extremely user-friendly shopping experience.
Next up…
OM Vapor (Vape Juices)
If you're looking for the best value for money vape juice…
Look no further.
OM Vapor is a vape juice manufacturer which provides high-quality vape juices for a very modest price.
The best part?
They provide results of independent 3th-party tests that prove their products are clean, and they are free to be seen for anyone that's interested in them (on their website).
Now:
Although they're a relatively new vape juice manufacturer (operating since 2014) …
They quickly build a stellar reputation for themselves, by providing:
Top quality customer service: an average of 4.3 out of 5-stars satisfaction-rating on independent review sites like consumeraffairs.com (averaged over hundreds of reviews);
Fast handling and shipping times (usually your order will be processed the next business day), and;
Great quality vape juices for a very modest price (for the price you won't find anything better).
Bottom line?
If you're only looking for vape juices and want the spend a minimum amount of money while keeping good quality and fantastic customer service…
OM Vapor is the online vape store you have to check out.
Next up…
Planet of the Vapes (Dry Herb Vaporizers & Wax Pens)
This list wouldn't be complete without the best online dry herb vaporizer store.
Planet of the Vapes is a US-based vape store, that doesn't provide the widest variety of vaporizers…
But they do provide the most popular vaporizers and the best prices for some of the most popular portable dry herb vaporizers like the:
Arizer Solo 2;
Flowermate Vaporizers, and;
Boundless Vaporizers.
This alone wouldn't be enough reason to get the title of 'best' online dry herb vaporizer store though.
This title is only reserved for those who have proven, year in year out, that they provide such an excellent customer service…
That even the most difficult self-entitled customers are happy with it…
And Planet of the Vapes proofs precisely that.
With over 3500 reviews on trustpilot.com and an average rating of 9.3 (!)…
Planet of the Vapes is the best rated online vape store in the world.
The best part?
They're the only online dry herb vape store that provides a 14-day satisfaction guarantee.
If you don't like your purchase for whatever reason, you can send it back and get a full refund, no questions asked.
This is the type of customer service every online store should provide.
Your purchase doesn't get more risk-free than this.
Next up…
Puff It Up (Dry Herb Vaporizers & Wax Pens)
If you're looking for an online dry herb vaporizer store where they ALWAYS put the customer first…
Spoil you with all kinds of deals and extras…
While keeping prices as low as they can…
There's no vaporizer store which has earned such a customer-friendly reputation as Puff It Up.
The owner, Randy, is a very down to earth guy, really looking to please you in any possible way.
If you email him, you might get an exclusive deal on some vapes…
And in case you find something cheaper elsewhere, they usually price-match, giving you the best possible deal.
But that's not all…
Looking at their assortment, you'll quickly see that they have a vast variety of vaporizers and vaporizer accessories. Some vapes you won't even find at other stores.
They're also usually the first ones to stock up on new vaporizers and accessories.
The Puff It Up staff is also very knowledgeable; they'll be able to answer most of the questions you have.
Bottom line?
Although you won't find that many official reviews on Puff It Up…
This is without any doubt, one of the best online dry herb vape stores regarding prices and customer service.
Next up…
VapeWorld (Dry Herb Vaporizers & Wax Pens)
Another heavy-weight in the vaporizer industry…
VapeWorld has been around for a longer time than most vape stores.
They have a wide variety of vaporizer products:
From dry herb vaporizers to dab rigs to grinders, you will find it all at VapeWorld.
But what distinguishes VapeWorld the most from the other stores, is they ALWAYS price-match in case you find a better offer.
You might be thinking:
If I find a better offer somewhere else, why would I want to buy it 'price-matched' at VapeWorld?
Well, VapeWorld has truspilot.com rating of 8.6 averaged out over 4000 reviews.
Even though this is not as high as Planet of the Vapes…
It is extremely high.
Over 90% of people recommended shopping at VapeWorld…
Which means you can be 90% sure you're getting a satisfying online shopping experience.
Conclusion
Today you got a list of the best online vape stores.
If you make your purchase at one of these stores, you can be sure you're going to get:
A quality product;
For a fair price, and;
Amazing customer service.
If you're still looking for a nicotine vaping product to quit your smoking habit, check out our buyer's guides:
And if you're still looking for a vaporizer to vape marijuana-based products, check out these buyer guides:
Lastly, stay in touch with us! Become a fan on Facebook or follow us on Instagram by clicking the icons below.