At first sight, a grow tent can look like one of those growing supplies that don't look important…
…until you realize you wasted your money on a grow tent that can't even handle equipment like a heavy grow light.
For growing plants like Cannabis, your tent should have 2 essential characteristics:
Have a sturdy enough frame to handle heavy equipment, and;
Provide a (close to) light-tight seal.
But those are only the essentials.
A high-quality grow tent will also last you at least a few years. And will come with nice growing conveniences, that you're all going to learn about today.
Today you're going to learn which 5 grow tents deserve a spot in any growing setup. And which one of these 5 best grow tents is best for your growing setup.
Let's get started.
1. Mars Hydro Grow Tent (Best-Budget Tent)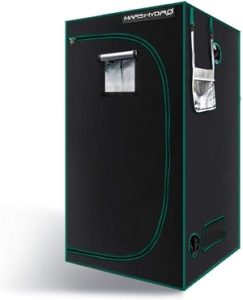 If you're looking for the perfect balance between quality and price, the Mars Hydro Grow Tents take the number 1 spot.
If you're a beginner these grow tents are PERFECT:
They're cheap, and;
VERY easy to set up.
Now:
Don't expect a 100% perfect tent.
There might be a tiny bit of light leakage through the zipper.
But this is easy to fix by ironing the zipper covers on the inside.
For a 'budget' tent, this tent is of a surprisingly high quality…
Mars Hydro grow tents have a robust heavy-duty zipper and a metal frame with metal corners. This means they will last you at least a few years with diligent use. Plus they can handle heavy equipment like a LED grow light.
There are also plenty of options for running ventilation. This feature makes these grow tents super easy to tailor to your specific setup.
For beginners and anyone looking for one of the top value for money grow tents…
The Mars Hydro Grow tent is the grow tent I recommend.
Click to see the most recent price – (Amazon)
If you're looking for another excellent beginner tent that's similar quality, and has proven its long-term reliability…
You might want to check out the:
2. Vivosun Grow Tent (Budget-Tent with Best Warranty)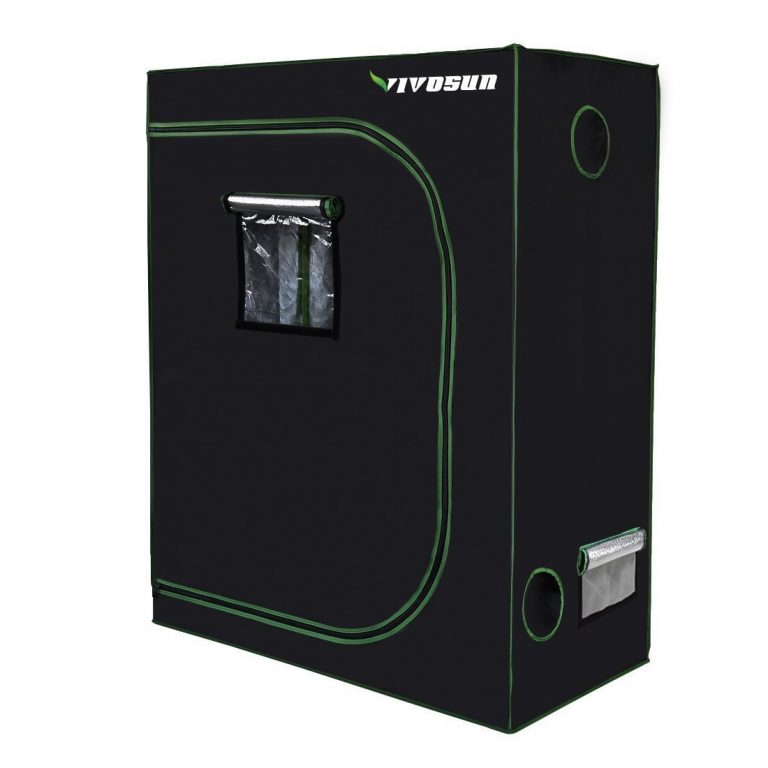 While Vivosun is a relatively new player in the grow tent market…
They quickly established themselves as another 'value for money' grow tent brand.
Build quality-wise this tent is a little bit better than the Mars Hydro grow tent.
But since Mars Hydro has a better reputation and a longer track record…it's rated somewhat better.
Here's the deal though:
This grow tent is cheaper than the premium brands like TopoLite and Gorilla. But it offers close to the same quality and conveniences:
A heavy-duty zipper that won't break easily;
Reliability and durability with its sturdy metal frame, metal corners, and thick canvas
An easy way to check up on your plants through the easy-view-window
The best part?
They offer a 2-year warranty, which is a lot for a budget grow tent.
Shows you the trust they have in their craftsmanship.
This tent is also one of the easier grow tents to set up and tailor to your specific needs. Why? Because of its many vents and ports.
If you're a beginner, AND looking for an alternative to the Apollo…
This tent is the grow tent I recommend.
Click to see the most recent price – (Amazon)
If you're looking for higher build-quality and are prepared to spend a little more, check out the:
3. Gorilla Grow Tent Lite Line (Most Reliable & Sturdy Mid-Tier Tent)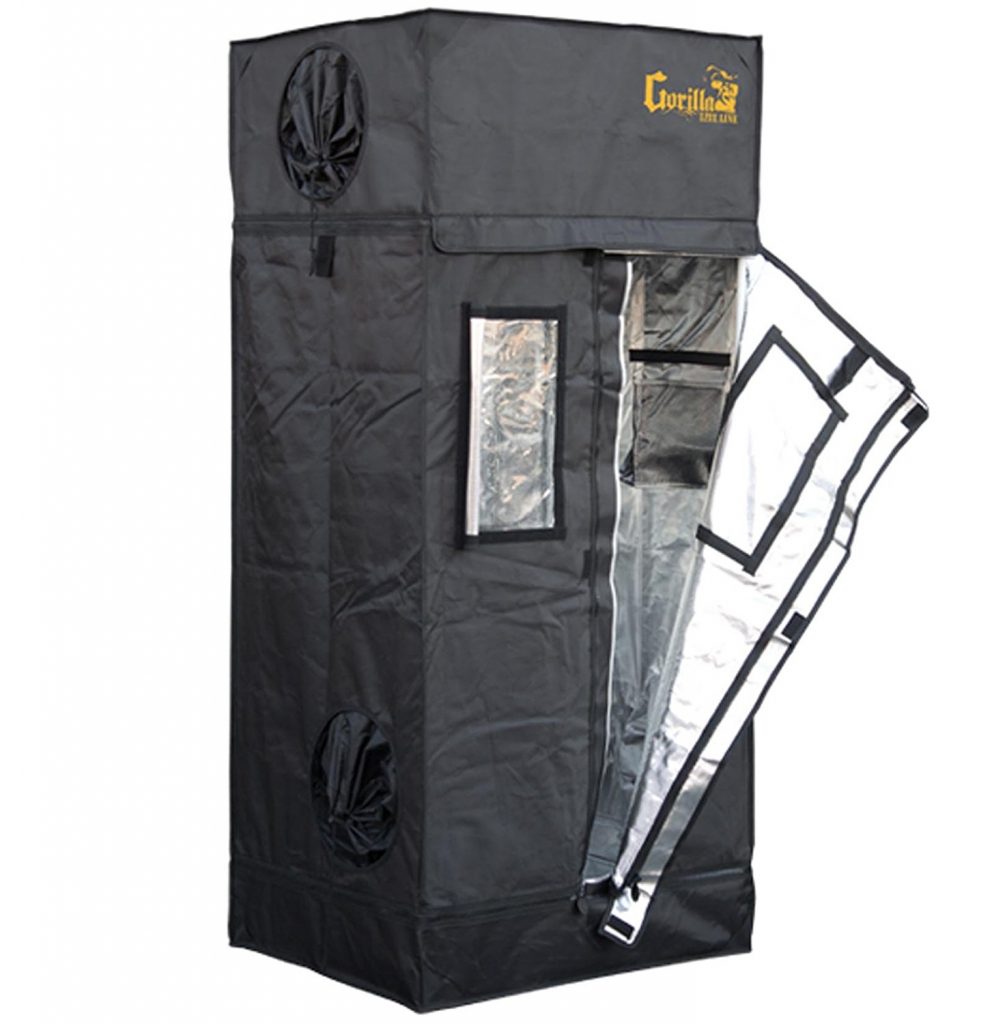 Gorilla produces TOP quality grow tents at a premium price.
Yet, what most people don't know is that they have 'Lite Line,' which is only of a slightly lower quality than the regular line…
…but for half the price.
Gorilla grow tents are built to last.
And while the Lite Line is a bit less durable, it's still more durable than the average grow tent.
It has a steel frame (including steel corners). And it also has a sturdy, heavy-duty zipper which is one of the strongest in the market.
Only its canvas is a bit less dense and less durable than the regular line.
It also has the same cool extras and conveniences that you would expect from a Gorilla Grow Tent:
Grow taller plants and increase your yield with the height extension kit (making it the tallest tent on the market).
Easily keep an eye on your project with the easy-view-windows.
Diamond reflective walls that help your plants grow faster and stronger.
If you're looking for one of the most sturdy and reliable, grow tents, while keeping it relatively cheap…
You should check this tent out.
Click to see the most recent price – (Amazon)
There's one potential issue with the Gorilla Lite Line:
There seems to be variance in the light tightness between different units.
If you do online research, you'll see a few reviews saying light leaks through the zipper.
Now:
There's no single grow tent that 100% blocks all light straight out of the box.
But if you're looking for a grow tent that scores higher on light tightness, check out the next grow tent.
4. TopoLite Indoor Grow Tent Dark Room Green Box (Most Light-Tight Tent)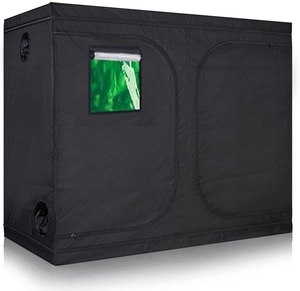 Premium, but still affordable…
TopoLite grow tents are 1 step up compared to the 'budget' tents like Apollo and Vivosun.
The build quality is slightly lower than the Gorilla Grow Tent Lite Line though.
The most significant advantage over the other grow tents, however…
Is the chances of you getting a zipper that is light-tight, is much higher.
The inside of a TopoLite Dark Room Green Box grow tent will be pitch black, straight out of the box.
No ironing or gluing required.
Now:
Pitch black doesn't mean 100% light-tight.
But the light leaks with an average TopoLite grow tent are negligible.
And although its build quality is not Gorilla-like, it's still above average.
It has a very sturdy construction with an aluminum frame and a durable zipper.
These tents will last you at least a few years, even with heavy use.
The only con I see is that they're more expensive and less easy to set up than the Apollo and Vivosun grow tents…
But you do get higher quality in return.
Click to see the most recent price – (Amazon)
Next up…
5. Gorilla Grow Tent (Most Advanced & Best Overall)
When you're thinking of a premium grow tent…
The Gorilla grow tent is the only one that can truly call itself that.
The strength and sturdiness of this tent are unparalleled:
It can handle the heaviest of equipment with its super-strong frame
Only the Hulk can rip the canvas
Only Hercules can destroy the zippers
A Gorilla grow tent will last you at least several years, even with heavy usage
If you REALLY want to put all the odds in your favor while growing your plants…
And reliably get the highest yield possible…
You will want to avoid light leakage.
Light leakage can disrupt plant growth. It can lead to hermies or disrupt flowering times.
With the Gorilla grow tent it's virtually impossible to leak light.
It's the most light-tight grow tent, even more lightproof than the TopoLite Dark Room Green Box.
Here's why:
It has flaps which you can pull over the zipper, and;
The canvas is so durable you'll be hard-pressed to find any pinholes, even after months of heavy use.
Then there are the usual Gorilla conveniences:
Proper ventilation is crucial if you want to prevent your tent from getting too hot and putting stress on your plants. With the Gorilla tents, adequate ventilation is a given.
It has the most intelligently designed vents I've ever seen, facilitating any setup.
If you want to maximize your yield with higher plants, the Gorilla grow tent is the tallest tent on the market.
You can easily track the progress of your project with the easy-view-windows.
Your plants will grow faster and stronger because of the diamond reflective walls.
Lastly, the Gorilla grow tent has a very cool extra that other tents don't have:
Even though this tent has the best vent ports in the industry…
If you have strong lights, it's easy for your tent to reach a much higher temperature than is optimal. This is especially true if you live in a warmer climate.
And a too high temperature in your tent will severely slow down the growth of your plants.
This is precisely where the infrared lined roof comes in. The infrared roof is great at dispersing the heat and keeping your tent cool.
A bonus is it makes you invisible to heat detectors from above…should you need it.
Click to see the most recent price – (Amazon)
It is the most expensive grow tent on our list.
But if you want the TOP DOG in grow tents…get this beast of a tent.
What's Next…
If you want to know how to set up your grow tent, read our practical guide on:
If you want to make sure you have all the supplies to grow your marijuana, check the following guide:
If you have all your supplies and want a step-by-step guide on how to finish your first grow successfully, check out this guide:
If you need a quality grow light, check out our advanced guide on:
If you're looking for a fantastic strain for your first indoor grow, check out our:
Lastly, if you want to connect with us become a fan on Facebook or follow us on Instagram by clicking the links below.