In today's post, you're getting a list of the best CBD gummies that you can currently buy.
We've reviewed CBD gummies of over 15 different CBD brands on different metrics like:
Transparency of the manufacturer (this is the most important metric!);
Taste;
Effects (sleep, anxiety, and pain);
Price, and a few more metrics (which you'll learn about today).
Keep reading to find premium quality CBD gummies.
Best CBD Gummies
1. CBDfx CBD Gummies (Best for Sleep)
The great thing about CBD gummies compared to CBD oils is that you can easily add ingredients that enhance a particular benefit that CBD provides.
For example:
CBD is known to improve sleep. But if you add another well-known sleep-improving ingredient like melatonin, you get an even more powerful product.
Another example:
CBD is known to have anti-inflammatory effects. Well, if you combine CBD with another strong anti-inflammatory ingredient like turmeric, you get an even more powerful anti-inflammatory product.
And while in the early days of CBD products these types of products were unheard of…
These days you have some highly transparent CBD product manufacturers like CBDfx selling exactly these types of products…
In the form of CBD gummies!
So whether you're looking to improve your sleep in a natural way or decrease inflammation in a natural way, CBDfx gummies are the most potent ones you can get.
CBDfx is one of our most trusted sources when it comes to CBD products in general.
Here's why:
They let each and every product they sell extensively tested on toxins contaminants and cannabinoid-content by independently operating lab-test facilities.
Their products contain organic ingredients for the most part.
Add to this amazing transparency the fact that:
We consistently get great results with any of their CBD products (based on our subjective tests), and
They never use artificial sweeteners and keep their product as close as they can to nature…
And you'll understand why we rate CBDfx CBD gummies as the best in our list of CBD gummies.
Next up…
2. Joy Organics CBD Gummies (Best Broad Spectrum)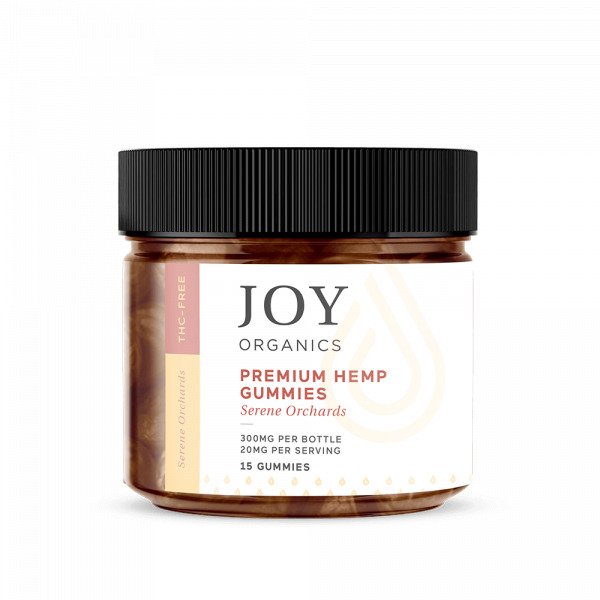 If you've been reading articles on CBD at Herbonaut on the regular, you must know by now what we always recommend when talking about CBD products:
When it comes to CBD products, always try to get a 'full spectrum' CBD product.
Here's why:
CBD isn't the only beneficial compounds that can be extracted from the Hemp plant. Hemp contains various other compounds like other cannabinoids (other than CBD) and a whole set of different compounds like terpenes.
Not only are all these compounds beneficial in and of themselves, but when taken together they enhance each other's positive effects.
When it comes to CBD gummies it's hard to find a true full-spectrum product. A true full-spectrum product contains the full spectrum of cannabinoids and terpenes that are found in the Hemp plant and contains these cannabinoids and terpenes in large detectable concentrations.
Now:
Even though true full spectrum CBD gummies are hard to find, 'broad-spectrum' CBD gummies are a bit easier to find.
Broad-spectrum means that the CBD product contains other beneficial compounds than CBD (like some other cannabinoids and/or terpenes).
And when it comes to broad-spectrum CBD gummies, Joy Organics is without a doubt one of your best choices.
Checking the results of their lab-test reports, you'll quickly see that their CBD gummies contain relatively large concentrations of various terpenes and to a lesser extent, cannabinoids, that you'll have a hard time finding in other brands of CBD gummies.
Add to that the fact these gummies taste great and work well (based on our subjective and personal tests), and you'll quickly understand why we rate Joy Organics CBD gummies so high.
Click the link below to go to Joy Organics' website:
Up next…
3. Nature's Script CBD Gummies (Best for Pain)
Remember the CBD gummies from CBDfx?
They contained additional ingredients (other than CBD) that enhanced some of the benefits that CBD provides.
Well, Nature's Script CBD gummies contain turmeric and white willow bark.
Both of these ingredients are strong anti-inflammatory agents. This means in Nature's Script CBD gummies, you get 3 very strong anti-inflammatory ingredients.
In theory, this means you'll have the biggest chance of experiences relief for pain with these CBD gummies.
In practice, you won't experience that much difference in effects between these CBD gummies and those from CBDfx for example…
But it could be that you are, for example, more sensitive to this specific combination of ingredients (CBD, turmeric and white willow bark).
The bottom line is:
If you've tried other CBD gummies with little to no results in relieving pain or you want the biggest chance to experience anti-inflammatory benefits, Nature's Script CBD gummies could be worth a try.
Click the link below to go to Nature's Script website:
Buy Nature's Script. CBD Gummies
Up next…
4. cbdMD Gummies (Best Taste)
Two big reasons for people to take CBD gummies instead of oils are:
They're more convenient to take, and;
They taste much better than most CBD oils.
And when it comes to taste, cbdMD CBD gummies are some of the best tasting gummies that you'll find.
They managed to keep a full flavor in their CBD gummies, while not going overboard with the 'sweetness' AND keeping the ingredients as natural and organic as it gets.
In fact, with these gummies, you should be careful not to overeat.
Of course, cbdMD ticks every other box to be qualified as a transparent CBD company:
They have test-results publicly available for each and every product that they sell.
They test both for contaminants and potency.
Like with the other CBD gummies in the list, you can be 100% sure that you're taking a clean CBD product that contains therapeutic amounts of CBD.
Bottom line:
If you're looking for the best-tasting CBD gummies in our list (not that the others taste bad, these just taste slightly better for us) …
Check out cbdMD CBD gummies:
cbdMD 15% off coupon code: Herbonaut
Up next…
5. CBDistillery Gummies (Best Old-Timer)
As CBD companies have been popping up left and right, it's hard to tell sometimes which ones are genuine and which ones are in it for a quick buck.
Well, CBDistillery is one of the first trustworthy CBD brands that started years ago but still is going strong today.
With CBDistillery you know that you're getting quality as they've proven it year-in-year-out in the past few years.
And although their CBD gummies don't necessarily bring anything special to the table…
Some of you will be glad to know they're buying CBD gummies from a company that has withstood the test of time and received thousands of positive reviews over the years.
Now:
Don't think you're getting mediocre CBD gummies just CBDistillery CBD gummies don't bring anything special to the table…
These CBD gummies taste well, have good effects (based on our subjective tests and hundreds of customer reviews), and are backed by independently conducted 3th-party lab-tests that prove that these gummies are clean and contain the amount of CBD as advertised.
Bottom line:
If you only feel comfortable getting CBD gummies from an old-timer in the CBD industry who, year-in, year-out, has proven that it produces high-quality CBD products…
CBDistillery CBD gummies are the ones you should get.
Click the link below to go to CBDistillery's website:
CBD Gummies Benefits
Although countless studies have found health benefits associated with the use of CBD, CBD currently is not a medicine and cannot be advertised as such.
CBD is a nutritional compound that's associated with numerous health benefits like:
Anti-inflammatory effects;
Pain-killing effects;
Anti-anxiety effects;
Improvement of sleep;
Anti-depression effects, and quite a few more effects.
For a full list of the potential health benefits associated with CBD, I refer you to the following article:
The most reported reasons for using CBD Gummies are:
CBD gummies for sleep;
CBD gummies for anxiety (read our guide on using CBD for anxiety), and;
CBD gummies for pain (read our guide on using CBD for pain.
CBD Gummies vs. Oil (Pros and Cons)
Are there any pros to using CBD gummies instead of CBD oils?
Well, the biggest benefit of CBD gummies vs oils is that they're extremely easy to use. Pop a few CBD gummies in your mouth, chew them, swallow them, and you're done. With a CBD oil, you have to measure the right dose with the dropper, and drop the dose inside the dropper under your tongue (this is also where the benefit of using CBD oil lies, as you'll learn in a bit though). Also, you have to keep the CBD oil under your tongue for a few minutes.
Taking CBD oil isn't very discreet, although it too can be a relatively fast activity.
Another benefit of using CBD gummies is that they taste much better than most CBD oils, and are actually a pleasure to chew on.
The last benefit of CBD gummies is that it's very easy to add other beneficial ingredients like turmeric or melatonin to CBD gummies. Although this is technically possible with CBD oils as well, it's a much harder to add these ingredients to an oily basis.
That said…
If you're looking for the most potent effects that CBD has to offer, there currently is no better option than using a full-spectrum CBD oil.
Let me explain why.
CBD and the Entourage Effect
The first reason that CBD is more potent when taken in the form of a full-spectrum CBD oil is the following:
Hemp contains many other beneficial compounds besides CBD. Some of these compounds include other cannabinoids like CBC and CBG and completely different beneficial plant-compounds like terpenes and flavonoids.
Now, although research about these other compounds found inside the Hemp plant is relatively new, most of the studies done show that these compounds not only have beneficial effects of themselves…
But most probably enhance the beneficial effects that CBD has to offer as well.
Researchers call this effect the 'entourage effect'.
In fact, a recent study showed that epilepsy patients that used full-spectrum CBD oils achieved the same beneficial effects with a dose that was 4-times smaller, compared to those patients that used a purified CBD product.
CBD and its Bio-Availability
The second reason that CBD is more potent when taken in the form of a full-spectrum CBD oil is the following:
Full-spectrum CBD oil should be taken sublingually. When you take CBD oil sublingually, you (for a large part) avoid the 'first-pass effect'. The first-pass effect refers to the process of metabolization of drug-related substances in the gastrointestinal tract and liver, which can significantly reduce the potency of that particular substance.
Well, when you just swallow your CBD, it undergoes exactly this process. CBD doesn't have the best bio-availability when you simply swallow it. CBD gummies can only be chewed and swallowed.
But when you take CBD oil sublingually (holding it under your tongue for a few minutes), the CBD doesn't have to go through the gastrointestinal tract and the risk of it being broken down and degraded, is thus significantly reduced. The CBD can directly enter your bloodstream this way.
For a list of our current best CBD oils click the link below:
CBD Gummies Dosage
There are no official guidelines on how much CBD (in milligrams) to take for any specific condition (remember that CBD is not a medicine, CBD is a nutritional compound).
There are, however, studies that showed beneficial effects related to CBD use, based on specific doses. Keep in mind that these doses were found in the context of various study-related variables like:
The condition that's being studied in relation to CBD-use;
Patients with a specific set of characteristics and/or;
Clinical conditions like using CBD on an empty stomach, using different forms of CBD than CBD gummies.
This means that the results of these studies can't be directly followed as advice. They can, however, give a good indication as to the milligrams of CBD you should use to experience potential benefits for your specific condition.
For a full guide where we review CBD dosages based on the latest scientific studies, check out our: