You might be new to vaporizers…
And think all dry herb vaporizers are the same.
Before you get the cheapest vaporizer there is…
Which will 100% result in disappointment and you forever giving up on vaping…
There's 1 thing you have to know:
There is such a thing as "too cheap" with vaporizers.
While it's possible to get a vaporizer for $50…
Such a vaporizer will do you WAY more harm than good.
But throwing money at it, is not the answer…
So what is the answer?
Your marijuana vaporizer has to match your vaping-style.
Once you have THAT vaporizer…
You will reap massive benefits:
Your health will improve (95% of toxins reduced compared to smoking);
You will save large amounts of money in the long run (use 2 to 5 times less herb), and;
You will stop smelling of and bothering people with smoke.
Which is why in today's post you will get to know the 7 best portable vaporizers and desktop vaporizers…covering every price range and every vaping style, in the following 2 sections:
Let's get to it.  First up…
The 7 Best Portable Vaporizers For Dry Herb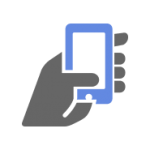 Portable vaporizers are battery powered, cordless vaporizers.
If you ever plan to vape outdoors…or just want to be mobile while vaping…
They're the only choice you have.
And while their biggest advantage is that they're usable anywhere at any time…
They actually have a few more advantages:
Discreetness;
Small size;
The possibility to be quick and stealthy.
These advantages come at a price though.
Most portable vaporizers are not as powerful as desktop vaporizers…
But there are a few portable vaporizers which rival the performance of the most powerful desktop vaporizers.
And that's exactly one of the vaporizers that takes the number 1 spot in our list of best portable vaporizers.
1. MIGHTY Vaporizer (Most Powerful, Reliable & Consistent)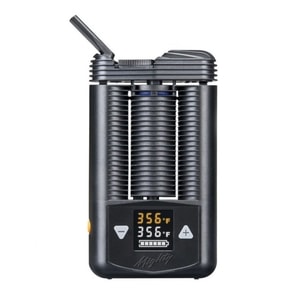 If there's one portable vaporizer…
Which blows the average desktop vaporizer out of the water in terms of:
Big, impressive clouds, and;
Purity of flavor…
It HAS to be the MIGHTY Vaporizer.
And even though its smaller brother the CRAFTY, is just as powerful…
The MIGHTY is just a more reliable vaporizer and the better long-term performer.
The power of this vaporizer is tremendous:
It produces huge, dense and potent clouds that not only have the power to put you into couch-lock…
But taste so good…
ANY (ex-)smoker will be impressed by this vape.
The best part?
It does it with a consistency and ease that you won't find in any other portable vaporizer.
If you're a medical marijuana user, you'll be glad to know it's also the ONLY portable vaporizer with an official medical license.
But that's not the only peace of mind you get…
If you want a foolproof vape, you'll be happy to know that the MIGHTY:
Has no learning curve: it's one of the easiest vaporizers to use;
Has no draw resistance: pull clouds out of your MIGHTY effortlessly, and;
Needs very little maintenance: no annoying and drawn-out cleaning sesions…
All these characteristics make it the perfect beginner's vape.
Within minutes, you'll be up and running…creating cloud after cloud, that will impress even the most skeptic smokers.
If you didn't know already:
The temperature you vape at has a large impact on the effects of your vapor…
A vaporizer with precise temperature control gives you more control over these effects.
As it turns out:
The MIGHTY has EXACTLY that.
You might be wondering:
Does this beast of a vaporizer has any downsides at all?
I would summarize the downsides in these 2 words:
Even though it is a portable vaporizer…
It's too big to be a true pocket-vape.
And its price is high.
But if you're looking for a vaporizer that is going to blow your mind, guaranteed…
The MIGHTY is the vape you have to check out. I've never seen this vaporizer disappoint ANYONE!
It simply is the perfect portable vaporizer for:
Medical marijuana users;
Anyone new to vaping;
Ex-smokers who need a hard-hitting vape, and;
Anyone looking for an easy and reliable vaping experience.
Click to compare prices:
Even though the MIGHTY's price is totally worth it…
It's possible that at this particular moment, something cheaper fits you better.
The next 2 vaporizers in the list have a very modest price tag…while keeping great quality.
Next up the cheapest of them all…
2. Flowermate V5S (Cheapest)
Most beginners want to try out vaping…
Without having to spend hundreds of dollars on a premium vaporizer.
They're simply looking for the cheapest dry herb vaporizer there is.
Well…here's the deal:
The Flowermate V5S is the cheapest you should go.
Go cheaper, and you might end up with heavy metal poisoning from toxic vapors…
Or the quality of your vapor will be so bad…that your vapor will taste like a combination of burnt popcorn and chemical fumes.
This vaporizer produces vapor of very decent quality…
And although not the safest of vaporizers…
It's safe enough that I would have an easy time recommending it to anyone but the most health-conscious users.
A beginner's/budget vape should be very easy to use.
The Flowermate V5S perfectly fits that requirement:
It has no learning curve and is easy to maintain (as long as you really 'maintain' it by cleaning it after every few sessions).
What's the bottom line?
It's a perfect vaporizer for beginners, anyone that wants to stay under $100 or anyone looking for a reliable and cheap back-up vape.
Click to compare prices:
If you're looking for much higher quality…and ready to spend a little more…
Next up is the…
3. Arizer Solo II (Best Value)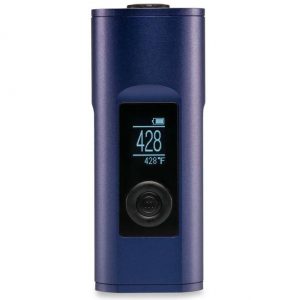 Ask the vaporizer community for the BEST value for money vaporizer on the market…
And 90% will tell you it's the Arizer Solo.
The original Solo has had the perfect balance between quality and price for 5+ years.
In terms of vapor quality it still blows many, more expensive vaporizers out of the water…
Producing very powerful clouds, which taste super-clean is something the original Arizer Solo does very well …until right before the end of your session.
That's where the flavor starts to deteriorate. But those first few draws are…heavenly.
The best part?
It's the most reliable portable vaporizer you can get.
Don't do anything crazy with it, and it will easily last you 5+ years (this is insane for a portable vaporizer).
The even better part?
Arizer recently released version 2 of this beast of a vape: the Arizer Solo II…
…and it improved literally in every area that a portable vaporizer can be rated on, but the most noteworthy improvements are:
No flavor deterioration, tasty clouds deep into your session;
More powerful clouds that hit you hard;
Faster heat-up time, no time wasting;
Better battery life (up to 20 sessions with a single charge) , and;
Precise temperature control for full control over the effects of your vapor.
It's slightly more expensive than the original Solo…
But the value of all these improvements…is worth WAY more than the slight increase in price.
I highly recommend this vaporizer, it's one of my favorites and the best value for money vaporizer you can get.
Click to compare prices:
Coupon codes:
HNSOLO$40 to get $40 off @ PlanetOfTheVapes
Now:
If you're looking for a true pocket-vape or just for a discreet vape…
The Arizer Solo II is too big, bulky and heavy to be called that.
The next vaporizer in the list is even more durable and sturdy…
AND at the same time: the most portable vaporizer there is…
4. PAX 3 (Most Portable & Stealthy)
When you're thinking of a portable vaporizer…
You're probably thinking of a small vaporizer that easily fits in your pockets.
As it turns out:
The PAX 3 is even smaller than that.
Combine this with its:
Stealthy design (no mouthpiece sticking out), and;
Quick heat-up time (15 seconds)…
And you got yourself the most discreet vaporizer there is.
With the PAX 3, you will be like a vaping ninja:
Quickly get in, make the kill (vape) and jump back into the shadows.
While the PAX 3 is still relatively new and it's still too early to be talking about its reliability…
Here's the deal:
Its predecessors the PAX and PAX 2, are among the most reliable vaporizers on the market. I'm sure we can fully trust PAX Ploom continued this trend with the PAX 3.
Besides, you get 10 years peace of mind (warranty) and the best customer service in the vaporizer-industry.
What's the bottom line? 
Get the PAX 3 if you're looking for:
The most portable and stealthy vaporizer;
One of the most beautiful and elegant vaporizers, and/or;
One of the most reliable portable vaporizers, with the best warranty in the industry.
Click to compare prices:
Next up is the vaporizer that's also called the 'budget-MIGHTY'…
5. Boundless CFX (Sick Value)
Looking at the Boundless CFX…
You can't help but notice its similarity to the MIGHTY Vaporizer.
Well, it turns out:
The Boundless CFX does not only look similar to the MIGHTY…
It IS similar to the MIGHTY…in every aspect.
It's around the same size and weight…
You'll have full control over the effects of your vapor, with the same precise temperature control…
Just like the MIGHTY, the Boundless CFX is a true BEAST…
This vaporizer hits like a truck and does it with the same consistency of the MIGHTY.
But here's the kicker:
The vapor quality (purity of flavor and smoothness of vapor) is worse than that of the MIGHTY.
Because the CFX is mostly a conduction-vape…the flavor deteriorates really fast after the first few hits.
The flavor is also harsher when you get into the higher temperature ranges.
It gets better:
This vaporizer is almost as easy to use as the MIGHTY…there's no learning curve.
It does have a higher draw-resistance…which means you'll have to work harder to get those monstrous rips.
But it won't be a breaking point for the majority of vapers…only if having no draw-resistance really is one of your top priorities.
The bottom line is:
Get the Boundless CFX if you're looking for something as powerful as the MIGHTY and can live with worse flavor…but for half the price.
Click to compare prices:
Next up is the King of Flavor…
6. Firefly 2 (Best Flavor, Efficiency & On-Demand Vaping)
If you're anything like me…
Flavor is one of the metrics that will make or break your experience.
And if you're looking for the King of Flavor…
Look no further.
The Firefly 2 will provide you the tastiest, purest and smoothest vapor of any vaporizer.
THIS is how your herb is supposed to taste.
You know they say every strain of cannabis has its own characteristic taste?
Well, with the Firefly 2…you will be tasting every subtle little difference between the hundreds of strains.
But to get your Firefly 2 to produce proper clouds of vapor…is not the easiest task.
The Firefly 2 is one of the harder vaporizers to use.
It definitely has a learning curve and the draw-resistance is high.
And even when you got it working…
The size and density of the clouds won't be impressive.
It actually is easy to use in one aspect though:
Cleaning it is super-easy and quick. This vaporizer requires no deep cleaning of any sorts.
And if you're looking to get medicated with super-small amounts of herb (0.05 grams)…
Or just want to take a few quick hits without fully finishing your bowl (which is a bad idea with ANY of the other portable vaporizers in this list)…
This is all very possible with the Firefly 2.
It's one of the few vaporizers with an on-demand heating system. Which means that your herb ONLY gets heated while you're pressing the heating buttons.
This makes the Firefly 2 actually the most efficient (electronic) portable vaporizer on the market.
Click to compare prices:
Next up is the last portable vaporizer in our list…
7. CRAFTY Vaporizer (Small but Powerful)
Being the smaller brother of the MIGHTY…
You can expect the same performance from this cute little vaporizer.
Yes, the CRAFTY is cute…but extremely powerful.
It surprises anyone that tries this vape for the first time…and the first thing they ask is:
How can such a cute little thing produce these flavorful monster clouds?
I'm not sure how, but I think it has something to do with 'German engineering'.
It gets worse:
Apparently 'German engineering' didn't prevent the CRAFTY from being the least reliable vaporizer in this list.
This vaporizer's defect rate is above average and its shelf-life is estimated around 100-150 hours of use on average…which is pretty low.
The biggest culprit here is the battery: it just seems to die after 100-150 hours.
It gets better:
If you vape only 2 hours per week, when you're battery dies, you'll most probably be within the 2-year warranty period and be able to get a new one.
Its small size also comes with a price…
The battery life sucks (40-50 minutes before recharge).
What's the bottom line?
The CRAFTY is one hell of a vaporizer. It's small, pocket-able, produces vapor of an extremely good quality and is extremely easy to use…
But its reliability isn't the best.
If it didn't have any reliability issues and the battery was better…it would've actually taken the number 1 spot.
Click to compare prices:
You've come to the end of our portable vaporizer list.
And will now enter the realm of desktop vaporizers…
The 7 Best Desktop Vaporizers For Dry Herb
Maybe you don't need to be portable…
And will always vape in the comfort of your own home.
If this is you, just go for a desktop vaporizer.
Here's why:
The only advantage portable vaporizers have over desktop vapes…is their mobility.
In all other areas you will get more value for your money with a desktop vaporizer:
They're more powerful
More reliable
They're easier to share with friends
Easier to setup with all kinds of inhalation methods (whip, balloon, bubbler)
In fact:
Even if you need a portable vaporizer…
It might be a good idea to get a desktop vaporizer for when you're at home anyway.
Because they don't have to be that expensive…
You can opt to go for a cheap but effective desktop vaporizer like the…
1. Arizer Extreme Q (Best Value)
Also called the 'Jack of all trades'…
The Arizer Extreme Q is the most versatile desktop vaporizer there is.
This vape can be used in literally any way:
Inhale with the whip: massive clouds while keeping a comfortable distance from your vaporizer;
Inhale with the balloon: convenient and cool vapor, ready to be passed around;
Attach a bubbler: massive rips, while keeping the vapor smooth and moist;
Use the fan to force vapor: literally effortless vapor inhalation;
Don't use the fan and draw yourself: full control over your vapor production;
Dry herbs or concentrates for that flexibility;
…and probably ways I haven't tried yet.
Of course this versatility comes with a price…
The Jack of all trades is master of none.
The Arizer Extreme Q is not the best vaporizer in anything except versatility.
If you're looking for the most powerful clouds, the best flavor, the best group-vape…and basically anything else 'best'…
Look further down this list.
But for its price point, you really can't get anything better.
The value you get out of $150 dollars is unparalleled.
And its quality will be good enough for 90% of vapers.
Click to compare prices:
One potential issue with this vape is that the part of the air path passes over the electronics…
The jury's still out on whether this could be an health-issue…
But if you want to minimize health-risks to the best of your potential…
Next up is the most famous vaporizer…and only desktop vaporizer with an official medical certification.
The granddaddy of all vaporizers…
2. Volcano Vaporizer (Best Balloon, Safest & Most Reliable)
This vaporizer probably doesn't need an introduction…
Because it has been around since 2001…
…and after 16 years, STILL holds a spot among the best.
Here's why:
The Volcano Vaporizer blows balloon (bags) like no other vaporizer.
It's the best party/group-vape you can get.
Within minutes it will fill the largest balloons with such potent and tasty vapor…that it will give the most powerful whip- and direct-draw vaporizers a run for their money.
The downside of this powerful balloon-performance is that in any given session you'll need more herb to get started than the average vaporizer (0.3 grams).
And its versatility is limited to balloons…it's basically all it does: blow balloons.
But blowing balloons for 10+ years without ever breaking a sweat…
Is a remarkable quality.
The Volcano Vaporizer is the MOST reliable vaporizer on the market (portable or desktop)…
This thing simply won't break.
Instances of 10 year old Volcano Vaporizers still working effortlessly are extremely common.
It's also one of the few vaporizers with an official governmental medical certification…
Which means this is one of the safest vaporizers you can get!
Click to compare prices:
Now:
Balloons are not for everyone…
Some of us need a monster clouds directly coming from the source…
Next up the BEAST of BEASTS…
3. VapeXhale Cloud EVO (Best Direct-Draw, Most Powerful & Sick Flavor)
Which has the power to put even the toughest high-tolerance soldiers on the floor…begging for mercy…
It HAS to be the VapeXhale Cloud EVO.
This is the hardest-hitting vaporizer on the market.
This beast is designed to be used with a bubbler (water filtration)…called a Hydratube.
These Hydratubes help you handle the monstrous clouds coming out this beast…and really help smooth out the vapor.
You would think such power must surely compromise on vapor quality…
As it turns out:
The VapeXhale Cloud EVO produces the best tasting flavor of all desktop vaporizers in the low- to mid-temperature ranges…
Only in the high temperature ranges the crown goes to the Herbalizer.
And its taste can be so good because:
If we forget the stainless steel bowl for just a second…
It's the only vaporizer which can truly say it has an all glass air path, because it's one of the only vaporizers which has its air path fully separated from the heating element and electronics.
This is one of the key reasons why its vapor quality is so good…
But this separation of the air path with the electronics, and the fact that glass is the safest material for vaporizers…
Make the VapeXhale Cloud EVO also super-safe choice, for you health-conscious vapers.
Click to see most recent price:
With the next vaporizer you'll have access to both…also called the 'rocket science' vaporizer…
4. Herbalizer (Most Advanced)
Designed by 2 ex-NASA engineers…
The Herbalizer is the most advanced and sophisticated vaporizer on the market.
It heats up in 10 seconds and has the most precise temperature control of any vaporizer.
The software inside this alien-ware vaporizer keeps the temperature consistent within a few degrees…no matter how hard you draw.
But the best part about the Herbalizer:
On high temperatures, the vapor quality is the BEST of all desktop vaporizers…
It's extremely smooth and full of flavor: there's zero burnt flavor or harshness in the vapor.
What you'll also really love about this vaporizer is that it medicates supper effectively…but not like the VapeXhale Cloud EVO, which slams monstrous clouds in your face…
The Herbalizer does it in a much more sophisticated way.
As you're enjoying your super smooth and flavorful vapor…
The Herbalizer really sneaks up on you:
You're joyfully puffing away…and before you know it, your medication-level will remind you of your first few encounters with the mother Marijuana.
The Herbalizer is also one of the most versatile vaporizers around, you can use it with:
Balloons (Bags): for convenient and cool vapor, ready to be passed around;
Whip: for massive clouds while keeping a comfortable distance from your vaporizer;
Glass steamroller: for massive direct-draw rips that will put you DOWN, or
Bubbler: for massive rips, while keeping the vapor smooth and moist;
For its price, you would expect a perfect vaporizer…
But one downside of this premium vaporizer is that its accessories are lower quality than you would expect from such an expensive vaporizer…
You really have to do some modding to optimize its performance.
Its build quality is also a bit less than you would expect from such a premium vaporizer…
But if you can accept these shortcomings and are prepared to spend its premium price…
You will probably become a raging fan…as anyone that tries out the Herbalizer has a hard time going back to other vapes.
Next up we have the desktop vaporizer which takes efficiency to a whole new level…
5. E-Nano Log Vaporizer (Best for Solo Use & Efficiency)
If you're looking to squeeze every little penny out of your herb…
The E-Nano Log Vaporizer is the most efficient desktop vaporizer in vaporizer-land.
That's not all though…
The vapor quality and potency of this cute little vape is up there with the high-end vaporizers.
And the best part is that you only need a pinch of herb to produce monster clouds with the E-Nano.
This is exactly what makes the E-Nano the best vaporizer for efficient solo vaping.
The downside of this vape is:
It's one of the worst vaporizers for group-vaping…
And not only because its bowl is so small…
There's also some technique involved with using the E-Nano.
It's not a 'just turn it on' vaporizer.
You're going to have to find your own sweet spot with the:
Temperature (it has an analog temperature knob);
Grind (fine vs coarse), and;
Basic setup (how far you let the mouthpiece stick out for example).
But once you've found your sweet spot…
The E-Nano will bless you with beautiful and flavorful clouds of deliciousness with just pinches of herb.
Next up…
6. Da Buddha Vaporizer (Best Whip)
Designed by 7th Floor, an American heavy-weight in the vaporizer industry…
The Da Buddha Vaporizer is another vaporizer which provides insane value for your money.
It has a super simple design…
But the clouds coming out of this vape are highly impressive.
With a whip-style vaporizer, it's always easier to get hard-hitting clouds…
But the Da Buddha Vaporizer really is up there with the hardest hitting desktop vaporizers.
Its vapor quality is up there with the best as well.
The only problem:
When you get in the higher temperature ranges the vapor does get harsh. And the temperature is controllable with a knob that has no signs on it…which means you don't ever really know what temperature you're vaping at.
This minor handicap does add to learning curve of the DBV…
Because if you're not careful with the knob or your drawing speed, you will be burning your herb.
If you can accept its learning curve…
You'll be getting one of the most reliable vaporizers on the market.
This vaporizer will easily last you 5+ years.
Next up…
7. PLENTY Vaporizer (Beast)
Being another Storz and Bickel powerhouse (same manufacturer as the MIGHTY and Volcano)…
The PLENTY has the same characteristic Storz and Bickel benefits:
It's extremely easy to use
It's extremely powerful
Great for group-settings
But it also has the same downside as the Volcano:
It's quite the herb hog…not very efficient with your herb
In many ways the PLENTY is similar to the Volcano…
Except it doesn't blow any bags. It's a true direct-draw vaporizer…
…and hand-held. No balloons or bags involved with this vaporizers.
You're super-close to the source.
Combine this with the powerful heating element and its large bowl…
And you got the perfect recipe for extremely powerful hits and long-lasting sessions.
Click to compare prices:
What's Next…
If you want to learn more about vaping check out the following vaping and vaporizer guides:
If you still need a grinder for an easy way to grind your herb, check out our buyer's guide on herb grinders:
And if you want to get the best vaporizers for vaping concentrates, check out our buyer's guide on wax pens:
Lastly, if you want to connect with us become a fan on Facebook or follow us on Instagram by clicking the links below.