Today, you're going to learn everything about CBD oil for pain relief.
We reviewed over 40 scientific papers that looked at the potential benefits of CBD and tested over 50 CBD oils on their general effectiveness for improving well-being (based on our subjective experiences!).
The results we found are a MUST-read for anyone interested to explore the potential benefits of CBD oil in relieving pain.
The best part?
You're going to learn exactly what type of CBD oil we recommend using if you want to explore the potential benefits of CBD oil for pain relief. And also, the best ways to use CBD oil and the best potential dosages to increase your chances of experiencing a benefit from CBD oil.
Keep reading!
Medical Disclaimer
: Please note that our findings don't guarantee any benefit for you and realize that CBD oil is not an officially approved medicine. These products are not intended to diagnose, treat, cure, or prevent any disease. Always consult with your doctor/physician before starting to use any of these products, ESPECIALLY if you're already on medication. CBD can
potentially interact
with many pharmaceuticals.
What Makes CBD Oil a

Potential

Natural Painkiller?
If you didn't know already:
CBD stands for cannabidiol and is a compound that is categorized as part of a family of compounds called 'cannabinoids'. Cannabinoids are naturally occurring compounds that can only be found in Cannabis Sativa plants (including Hemp).
And here comes the important part:
There are over 80 different cannabinoids, and some of these cannabinoids have a high affinity to binding to particular types of receptors that are associated with biochemical processes like:
Cannabinoids (especially THC and THCV) are also one of the few types of exogenous compounds that interact directly with the human 'endocannabinoid system'.
The human endocannabinoid system is a term that specifies the biological system that consists of 'cannabinoid' receptors, their ligands called endocannabinoids and enzymes that are believed to be responsible for endocannabinoid biosynthesis.
Now:
CBD, in particular, doesn't bind to 'cannabinoid' receptors with high affinity or interacts strongly with the endocannabinoid system in any other way.
However, CBD does bind to some other 'non-cannabinoid' receptors with high affinity, and the functioning of some of these receptors is associated with feelings of pain.
When you ingest CBD oil, you can alter the functioning of some of these receptors.
CBD in some cases:
Activates receptors, stimulating and increasing the activity of neurotransmitters that communicate with these receptors.
In other cases:
CBD binds to these brain receptors, sometimes inhibiting the uptake and increasing the presence of certain neurotransmitters in the brain, and other times desensitizing these receptors and in effect decreasing the activity of the related neurotransmitters.
Current research shows that CBD has a strong affinity for interacting with 3 particular receptors that are associated with experiencing feelings of pain:
5-HT1A (hydroxytryptamine) serotonin receptors
Adenosine receptors, and;
TRPV1 receptors (vanilloid receptors)
Let's explore these a bit further.
CBD and 5-

HT1A

(hydroxytryptamine) serotonin receptors
Serotonin is often referred to as a "feel-good neurotransmitter." When serotonin neurotransmitters are active they can act as an anti-depressant, improving your general sense of well-being. But serotonin neurotransmitters can only be active if their corresponding serotonin receptors are active.
Now, here comes the interesting part:
Many serotonin (5-HT) receptors are related to neuropathic pain as well, and CBD activates at least one of these receptors (5-HT1a). By activating the 5-HT1a receptors, CBD could effectively increase serotonin activity and in effect, interfere with neuropathic pain.
But CBD targets different receptors as well.
CBD and Adenosine Receptors
By binding to Adenosine receptors, CBD effectively inhibits the re-uptake of Adenosine neurotransmitters, which in turn increases Adenosine signaling in the brain. The activation of Adenosine signaling in the brain has been associated with anti-inflammatory effects and could be one of the reasons why CBD-use is associated with painkilling effects.
CBD and Vanilloid (TRPV1) Receptors
The vanilloid (TRPV1) receptors work the opposite way compared to serotonin receptors regarding pain. When they're active, you have a heightened sense of pain. CBD has been shown to bind to vanilloid receptors. Researchers have hypothesized that through this binding, "CBD, like capsaicin, leads to desensitization of TRPV1 receptors, with subsequent 'paradoxical analgesic effects". So by decreasing the activity of vanilloid receptors, CBD can potentially decrease the sensation of pain.
The Types of Pain CBD May Relieve (Review of Studies)
While CBD oil is not a medicine, various scientific research has shown that CBD could have powerful anti-inflammatory and analgesic (painkilling) effects.
Chronic Pain
A study published in 2012 by the Journal of Experimental Medicine, looked at the effects of CBD on chronic inflammatory and neuropathic pain. They found that:
 Systemic and intrathecal administration of cannabidiol (CBD), a major nonpsychoactive component of marijuana, and its modified derivatives significantly suppress chronic inflammatory and neuropathic pain without causing apparent analgesic tolerance in rodents.
They ascribe the anti-inflammatory and painkilling effects of CBD to potentiation of glycine receptors (GlyRs), which play an important role in the regulation of pain at the spinal level.
A 2018 study that looked at chronic pain treatment with CBD in 7 kidney transplant patients, found that:
2 out of 7 patients had a total pain improvement (meaning their pain completely went away);
4 out of 7 patients had a partial pain improvement (meaning the pain lessened significantly but didn't completely disappear), and;
1 patient didn't improve at all.
Interestingly enough, this same study found that with 1 patient experienced much better pain control with a lower dose of CBD. This means that more is not always better!
Digestive Pain
There has been some research in regard to cannabinoids and improving gut health as well as relieving the pain associated with it, including conditions like Crohn's, leaky gut, IBS, celiac disease, gluten sensitivity and more.
Researchers have found evidence, as suggested in "Cannabinoids for treating inflammatory bowel diseases: where are we and where do we go?" that cannabinoids can potentially treat inflammatory bowel diseases (IBDs).
Of all cannabinoids both THC and CBD have the biggest potential.
Pre-clinical studies have shown that CBD potentially has an anti-inflammatory effect on intestinal inflammation.
While the exact mechanism responsible for this effect needs further research, researchers have found at least some evidence that CBD acts as an antagonist to GPR55, a receptor that plays a crucial role in intestinal inflammation. By binding to the GPR55 receptor, CBD could work as a desensitizing agent on this receptor, which potentially leads to a decrease in inflammation.
Arthritis Pain
Arthritis, which literally is an inflammation of the joints, is another condition that CBD oil could be effective for.
Research published in 2016 in the European Journal of Pain found a dramatic reduction in inflammation and signs of pain, without adverse side effects in rats with arthritis after the animals were given a topical gel that contained CBD for four days.
It makes sense that CBD could help relief any inflammation-related health condition due to its ability to lower inflammation.
There are many users of CBD oil who have anecdotally reported that it helps to relieve not only pain but other inflammatory conditions as well, like: multiple sclerosis, nausea, PTSD, Alzheimer's disease, insomnia, and epilepsy, in addition to all of the above, though studies are still needed to confirm these effects.
Note: CBD may not only relieve physical pain but mental pain like anxiety and depression as well.
What's the Best CBD Oil for Pain Relief?
The best CBD oil to explore CBD's potential for pain relief is any full-spectrum oil that's packed with a full spectrum of:
Cannabinoids, and;
Terpenes.
Cannabinoids like CBD and terpenes are associated with countless health benefits. Plus, some researchers suggest that CBD works best in combination with other naturally occurring compounds (like other cannabinoids and terpenes) found in the Hemp plant, through a process they call 'the entourage effect'.
A full spectrum or full-plant extract CBD oil makes the best case for the entourage effect.
In fact, as you'll learn in a bit: one study has found that full-plant extract CBD oil indeed is more potent than purified CBD products that only contain CBD.
For a current list of CBD oils that we recommend for exploring the potential benefits of CBD for pain relief, click the link below:
How to Use CBD Oil for Pain Relief
There are 3 different ways you can ingest therapeutic amounts of CBD:
Taking edible CBD oil;
Vaping CBD vape oil, or
Smoking/vaping the flower of high-CBD strains.
While all 3 have their pros and cons, to get the most benefits out of your CBD, we always recommend using a true full spectrum edible CBD oil.
That said, let's look at the pros and cons of all these different methods to use CBD for pain.
Taking Edible CBD Oil for Pain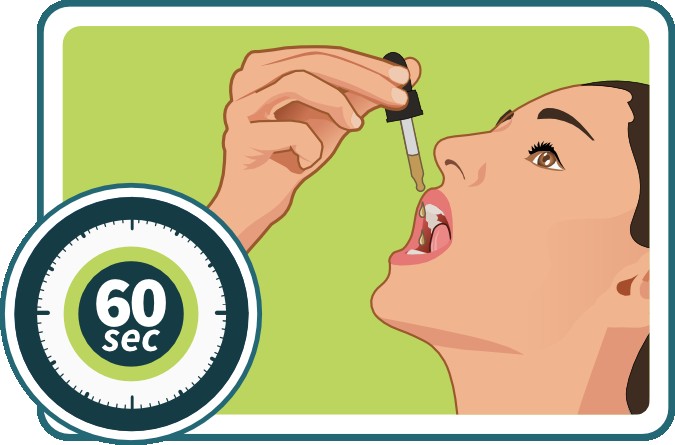 Taking CBD in the form of edible CBD oil is our most recommended method to take CBD oil for pain relief.
Here's why:
With edible CBD oils, it's very easy and reliable to dose the exact amount of CBD you ingest;
Full-spectrum, edible CBD oils are the most potent CBD products that you can get, and;
The effects last the longest (2-5 hours).
We always recommend taking your edible CBD oil sublingually.
How you take your CBD oil sublingually is by keeping it under your tongue for at least 60 seconds, and only after that, swallowing it.
When using edible CBD oil, NEVER try to vape it. Edible CBD oils are not suited for vaping! Edible oils vaped over a longer period of time can cause lipid pneumonia.
Vaping CBD Vape Oil for Pain
Although we always recommend a full spectrum edible oil for experiencing the most potent effects that CBD has to offer…
Some of you might be interested in vaping CBD vape oil.
Vaping CBD oil will have immediate effects, but the effects won't last as long as when you would consume it orally/sublingually.
If you want to be discreet, this is probably the most discreet method to consume therapeutic amounts of CBD.
Vaping has become so widespread that no one will look at you strangely for using a regular vape.
Combine with the fact that CBD vape oil also has no specific smell that makes it easy for anyone to recognize, and you'll quickly realize that vaping CBD vape oil can be very discreet.
Now:
Related to the recent vaping horror-stories, I want to stress that if you're going to vape CBD vape oil, it's extremely important that you get your CBD vape oil from a trusted source.
You need to know exactly what's inside your CBD vape oil. Any vape oil manufacturer should prove that their vape oil is safe by providing lab-test reports done by independent 3th-parties.
For our current recommended CBD vape oils, check out the article below:
Smoking/vaping the Flower of High-CBD Strains for Pain
Another way to ingest therapeutic amounts of CBD is to smoke/vape the flower of high-CBD strains.
Now, when it comes to smoking vs vaping, there's no doubt:
Vaping is the preferred alternative to smoking. Vaping reduces a significant amount of toxins that normally get released through the act of burning flower.
That said, to find high-CBD strains look for cannabis strains that at least have a 1:1 ratio of CBD:THC.
Dosing CBD Oil for Pain
As CBD oil isn't an officially approved medicine, there are no official dosage guidelines.
So where do you start?
If you're taking CBD oil for the very first time, begin with the smallest dose possible until you know exactly how your own body will react. Start with the recommended dose from the company that you've bought the CBD oil from.
The right amount of CBD oil for one person is often different for another. The good news is that it's easy to gradually increase the dosage, just milligrams at a time until you find just the right balance that works.
Also, note that there has been a recent study that found painkilling effects of CBD with an initial dose of 100 mg/d and a progressive increase up to 300 mg/d (spread out over the day in smaller doses). Realize that with high doses like these, taking full-plant extract CBD oil is going to turn out very expensive. For example, a NuLeaf Naturals CBD oil has a strength of 50mg CBD/milliliter. A 0.5 FL OZ (15ml) bottle of their pure CBD hemp oil contains 725mg of CBD and costs $99. If you're going to take 100mg of CBD, a $99 bottle is only going to last you 7 days. You might not need such a high dose, start with low amounts.
Whatever you do, never use more than 1500mg/day, this is the current maximum recommended dose according to several studies.
Also make sure that if you're taking other medicines, be extra careful with high doses, as CBD could potentially interact with many pharmaceutical drugs.
Note that how many drops you need to take to achieve a set amount of CBD in milligrams, is highly dependent on the CBD oil that you're using. CBD oils come in many different strengths with potencies of 1% CBD to 30% CBD.
For example, NuLeaf Naturals CBD oil has a strength of 50mg CBD/milliliter. A 0.5 FL OZ (15ml) bottle of their pure CBD hemp oil contains 725mg of CBD. In their case, 1 drop = 2.4 mg of CBD, this means there are 300-320 drops in total. Start with a few drops.
Now, if you notice that your body doesn't have any adverse reactions, you can slowly start to increase the dose IF you don't feel any positive effects from your initial dose.
There are also dosage instructions that come with the CBD oil you purchase to read before taking that first dose. Continue taking up to the maximum amounts slowly over your first four weeks. Evaluate how it helps to relieve your symptoms, taking notes if possible.
If you do experience drowsiness, which is unlikely at these lower doses, you may want to take CBD oil in the evening, just before bedtime, or spread the dosage in small drops throughout the day, so that there is a small amount in your body all the time.
For a guide on unofficial CBD dosages, click the link below:
How Long Does It Take for CBD Oil to Work for Pain Relief?
Again, CBD and CBD oil are not medicines.
That said, you can use anecdotal reports and the results of a few studies as a guide for knowing when to expect what when using CBD oil.
One study, for example, found that kidney transplant patients experienced positive effects after 15 days of daily CBD oil use.
Side Effects of CBD Oil
CBD has no known severe side effects. Opioid painkillers, in contrast, come with side effects such as overdose, increased likelihood of heart attack and addiction.
The side effects associated with CBD use are minor and include:
Dry mouth;
A slight sedative reaction (feeling sleepy), and;
A reduction in the liver's ability to metabolize certain pharmaceutical medications.
For a non-exhaustive overview of currently known interactions of CBD, click here. Anyone taking a prescribed drug should speak with their healthcare provider before using CBD oil.
Drowsiness typically only occurs in those who exceed doses of 10 mg/kg/day, which is far more than the average person needs to battle pain.
Is CBD Legal?
CBD oil that's been extracted from hemp under the Farm Bill of 2014, and it contains less than 0.3% THC, it is legal to sell and purchase in all 50 states, with no doctor's recommendation.
Could CBD Oil Be an Effective Alternative to Pharmaceutical Pain Killers?
As you read earlier in the article, there's sound scientific support for the notion that CBD oil may be an effective natural substitute for pharmaceutical painkillers.
As scientists continue to explore the compound's numerous medicinal benefits, further studies are needed to really elevate CBD to an officially approved painkiller.
But if you look around on forums like Reddit or health forums, there's no doubt that you'll find many who have found CBD oil to be effective in treating their pain.
The best part?
As you read earlier, these anecdotal experiences have a solid scientific basis.
Besides the earlier studies that we mentioned, there have been dozens of additional studies that have confirmed CBD's ability to provide analgesic (painkilling) relief.
For example:
In 2012, research published in the Journal of Experimental Medicine conducted on rats and mice found that the use of CBD significantly decreased inflammation in the animals.
These positive effects have been found in tests on humans as well, including a 2008 review that affirmed earlier clinical trials which showed that Sativex, a cannabis-derived oral spray containing equal proportions of THC and CBD, effectively reduces different types of pain:
Central and peripheral neuropathic pain;
Rheumatoid arthritis, and
Cancer pain
Without causing any major negative side-effects.
We do have to keep in mind here that THC plays a big role in reducing pain as well, and it's probably the combination of THC and CBD what makes Sativex so effective and these results can't directly be translated to the use of CBD oil, because CBD oils don't contain therapeutic amounts of THC.
Nonetheless, it shows that CBD as part of painkilling formulation has potential as well.
What's Next
If you're going to use CBD oil, always consult with your healthcare practitioner first, especially if you're already taking prescription-based medicines. Be very careful when combining CBD oil with pharmaceutical drugs!
Check the article below to find the best CBD oils:
If you want to read up on more potential benefits of CBD, check out our article on:
If you want to become an expert on CBD oil in just 5 minutes, check out our guide on:
If you're looking for a vaporizer to vape CBD vape oils, check out this article:
Lastly, if you want to connect with us, share this article/become a fan on Facebook or follow us on Instagram by clicking the links below.