Today you're getting a list of the best vape pens for oil, oil cartridges and wax that you can currently get.
With over 40 vape pens tested and reviewed on metrics like:
Safety;
Potency
Portability
Ease of use,
And many more
You can be sure you will find a vape pen that perfectly matches your style and budget.
Whether you're looking for:
A monster-cloud producing wax pen, or;
A small and discreet vape pen for (pre-filled) oil-cartridges;
Every vape pen in our list has a unique strength.
Keep reading in the following sections:
The 7 Best Vape Pens for Oil, Oil Cartridges & Wax (Oil, Dab & Wax Pens)
Best for Oil Cartridges
AirVape OM
Smallest and most foolproof wax pen, that works with ALL concentrates (including oil cartridges)
PERFECT for any oil cartridge because of its watt-range and cartridge place-holder
Produces super-tasty and smooth hits
Hard to produce big and powerful rips
Best Value
Omicron V5
Safe choice: provide lab analysis and FULL disclosure of the origin and types of their materials.
Produces powerful and flavorful hits
Great value for money and good beginner's wax pen
Needs 5-10 seconds of time cooling off between hits
Doesn't take more than few rice-size pinches of oil (low capacity)
Best Load-As-You-Go Atomizer
Sai Top Airflow
Hardest hitting 'wax pen' that still feels ok in your pocket
Has a large bowl for larger amounts of oil than earlier wax pens
Operates with 4 different coils, including a titanium bucket coil that produces insane flavor without any spit-back or leaking
A bit on the bulky side
You'll need to buy a separate box mod to power your Sai
Best Tasting Load-As-You-Go Atomizer
Divine Crossing V3
Best flavor of all wax pens (because of its ceramic donut coil)
Great for micro-dosing
Flavor really is its only strength
Best for Medical Users
Hercules 510
Lasts for years without any part needing replacement
Handles insane quantities of oil: 1 gram (there's no one who needs to refill the Hercules in a single session)
Hits as hard as a stationary dab-rig
Big and bulky
Has a major learning curve
Oil vape pens can be divided into 3 different categories:
Wax/dab pens, which can be used for wax, splatter or rosin;
Vape pens, which in reality are just 510-threaded batteries, that can operate (pre-filled) oil cartridges, and;
E-liquid vape pens in which you can put oil that is specifically produced to be vaped, like CBD vape oil.
All oil vape pens in the list below are usable with wax, splatter, and rosin. Some of them still need an external battery though, and if that's the case it will clearly be stated and you will get a recommendation for that as well.
Now:
Some oil vape pens can be used for wax AND (pre-filled) oil cartridges ( #1 AirVape OM and #2 Omicron V5 ).
And some oil vape pens can ONLY be used for (pre-filled) oil cartridges. If you're only vaping distillates in oil cartridges and looking for the best option for exactly that, click here:
None of these oil vape pens are usable with e-liquids!
Starting with the first wax pen on the list…
1. AirVape OM (Most Portable & Best for Oil Cartridges)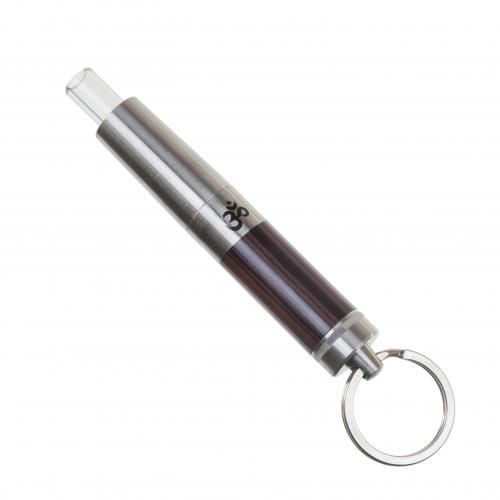 If you're looking for the most portable and most simple vape pen in our list…
The AirVape OM is the smallest and most foolproof wax pen you will find.
It's a great pick for you if portability really is your highest priority…
Or you don't want to be messing around with separate batteries like box mods or separate coils.
You get this vape pen, and it works well just straight out of the box…no tinkering, modding or getting a separate battery needed.
That's not all though…
This sleek little vape pen produces very flavorful clouds. And the best part is that the clouds are super smooth, there's little to no harshness in the clouds.
The AirVape OM is very well suited for low power / low temperature vaping. This means light but very tasty hits.
The other side of the coin is:
It's not the best choice if you're looking for big and powerful rips that can turn a whole room white with vapor. It doesn't take more than 0,1 grams of oil and the horsepower of this vape pen isn't the best.
Now:
If you're looking for a wax pen which is actually designed to operate oil cartridges…
Look no further.
The AirVape OM has a perfect range of watts to power any oil cartridge.
And it's designed in such a way that any oil cartridge is held in place, extremely well (a weak point with many vape pens). This vape pen can be tossed around in your pocket, and the cartridge will stay stuck on there like glue!
And although there's a better option for you, if you're ONLY looking to vape oil cartridges…
The AirVape OM is the best vape pen that can vape both heavier oils like wax, rosin, etc. AND the finer oils found in oil cartridges.
This multi-purpose vape pen is the best pick if you want to keep all your options open when it comes to vaping cannabis concentrates.
Click here for lowest price »
Note: The AirVape OM is usable with any 510-threaded oil cartridge.
Next up…
2. Omicron V5 Vape Pen (Best Value)

This vape pen is the result of close to 10 years of R&D, customer feedback and continues improvements based on this R&D and feedback.
W9, the manufacturer of this pen, has built such a stellar reputation over the years…
That it currently is the most trustworthy manufacturer of wax pens.
The Omicron V5 is their latest pen-style model.
It's one of those wax pens that can be used in different ways, so you can really fine-tune your vaping experience to your desires:
You get 3 different coils. You can use the double coil for extremely powerful rips that will take your medication-level to uncharted territories…or the black ceramic donut coil for sitting back and slowly taking small sips with extremely flavorful hits.
You could easily add water filtration with the Nibbler AC, to really smooth out your vapor and reduce harshness.
While the saying 'you get what you pay for', holds true for most vaporizers…
With the Omicron V5 you get what you pay for, PLUS some, and THEN some.
Let me explain.
The price of the Omicron V5 is below the well marketed and well-advertised vape pens like the G-Pen or Kandypens…
But the quality of this vape pen actually is BETTER.
You get the best of both worlds:
Good price, and;
Great quality.
What does great quality mean anyway?
Well, the clouds coming out of your Omicron V5 will be so tasty and potent, you will have to be careful to not overdo it and vape yourself into a couch-lock (#3 the Sai Top Airflow and #5 the Hercules being even more powerful in this regard).
About the flavor: it's not just the first hit that tastes well like with most wax pens…
Every hit you take out of your Omicron will be like an orgasm for your taste buds: the smoothness and purity of vapor this wax pen produces is close to unmatched.
But what you'll like most about ANY W9 product…
Is the transparency this company provides regarding the materials used in their products.
They provide lab analysis and FULL disclosure of the origin and types of their materials.
You EXACTLY know with what materials you're vaping. Dangers of heavy metal poisoning or toxins polluting your vapor are virtually non-existent with W9 products.
Here's what materials are used in the Omicron V5:
Food-safe type 304 stainless steel;
Grade 2 titanium, and;
Ceramic.
Depending on where they're used in the vaporizer, all of these materials are as safe as it gets. And with the Omicron V5 you can rest assured they're used in the right places.
Does this thing have any cons at all…?
No vaporizer is perfect.
It needs some time cooling off between hits and doesn't take more than a few, rice-grain-sized pinches of oil at a time (max. 0,1 grams).
So it's not the best wax pen to be used in a group…
And if you got very high levels of tolerance, it's also better you check out wax pens with a bigger capacity (#3 Sai Top Airflow, or #5 Hercules)…unless you don't mind reloading all the time.
The bottom line is:
Although it's more expensive than the AirVape OM…
You will get stronger and more flavorful hits with the Omicron v5.
But if you're looking for the smallest possible wax pen or want the best pen for oil cartridges, go for the AirVape OM.
Click here for lowest price »
Note: I highly recommend getting one of the bigger batteries. It's just a small price increase for a great increase in convenience.
Note: The Omicron V5 is usable with most 510-threaded (pre-filled) oil cartridges, just be careful to always use the lowest wattage setting of 6W and use very short pulses of power.
Next up…
3. Sai Top Airflow (Most Powerful 'Load As You Go' Wax Atomizer)

If you're looking for a heavy hitter…
But don't necessarily want a heavy duty wax pen like the Hercules (#5)…
The Saionara Atomizer has got you covered (note this is an atomizer, you still need a battery to power it, for recommendations keep reading).
This beast of an atomizer is probably the hardest hitting 'wax pen' in the list, while still feeling OK in your pocket (it's on the heavy side).
Compared to the other pens in the list (except for the Hercules), you can also pack more oil, which means more hits before reloading. This is great if have a high tolerance or vape a lot in group-settings.
The downside with the original Saionara Atomizer was that the flavor was slightly worse than any of the W9 atomizers/wax pens like the Omicron V5 or Hercules…
But the new Sai Top Airflow can operate with bucket coils, which are a true blessing for flavor.
Here's why:
With the titanium bucket-coil, your oil or wax won't directly go on the coil. This means the heating will be more even and this will lead to purer flavor.
The original Saionara already had good air-flow…
But the airflow with this new version is nothing short of amazing: it helps cool down those massive high-temperature hits.
If you wonder about the safety of this atomizer:
The materials used in the Sai Top Airflow are safe and well equipped to handle high temperatures.
Not only that…
But you can actually choose between different types coils made of different materials (in case your battery/box mod can't handle a specific type of material):
Titanium bucket coil;
Ceramic coil with stainless steel heating wires (Miracle A, B & S coils);
Black ceramic coil with stainless steel heating wires;
Quartz coil with Kanthal heating wires (Original Wax Coil).
While the Miracle coils are mainly for flavorful hits produced at low watts (7-15w), the black ceramic coil (10-18w) and quartz coil (15-28w) operate at a higher watt range, which means big and powerful clouds ready to take on anyone with a high tolerance.
Personally, I like the new bucket titanium coils best. They produce amazing flavor without any spit-back or leaking.
The bottom line is:
The Saionara is the most powerful load-as-you-go pen in the list while keeping amazing flexibility so you can really fine-tune your vaping experience: from massive clouds to subtle flavorful hits.
Click here for lowest price »
Now:
Keep in mind that you're only getting the atomizer part of the 'wax pen' and you will need a box mod (preferably a temp control Box Mod) to power the Saionara atomizer (this will be the battery part of your 'vape/wax pen'):
Next up…
4. Divine Crossing V3 Atomizer (Best Flavor Wax Atomizer)

If you're looking for the King of Flavor in load-as-you-go wax pens…
There currently is no better choice than the Divine Crossing V3.
The flavor of this sophisticated atomizer is the best in the list.
While metal coils usually have a metallic aftertaste…the ceramic donut coil of the DCv3 is as pure as it gets, no weird aftertaste.
Ceramic donut coils are the new rage in wax pen world:
They provide the best flavor;
Last longer, and;
Are easy to clean.
And when we're talking about ceramic donut coils…the Divine Crossing V3 is King.
The only thing is…
If you're looking for a load-as-you-go heavy hitter, you would be better off with the Saionara or Omicron V5.
Not that the Divine Crossing doesn't hit hard…just not as hard as the Saionara or Omicron V5.
Also, the Divine Crossing V3 isn't the most versatile of atomizers.
Here's why:
It just really does 1 thing really well: produce insanely flavorful hits with small amounts of oil on low wattages/temperatures.
The Hercules, Saionara and Omicron V5, all can be used in different ways…ranging from small flavorful hits to huge rips that hit like a truck.
But if a pure flavor is your highest priority…
The Divine Crossing V3 really can't be beaten at that.
Click here for lowest price »
Just like with the Saionara atomizer, the Divine Crossing V3 is just an atomizer.
This means you'll need a proper box mod (preferable with proper temperature control) to power your atomizer (this will be the battery part of your 'vape/wax pen'):
Next up…
5. Hercules 510 (Best Wax Atomizer for Heavy Users)

When you're thinking of the 'Bentley of wax pens'…
The Hercules is the ONLY wax pen which can truly call itself that.
(technically it's not a wax pen because you don't get a power source with your purchase, but calling to Hercules an 'atomizer' would do it no right either…this is an extremely sophisticated piece of machinery)
This is another W9 POWERHOUSE and is specifically designed to:
Last you for years, and;
Be used with insane quantities of oil.
Here's what I mean:
While periodically replacing the coils and cartridges is standard procedure for 95% of wax pens and atomizers…
The Hercules defies this rule.
Both the coils and cartridge are built in a way to handle hundreds of grams of oil without having to be replaced.
Another insane perk of this powerhouse is that its oil cartridge can hold 1 gram of oil.
This capacity is WAY above the average wax pen which only holds a few pinches of oil.
No constant refilling with the Hercules.
But what I like most about this beast of a wax pen…
It hits as hard as a stationary dab rig and keeps flavor superb all throughout your vaping session until the very end…even with a full cartridge.
Now, such power does bring downsides with it.
For example, it's not the most pocketable or stealthy wax pen because of its big size.
Then there's the learning curve…
With assembling and cleaning the unit, but also with optimizing its performance (especially cooling down your oil between hits to prevent leaks and your drawing pattern in relation to the watts/temperature you vape at).
But once you've found your sweet spot…
You got yourself a crazy powerful wax pen which will produce super tasty clouds and will last you AT LEAST for 4-5 years.
Click here for lowest price »
Do realize that the Hercules is an atomizer attachment and needs a box mod that can hit sub-ohm ranges to power it (the battery part of a 'vape/wax pen'):
The Best Vape Battery for Oil Cartridges
Vape pens for oil cartridges are essentially just batteries onto which you can attach your (pre-filled) cartridge.
This means you can use any 510-threaded battery for regular (pre-filled) cartridges (including box mods and 510-threaded e-liquid vape pens).
But if you want the absolute best when it comes vaping oil cartridges…
You're going to need something different:
This new vaping technology is PERFECT for plant-extracted vape oils like CBD vape oil and THC vape oil.
Here's why:
Plant extracted vape oils have a higher viscosity than e-liquids.
This means that the uneven heat distribution that comes with regular wick-based coils, is even more detrimental for plant-extracted vape oils, resulting in even more inconsistent puffs and dry hits.
CCELL Technology overcomes this issue by heating your oil with a revolutionary ceramic heating element that is filled with countless nano-scale holes. This design results in a massive improvement of heating distribution and therefore also a massive improvement in the quality and size of your hits, while completely eliminating dry hits!
But here's the kicker:
To vape with CCELL Technology, you're not only going to need a CCELL battery, but also a CCELL oil cartridge.
But once you have both of these…
You will take your oil cartridge vaping to a whole new level in terms of:
Potent clouds;
Flavor, and;
The consistency of your vapor production.
Pre-filled CCELL oil cartridges can only be bought in legal states.
Example:
But an empty CCELL cartridge and CCELL battery can be bought online, and the best battery currently for CCELL cartridges is the:
CCELL Palm Concentrate Vaporizer (Best for Oil Cartridges)

Although this isn't strictly a 'vape pen', the CCELL Palm is even smaller than your average vape pen.
This device easily fits in the palm of your hand, even if you have a small hand.
But don't let its size fool you:
With a 550 mAh battery, this small little beast produces such powerful clouds, that it will force you to take things easy.
In fact:
This CCELL battery with a CCELL oil cartridge blows ANY regular 510-threaded battery with a regular 510-threaded oil cartridge COMPLETELY out of the water.
So not only are you getting an extremely small device, but you're also getting the most powerful battery for oil cartridges.
The only thing:
Although you can attach any 510-threaded oil cartridge to this battery…
If you want to experience CCELL technology…
You HAVE to get a CCELL oil cartridge.
And since this is still a new technology, it could be that you're going to have a harder time finding a pre-filled CCELL oil cartridge vs a regular 510-threaded oil cartridge…
Because not all dispensaries carry these cartridges yet.
But if you can get your own distillate or oil, it's easy:
Just get a CCELL oil cartridge and keep re-filling it with your own stuff.
Once you have this, not only will you be vaping such potent and tasty clouds, that no other vape pen for oil cartridges can provide…
You will be saving huge amounts of money compared to using pre-filled cartridges.
Now:
One issue with older oil cartridge vape pens is that once it's in your pocket, moving in all sorts of angles, the cartridge easily comes off the unit,
With the CCELL Palm, you get a magnetic connector, so it's virtually impossible for your oil cartridge to come off in any way.
Vaping oil cartridges doesn't get easier than this.
Click to see most recent price in:
The Best Temp Control Box Mods for Your Oil Atomizer

If you want to get the most out of your oil/wax atomizer, you're going to need a high-quality temperature control box mod.
Here's why:
With a quality TC box mod, you can control your atomizer/vape pen accurately:
Produce a wide variety of flavors with different temperatures;
Produce mild and flavorful sips;
Go for big and powerful rips;
Go for higher temperatures to produce a stronger sedative effect (when vaping cannabis oil);
Stay in the lower temperature ranges to keep a mild and clear impact (when vaping cannabis oil).
Here's the kicker though:
When temperature control with a box mod is kind of finicky to get working properly anyway…it doesn't really help that the majority of TC box mods have inaccurate temperature control and don't really work all that well.
So you want to be absolutely sure that you're getting a top quality box mod.
For this I highly recommend a TC Box Mod with a DNA or YiHi chip (these chips have the most accurate temperature control) like the:
SXMini G Class
If you're looking for a smaller and cheaper TC Box Mod, which still is decent (but doesn't have the chips that I recommend) I suggest you check out the:
For a battery charger, this is the one I recommend:
Nitecore D4 Charger – (Amazon)
What About Kandypens, Dr. Dabber, G-Pen, etc…?
I do realize most of the well-known vape pen brands are not included in this list.
If you're wondering why I'll keep it short and simple.
Most of these vape pens are actually just cheap, low quality and re-branded vape pens, which are originally designed and manufactured in China.
Don't get me wrong, a Chinese vape pen isn't necessarily low quality…but these brands definitely are!
Until they up their game in transparency and quality, they'll stay away from this page…and you should stay away from them as well.
If you came here for the…
Best Dry Herb Vape Pens
I've got some bad and good news for you.
The bad news:
The vape pens currently on the market, absolutely SUCK for vaping dry herb.
Coils are unfit to be used with flower.
Here's why:
You'll burn parts of your herb 90% of the time and there will be extremely uneven cooking going on…which is truly bad news for flavor and efficiency.
So one more time: DON'T VAPE DRY HERB WITH A VAPE PEN!
And now the good news…
There are small and sleek portable vaporizers, with close to the same size as a vape pen, which are specifically designed and built to be used with dry herb.
Yes, dry herb should be vaped with portable or desktop DRY HERB vaporizer, not with a vape pen.
Like the ones this post: