The quick answer? Although CBD can help you relax, no, CBD does not get you high.
It is a cannabinoid with no psychoactive effects. This means you don't experience the same "high" as seen with the effects of THC. THC is another cannabinoid found in cannabis plants, and it's the compound that produces the high.
CBD can alter how you feel. However, it does so without any impairing effects.
That said, it's possible to find trace amounts of THC inside CBD products. And although these small amounts of THC won't produce a full-fledged 'high', for some people, these small amounts of THC will be enough to experience a slight buzz.
To understand why CBD can alter how you feel without getting you high, while THC, for example, does get you high…
We first need to understand what CBD even is.
What Is CBD?
CBD stands for "cannabidiol" — it's one of the many phytochemicals naturally found in cannabis plants and is the second most-well-researched component of cannabis after THC.
Both CBD and THC belong to a group of compounds called 'cannabinoids'.
While "tetrahydrocannabinol", or THC, is linked with various health benefits as well, it causes psychoactive effects (euphoria, pleasure, forgetfulness) commonly linked to a "high."
Technically, the World Health Organization (WHO) defines psychoactive substances as:
Psychoactive substances are substances that, when taken in or administered into one's system, affect mental processes, e.g. cognition or affect. This term and its equivalent, psychotropic drug, are the most neutral and descriptive term for the whole class of substances, licit and illicit, of interest to drug policy.
In a 2017 report, WHO states,
Yes, THC can impair people's cognitive performance and psychomotor abilities. But clinical studies reveal even high doses of oral cannabidiol don't cause psychoactive effects that are characteristic for THC and for cannabis rich in THC.
In short: THC makes you high but CBD doesn't. THC binds to different receptors than CBD.
For example:
THC activates cannabinoid receptor 1 (CB1), while CBD partially blocks it. Cannabinoid receptors are part of the endocannabinoid system. This system plays a role in regulating functions from sleep to memory (and beyond).
The exact mechanism as to how THC creates its psychoactive effects remains disputed.
One well-backed hypothesis explains THC's psychoactive effects through its activation of CB1 receptors in brain areas (1). Activation of the CB1 receptor is associated with:
Euphoria
Relaxation
Anxiety
Short-term memory impairment
Another hypothesis says cannabidiol is actually an antagonist to the CB1 receptors and blocks the same CB1 receptors that THC activates. This means CBD may partially block THC's psychoactive effects.
It's clear that the difference in effects between THC and CBD can be explained through how each compound interacts with various receptor systems in the human body. Both compounds interact with different receptors, and sometimes differently with the same receptors.
What Is CBD Used For?
Even though CBD does not get you high, it's associated with various benefits that can alter how you feel when it comes to anxiety, for example. Out of all the cannabinoids found in the Cannabis Sativa plant, cannabidiol is one of the most promising therapeutic compounds. Plenty of research suggests that CBD is:
Anxiolytic — Reduces anxiety
Antidepressant — Reduces feelings of depressiveness
Antipsychotic — Helps manage conditions including schizophrenia
Anticonvulsant — Reduces epileptic seizures
Antioxidant — Protects your cells from free radicals, which may play a role in heart disease and cancer
Anti-inflammatory — Reduces swelling and helps muscle tension
Anti-arthritic — Helps with symptoms of arthritis
Antineoplastic — Inhibits tumor growth
Now:
While CBD does not get you high, it can help you relax and reduce feelings of anxiety. It can help you calm down and improve your sleep. And it can reduce your pain. In short: CBD can help you feel better.
CBD products come in different shapes and forms.
Types of CBD Products
While CBD oil was the most common type of product a few years ago, today, there are CBD gummies, capsules and pills, creams, and many more types of products.
Each type of product comes in three different categories:
Full Spectrum — These products are made up of a variety of beneficial cannabinoids, terpenes, and flavonoids. They may also have up to 0.3 percent THC, which is the legal limit.
Broad Spectrum — These capsules have some other cannabinoids and terpenes, but are always THC-free. They're great for people who are sensitive to the effects of THC compound or live in a state or country where THC is currently illegal.
Isolate — No other hemp-derived compounds like THC, other cannabinoids, and no terpenes. Just CBD alone.
Below we'll briefly cover the main type of products (and no — they will not give you a full-fledged high, but they might give you a slight buzz).
CBD Oil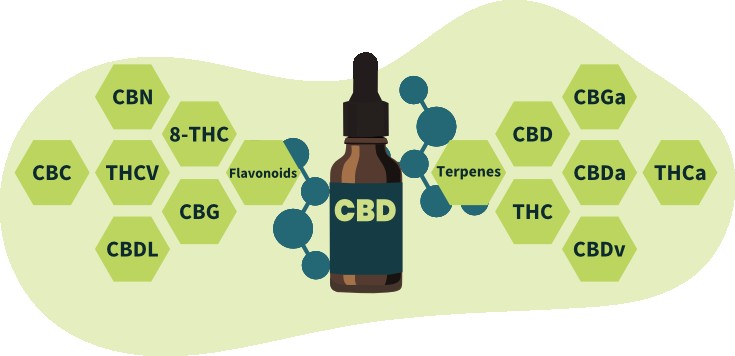 CBD oil is currently our most recommended method for using CBD. Here's why:
The hemp plant contains hundreds of potentially beneficial compounds. CBD is just one of them. Besides CBD the hemp plant contains other cannabinoids like THC, CBG, and CBC. All of these are associated with unique beneficial effects. Besides cannabinoids, the hemp plant also contains various beneficial terpenes like linalool and limonene.
Now:
In addition to the fact that all these compounds have uniquely beneficial effects, some (and maybe all) of these compounds work synergistically to CBD, enhancing CBD's beneficial effects.
What this means is that the best way for you to use CBD is to take it together with ALL other hemp-derived compounds. And full-spectrum CBD oils are the type of products that contain many of these other hemp-derived compounds.
Capsules and Pills
Pills and capsules are extremely convenient for anyone who prefers the simplicity of pre-measured doses. If you can't stand the earthy taste of the hemp plant, this may be the perfect option for you.
Capsules come in various doses and ensure consistency in dosing.
Edibles
Edibles have to be the tastiest product out there. And their greatest perk is that they're easy to use discreetly.
They come in different forms, but currently, CBD gummies are the highest quality type of edibles you can get.
Hemp Flower
CBD Flower refers to the flowering portions or buds from hemp plants. They also have the legal limit of tetrahydrocannabinol (0.3 percent THC).
These buds from hemp plants are practically similar to marijuana plant buds. The main difference is that hemp-derived CBD has significantly lower amounts of THC. The average marijuana plant bud contains over 10% of THC and will get you high.
Hemp flower with high CBD concentrations offers the same benefits as other forms of CBD.
If you smoke it or vape it, it works fast, and you can expect to experience positive effects pretty quickly. To reduce your exposure to toxins we highly recommend vaping your hemp flower with a weed vaporizer.
CBD Hemp Flower comes in two principal forms:
Pre-rolls are pre-rolled "joints," made using hemp.
The flower comes in 0.5 grams and beyond. This product is specifically for people who prefer to use flowers on their own. This option is cheaper on a per gram basis than pre-rolls.
Why Do Some of These CBD Products Make You Feel High?
Full-spectrum CBD products always contain some THC.
The exact percentage can be up to 0.3%.
While this sounds like a small percentage, especially when you look at how some CBD oils contain 30% CBD…
A few milligrams of THC is already enough for some people to feel a bit high.
But how do you know how much THC you're ingesting with the CBD you're taking?
For this, you will need the certificate of analysis (COA) of the product you're taking.
By knowing the exact CBD-percentage and the exact THC-percentage, you can calculate how much THC you're ingesting.
Let me show you with an example COA:
You see the THC-percentage: 0.14%.
You also see the CBD-percentage: 5.93%.
First, you have to calculate the CBD to THC ratio. To calculate this metric, all you do is divide the CBD-percentage by the THC-percentage:
5.93 / 0.14 = 42.
The CBD to THC ratio is approximately 42:1.
So for every 42mg CBD, you get 1mg of THC.
Most people can start to feel THC's psychoactive effects starting from 2mg.
If you would take a dose of 100mg CBD with this oil, you would ingest almost 2.5mg THC.
2.5mg THC can be enough for some people to feel a bit high.
This is how CBD products can make you feel high.
As you can see, it's not the CBD that's causing the high. But it's the small amount of THC.
Some CBD-containing gummies can contain more than 10 milligrams of THC per gummy.
This is completely legal. How? Because the total THC inside these gummies is less than 0.3% on a dry weight basis.
These gummies are also called delta-9 gummies.
Frequently Asked Questions
Does CBD Do Anything?
Various studies have found that CBD can have noticeable effects when it comes to anxiety, sleep, pain conditions, epilepsy (2). This doesn't mean however that CBD is medicine or cure for these conditions. It only means may help as a natural aid in relieving these conditions.
Does CBD Contain THC?
The CBD-molecule itself doesn't contain any THC. CBD is a cannabinoid with a unique molecular structure. That being said, some CBD products contain THC. It all depends on the type you're going for: Full Spectrum, Broad Spectrum, or CBD Isolate.
Full Spectrum products have THC (up to the federal legal limit of 0.3 percent). Yet, Broad Spectrum and CBD isolate products shouldn't contain THC.
Is Smoking CBD Safe?
Other than the regular risks associated with smoking in general (3), smoking hemp-derived flowers can be regarded as safe. This is because there are no traces of nicotine.
Despite this, CBD may cause some adverse side effects:
Dry mouth
Drowsiness
Digestive problems
Reduced blood pressure
These side effects are relatively rare, and when they occur, they're rarely severe.
Can Vaping CBD Hurt You?
Vaping does have some risks associated with it. Though, it has near-instantaneous effects and greater bioavailability. This means that when you vape, the CBD gets absorbed quicker and more effectively than taking it orally.
CBD vape products mainly come in two forms:
CBD Vape Oil — which can be used in any type of vaping device that takes regular e-liquid.
Disposable Vape Pens — that are pre-filled with CBD vape juice.
Does CBD Show Up On a Drug Test?
Most drug tests screen for THC. This means that if you get a certified THC-free CBD product, the chances are small that you'll fail a drug test.
That being said…
Depending on the lab test, sometimes they check for cannabinoids in general — not specifically for THC or CBD alone. This means you risk getting a false positive.
So yes, even CBD may show up on a drug test.
Concerned about testing positive for any cannabinoids? Then we recommend you avoid cannabidiol products altogether.
Can I Buy CBD Legally?
Yes, you can buy CBD legally in most states in America thanks to the 2018 Farm Bill. It permits individual states to regulate the production and sale of hemp products.
Look at our "Map of CBD Oil Legality Per State in the U.S", and find out where you can purchase a Full Spectrum CBD product. Some states have restrictions on products with THC.
The Food and Drug Administration (FDA) is also working towards commissioning more medically reviewed studies on cannabidiol.
Do You Need a Prescription For CBD?
No, you don't need a prescription for CBD.
But check with your doctor beforehand — you need to know cannabidiol's interaction with your other prescription medications.
The liver metabolizes thousands of medications using a type of enzyme called cytochrome P450 (CYP450). Cannabidiol is metabolized by this same enzyme. If you take CBD with other drugs that get metabolized by this type of enzyme, you risk interfering with both the metabolization of the drugs and CBD.
This may result in increased levels of both the other drug and CBD in the bloodstream.
One such example of this effect is the anti-epileptic drug clobazam — medically reviewed studies reveal consuming cannabidiol together with clobazam increases concentrations of it in the blood (4). This then means that a patient can easily overdose.
Lastly, it's good practice to check in with the Food and Drug Administration (FDA) regulations on Cannabis Sativa-derived products.
Does CBD Help With Anxiety?
CBD, and cannabis-derived products, may help with anxiety. Various studies indicate that CBD can give relief for:
Generalized Anxiety Disorder
Post-Traumatic Stress Disorder
Social Anxiety Disorder
Read More: Using CBD Oil for Anxiety
Relax Without the High
Getting high isn't one of the side effects of using CBD products. But CBD can alter how you feel.
To surmise, CBD can:
Work as an antidepressant
Ease muscle tension
Contribute to weight loss
Help mitigate insomnia
Reduce anxiety and stress
Especially if you have anxiety, CBD may help you feel calm and relaxed, without any psychoactive effects.
While it may not rid you of your anxiety, it could help you manage the debilitating symptoms that come with it.
What's Next…
Go to our CBD Hub to learn more about CBD-related topics.
Scientific References: