If you're new to vaping, box mods can be an intimidating bunch. The number of features they have can make anyone's head spin.
Well, today you will exactly learn what makes a box mod good.
Not only that, but you will get a list of the 7 best box mods currently on the market.
And the best part:
Based on what type of vaper you are, you'll exactly know what box mod you should get.
Best Vape Mods and Box Mods
1. Vaporesso Gen 200 (Best Value for Money)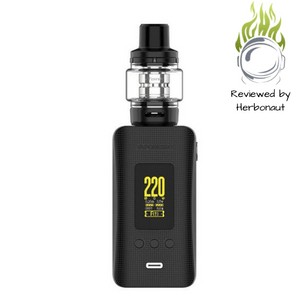 You want to turn a whole room into a steaming hotbox filled with impressive clouds of vapor, and do it quickly?
Operating on two 18650 batteries, with a maximum wattage of 220W…
The Vaporesso Gen S has enough power to operate watt-hungry sub-ohm tanks.
But that's not all that it has going for it.
Just like its earlier version: the Vaporesso Gen S, this is probably the most compact and pocketable 2-battery mod that's on the market. It's arguable whether any 2-battery mod is truly pocketable. But if there's any, the Vaporesso Gen 200 definitely is one of them.
Compared to the Gen S, the Gen 200 has the following worthwhile upgrades:
its weight is noticeably reduced, making it even more pocketable than the Gen S,
USB port is upgraded to type C for faster charging-times,
Same size tank, but with 67% more capacity (iTANK),
coils based on GTi design (a coil design specifically made for DTL vaping),
improved airflow,
improved leak prevention,
there's now a colored screen instead of a black and white screen.
This is one of the lightest and sleekest 2-battery mods. It sits extremely comfortable in your hand.
Pocketable, durable, AND great temperature control is a combination of features some of you definitely will be looking for.
If that's you, you'll be happy to know that the Vaporesso Gen 200 fits the bill:
Although not as durable as the GeekVape Aegis X, for example, it's sturdier than the average box mod, while still being lightweight for a 2-battery mod;
No buttons or individual parts sticking out like a sore thumb. The device feels like an integrated whole instead of loose parts connected;
It comes with the new Axon Chip from Vaporesso. This chip comes with smart TC mode. Smart TC automatically recognizes TC coils and gives you the optimal settings. It also comes with pulse mode, continuously pulsing your coil every 0.02 seconds. Pulse mode gives you a more consistent vaping experience.
Now:
While its temperature control mode isn't as customizable and accurate as DNA mods, for a budget box mod, this is as good as it gets.
It's also one of the longest-lasting two-battery box mods you can get.
The Axon Chip comes with 'Power ECO' mode. This is a fancy term for battery-saving mode…but it works. On average, your battery will last 10-15% longer in Power ECO mode. Keep in mind that the performance will suffer a bit in this mode.
The best part about this mod?
It's highly affordable. With most vape stores selling them below $50, you won't find a better quality mod for that price.
If you're looking for a:
Powerful mod that can create extremely impressive clouds;
Want full control over your vapor production with temperature control;

Without breaking the bank

…
The Vaporesso Gen 200 is currently the best value for money box mod that you can get.
Click to see the most recent price in:
Next up…
2. GeekVape Aegis X 200W (Sturdiest & Most Durable)

Hate it or love it, but the design of the GeekVape Aegis X is something special.
Looking like a rugged device coming straight out of the future, its outer image lives up to its reputation:
The GeekVape Aegis X is without a doubt the sturdiest and most durable box mod on the list.
There's simply no way that you could break your Aegis Legend, it's:
Dustproof;
Shockproof, and;
Waterproof;
But there's more to its design.
This mod fits perfectly into the trend of vape mods built like indestructible tanks. And if you would throw your GeekVape Aegis X at anything, that thing would break, but the GeekVape Aegis Legend would stay intact.
The build quality is impressive, but it comes at a price:
This is probably the heaviest mod that you'll ever hold in your hand.
Two-battery mods generally have decent battery life. Depending on variables like:
The quality of your battery, including capacity and drain-rate;
The wattage you use, and;
The resistance of your coils…
The Geekvape Aegis X may last you only half a day or longer than a day. All variables kept equal, this vape mod has an average battery life compared to other two-battery box mods.
The older sturdy GeekVape Aegis mods had really bad battery life when they started coming out in 2017. It was mostly related to high power draw in standby mode. That's why we never included them on our list before.
The GeekVape Aegis X and even the older Legend, however, don't have these issues.
The GeekVape Aegis X performs especially well in power mode (VW).
In wattage-mode, this beast of a mod will go from zero to max watts in a matter of seconds. The chip fires very fast. If you're the impatient type (like me), you will highly appreciate this.
PLUS it's incredibly accurate in wattage-mode, the most you'll see it off is by 1 watt. This is amazing for consistent performance. Keep the watts the same and your vapor production will be the same most of the time. Of course, only as long as you keep everything else in your setup the same.
Its temperature control is only 'decent' though. It isn't very accurate and lacks the consistency from higher end TC mods like DNA. But even a good budget TC mod like the Vaporesso Gen 200 works better.
The bottom line is:
The GeekVape Aegis X is an extremely sturdy and durable device. its performance is above average in power-mode. You just have to accept its heavyweight and average performance in temperature control.
Click to see the most recent price in:
Next up we have the…
3. GeekVape Aegis S100 (Cheapest & Best Stealth/Single Battery Mod)

Most of you don't want the 'best' vape mod in the literal sense of the word.
You're probably looking for the best value you can get out of your money.
And if you're also looking for the smallest box mod…
The GeekVape Aegis S100 is the smallest and cheapest box mod on the list, but, this is crazy:
It outperforms much pricier 'stealth' or single-battery mods in terms of:
durability,
flavor, and,
vapor production.
Here's how:
It has a

removable

single 18650 battery design, which means you'll never run out of battery (just bring extra batteries);
It fits up to 26mm tanks/atomizers without any overhang. It's one of the only single-battery mods that actually holds such big tanks/atomizers;
With the excellent temperature control you'll be able to control your temperature vapor output very well. This is probably the best non-DNA single-battery TC mod;
It comes with a max wattage of 100 watts, which is higher than most single-battery mods;
GeekVape mods are extremely durable. GeekVape mods lasting for 3+ years are the norm rather than the exception.
The Geekvape Aegis S100 is a newer upgraded version of the Geekvape Aegis Solo.
The main upgrades are:
an A-lock to protect against accidentally pressing buttons when the device is in your pocket for example,

improved position of the USB port (it's on the top now instead of the front which is a significantly more convenient position),

USB port changed to USB-C for improved charging times,

an improved shock-, water-, and dust-proof rating (IP68),

an improved design with less 'stuff' on the front.
Other than these upgrades, it's very similar to the original solo mod.
A stealth mod shouldn't draw a lot of attention when you're out.
And although the GeekVape Aegis S100 isn't the smallest stealth mod…
It's small enough that whichever way you turn it, it will always easily fit inside the palm of your hand.
A single battery does bring some downsides with it:
The GeekVape Aegis S100 is powerful for a single battery mod and has the potential to power some sub-ohm tanks. But it performs best in the low- to mid-range watt settings (20-60 watts). Besides if you want good battery life out of your GeekVape Aegis S100, you will have to stay below 100 watts. Because even though the max capacity of this vape mod is 100 watts, you never want to be using a box mod near its max capacity for extended periods of time. Here's why:
It drains the battery extremely fast, and;
Reduces the longevity of your battery.
This means if you're a real cloud-chaser and want to vape big clouds all day, you're better off with a dual-battery mod.
For a single-battery mod, the battery life is excellent:
If you stay below 90 watts and don't chain-vape, the battery will last up to a full day.
If you're a chain-vaper, you really should lose the habit of chain-vaping. But if you insist, look further down the list for a 2-battery or even a 3-battery mod.
Onto the temperature control…
The GeekVape Aegis S100 comes with a good temperature control performance. You can use it in both standard TC mode (based on wire type, stainless steel, for example), or fine-tune your temperature control with TCR values. I recommend a TCR value of 105 for the included SS coil, and slowly work your way up if you want hotter vapor.
The consistency of the GeekVape Aegis S100's vapor production is great in TC mode, not as consistent as a DNA mod for example…
But good enough for the average user.
I absolutely LOVE the dry hit protection in this mod. It works very well and dry hit protection is one of the best safety features to have in your mod. Why? Because dry hits are packed with toxins and carcinogens because. A dry hit is basically 'burnt' e-liquid.
The bottom line is:
If you want a small and discreet vape mod, that has better vapor production, flavor, and customization option than ANY e-cig or vape pen while staying under $50…
This is, without question, the box mod you should get.
Click to see the most recent price in:
Next up…
4. DOVPO Top Gear DNA250C (Best TC Mod)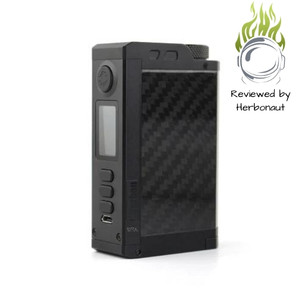 Some say:
You haven't tried temperature-control-mode vaping until you've tried a DNA mod.
The accuracy, consistency, and control you get over your vapor production with a DNA mod are unparalleled.
Let me explain.
You can control the temperature in 1-degree increments, and the best part is:
It actually is accurate within 1-degree increments. You won't find this accuracy in mods other than DNA ones.
Other chips sometimes are off by 10-20 degrees and can fluctuate within even larger ranges!
Why does this matter?
With a DNA mod, finding your sweet spot regarding:
The temperature of vapor;
Flavor, and;
Vapor production…
is like a walk in the park.
Not only that, but your experience will stay consistent, no matter what:
No occasional weak hits;
No occasional extremely hot 'wtf-happened-to-my-temp-limit' hits;
Just accurate and consistent until the last bit of electricity is drained out of your battery.
And the new DNA 250C chip comes with an even easier way to keep your vapor production consistent:
Replay mode is an extremely simplified temperature control mode.
While adjusting the wattage and experimenting with puffs, any time you take a draw and think: 'This is the best draw I've ever had'…
You hit the 'Safe Puff' button, and your device will keep the temperature EXACTLY the same for next time. Same temperature means same puff. If you want a new setting, this is also done with the push of a button.
Temperature control can't get any easier than this.
This is a HUGE simplification. It makes temperature control accessible to people who weren't interested in it before.
Then there's the flexibility that comes with DNA mods.
You can control ANYTHING that's related to the operation of your mod AND relevant to the user interface. You just need the Escribe software.
For example:
Preheat settings. Do you want your mod to reach your pre-set maximum wattage/temperature instantly (for instant vapor)? Or do you want to take it slowly (which is better for battery-life and less in your face?
Power limits based on wire type. This is an amazing safety feature as you'll never go above the max-wattage of any specific wire type;
ANYTHING that's related to the user interface like messages, colors, what to show where.
And COUNTLESS other customizations.
You might be wondering:
Great, but why would I want all of this flexibility?
Well, you can EXACTLY create your most satisfying vaping experience with this box mod.
And the best part:
Because of its accuracy and consistency, KEEP this experience without any effort. Just keep all the variables the same OR hit the Replay/Save Puff button.
While earlier DNA mods did have a learning curve, the new Replay mode makes this mod extremely easy to use.
But if you're not going to use TC-mode or Replay-mode, getting a DNA mod definitely is overkill…
…unless safety is one of your top priorities.
The built-in safety features of the DNA 250C chip are insane:
It has the most accurate battery monitoring in the industry. ALWAYS be on top of any battery irregularities before it's too late;
It supports balanced charging. Balanced charging prevents overcharging a single battery and destroying it. Overcharging a single battery can even kill your device.
Comes with reverse polarity protection, in case you accidentally insert your batteries wrongly.
It's one of the safest and foolproof box mods you can get.
But these are all benefits that you get with ANY mod that operates with the DNA 250C chip.
The question is:
What makes the
DOVPO Top Gear

 DNA250C so special?

For starters, this is one of the sturdier DNA box mods you can get.

Its construction and build quality, including the build quality of the battery door, which often is a weak point with box mods, are so good…

Once you've held the DOVPO Top Gear DNA250C in your hand, you will understand what a premium mod is.

And if you thought 2-battery mods are always bulky…

Think again.

The DOVPO Top Gear 250C is:
compact,
lightweight, and,
feels very comfortable in your hand.
The bottom line is:
If you're looking for a vape mod that will allow you to fine-tune your vaping experience by adjusting over 10+ variables, and then gives you the most consistent and safe vaping experience by keeping these variables EXACTLY the same, any time you turn on your vaporizer…
Or you were interested in temperature control mode before, but the complexity of it scared you off, and now want to experience this mode in its most simplified form…
The DOVPO Top Gear DNA250C is the box mod I highly recommend.
Click to see the most recent price in:
Bonus: DNA chips come with a 1-year warranty!
Up next…
5. Lost Vape Hyperion DNA 100C (Best Single-Battery TC Mod)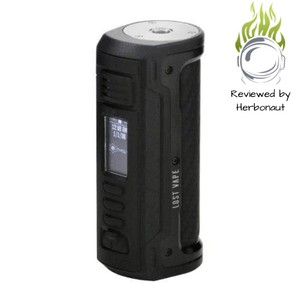 If you want the best temperature control mod that money can buy, there's no way around it:
You have to get a DNA mod.
When it comes to:
efficiency,
battery-use, and,
thermal management,
there simply is no better option than DNA chips.
But what if you want a small 1-battery mod?
Well, for that, the best option is a box mod with a DNA 100C chipset.
It operates with a single, but powerful 21700-type battery.
Small size does come with a downside, especially if you like to vape in high wattage ranges.
A single 21700-type battery mod like the Lost Vape Hyperion, is mostly suited for vaping in the range of 40-70 watts. Using full 100 watts will drain your 21700 battery fast.
But when it comes to TC single-battery mods, this mod is the best you can get. It comes with the same customizability, the same safety features, and the same 'Replay mode' as mods with a DNA 250C chipset.
While most single-battery mods still operate on a 18650 battery, this mod operates on a 21700 battery. Combine this with the power-efficient chip that this vape mod operates on…
And you have the perfect recipe for a single-battery mod with a battery life that comes close to your average dual 18650-battery mod (as long as you stay in the 40-70 watts range).
Now:
If you think that single-battery mods only accommodate small vape tanks, think again.
Just keep in mind that getting such a big tank will put a lot of strain on your single 21700 battery. It will significantly reduce battery life compared to a 25mm tank, for example.
This mod is also built robustly and will last you a long time if you treat it well
The bottom line:
If you're looking for a compact and pocketable TC mod, or even if you want an extremely efficient single-battery mod for wattage mode in the low- to mid–watt-ranges…
The Lost Vape Hyperion DNA 100C is the best mod you can get.
Click to see the most recent price in:
Next up…
6. GeekVape Aegis Legend 2/L200 (Best for Wattage-Mode)
While the GeekVape Aegis Legend 2 technically is an upgrade from the original Legend…
What has improved technically, was thrown away in build quality. It changed from being mostly metallic to being mostly plastic.
And while this is good for weight, it's less good for durability.
While it's still a high quality box mod, it would've taken a spot in the top 3 if it was as sturdy and durable as the original Legend.
That being said, the Legend 2 has some improvements compared to the original Legend:
As explained, because of the plastic it's smaller and more lightweight,
It looks sleeker (I personally don't care much about looks, but some people will),
Additional safety features, for example, an A-lock to prevent accidental presses when the mod is inside your pocket,
Fixed the issue with battery door (the fact that it was hard to close).
The GeekVape Aegis Legend performs even slightly better than the Aegis X in power mode (variable wattage).
It can go from zero to max watts in a matter of seconds. The old GeekVape mods already had fast-firing chips, but the new chip inside the Legend 2 is even slightly faster.
But the best part is its accuracy in variable wattage-mode. Its margin of error is 1 watt at most.
What does this mean for you?
Well, if you use variable wattage mode, you'll have an extremely consistent vaping experience.
For example, the density, flavor, and temperature of your vapor will stay the same as long as you use the same setup.
Some box mods with a lower quality chipset don't feel consistent because the actual watts used by the box mod fluctuates to an extent that it influences vapor density, flavor and temperature.
Not so with the Legend 2.
For wattage-mode, this is currently one of the most consistent options.
Click to see the most recent price in:
Next up…
7. Vandy Vape GAUR-21 (Best Battery-Life)
Operating on two 21700-type batteries, this box mod packs more battery life than older 3-battery mods.
If you feel your box mod is always out of power, or you tend to forget to charge your batteries…
This box mod will come as a blessing.
Even if you forget to charge the mod for a day or two, you can still expect some battery life in this mod.
Of course, how long the dual 21700-battery setup will last is also highly dependent on the wattage you vape at.
Generally, the higher the watts, the faster you'll drain your batteries.
But if you stay below 100 watts, this mod will easily last you three days.
But battery-life isn't the only thing this mod has going for it…
Although it's a relatively large box mod, it weighs lighter than it looks. It's a mostly plastic mod, which is great for weight, but it feels a bit cheap. If you don't like plastic mods, it's better that you avoid this mod.
Also its size can be a turn-off. Of course, operating on two 21700 batteries means its battery compartment needs more space than any mod operating on two 18650 batteries.
When it comes to performance, this mod scores well for its price.
It works well in all the various modes you can set:
soft,
normal,
medium,
hard,
direct-to-lung,
mouth-to-lung,
bypass mode,
voltage mode,
temperature control for SS/NI/TI.
And aside from normal, all modes are customizable with adjustable power curve profiles.
It has a good chipset with decent temperature control. The TC isn't as customizable or accurate as a DNA mod, but it's good enough for most people.
The bottom line:
If you're looking for mod with amazing battery-life, don't want to spend more than $50, and don't mind a large mod…
The VandyVape Gaur 21 is currently your best option.
Click to see the most recent price in:
Next up…
Box Mods and Temperature Control
In the past few years, temperature control vaping has become more and more popular.
And with good reason.
After you get through the short learning curve, temperature control (TC) vaping has many benefits to offer compared to:
fixed wattage (FW),
variable voltage (VV), and,
variable wattage (VW).
The main benefits are:
Your temperature will always stay below a fixed point. This is not only a fantastic safety feature because the higher your temperature with vaping, the more you'll risk inhaling toxins. But it will also give the smoothest experience regarding how your vapor feels and tastes.
You will avoid the dreaded dry hits;
You'll have full control over your hits. You'll always be producing consistent hits. No variability in temperature, flavor, feeling and cloud size, independent of how long and how hard you draw;
Your battery will last a good 20-30% longer.
After reading all these benefits of TC vaping…
You'll understand why the quality of TC has become extremely important in rating a box mod.
How do we rate temperature control?
Mostly on accuracy and consistency. And to a lesser extent the ability to customize your TC-mode.
Quick-Guide on Batteries
The most important piece of advice you can get for batteries is the following:
ALWAYS carry any extra batteries in a case where they can't come into contact with any metal. Batteries should never come into contact with metals like keys or spare change. You don't want to be creating any fire in your pocket.
Conclusion
Today, you've learned:
What makes a box mod good;
The 7 best box mods currently on the market, and;
Which box mod you should get, based on your vaping preferences.
Ok, so you've got your box mod…
If you're still looking for a vape tank to attach to your box mod, check out our vape tank guide:
If you're looking for a high-quality e-juice, check out our vape juice guide:
If you want to explore your squonk options, check out our list of:
If you want to know what health risks you expose yourself to when vaping, check out our massive guide on:
Lastly, if you want to connect with us become a fan on Facebook or follow us on Instagram by clicking the links below.