Is the convection vs conduction vapes still relevant in 2022?
It's less significant than in the 2015s, for example.
While many years ago, conduction vapes were seen as inferior…
Today, conduction vapes can produce vapor with a quality that's close to vapor produced by a convection vape.
Conduction vapes have definitely improved a lot in the past 5 years.
But the distinction is still somewhat relevant.
Today you'll learn all the differences between conduction and convection vapes…
So you can make the right decision on which type of vaporizer to buy.
What Are Convection Vapes?
Convection vaporizers cook your herb with heated air.
The herb inside the bowl of a convection vaporizer isn't in direct contact with the heating element.
Rather, the heating element heats up the air, and the air heats up your dry herb.
You could compare convection heating inside a vaporizer to a hot air oven. Hot air gets pulled over your herb and turns the compounds inside the herb into vapor.
Convection heating has a few main benefits:
Vapor produced with convection heating usually tastes better than conduction-produced vapor.
Convection heating is more efficient than conduction heating.
We'll look deeper into these benefits. But first let's see…
What Are Conduction Vapes?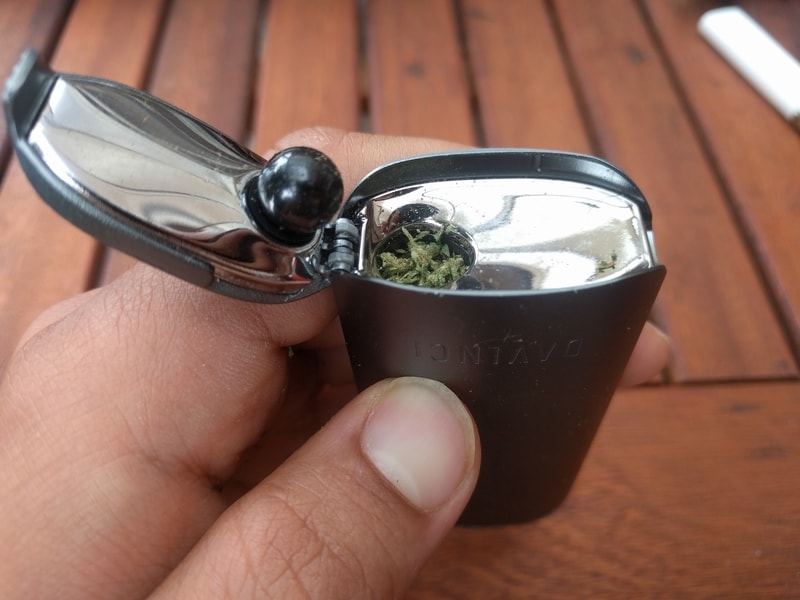 A conduction vaporizer literally cooks your herb by means of a heated surface. A conduction vaporizer 'fries' your herb.
Your herb is in direct contact with the heated surface.
You could compare conduction heating inside a vaporizer to frying fish in a pan.
Conduction heating has a few main benefits:
It's a much easier heating method to incorporate into small portable vaporizers.
And related to that, it's a more robust and reliable heating method in portable vaporizers.
Conduction vaporizers usually last longer and have fewer defects than convection vaporizers.
But there are more differences.
What Are the Differences?
Convection Vapes Taste Slightly Better
Why does vapor produced with convection heating taste better?
It's because hot air is much gentler on the compounds inside your herb than direct contact with a heated surface.
Contact of hot air with your dry herb creates a slightly different reaction than contact of a heated surface.
This difference in reaction is exactly what creates the difference in taste.
Conduction vaporizers boil more terpenes more quickly, leading to a good taste only the first few hits. Convection vaporizers are gentler and boil terpenes more gradually.
But a heated surface cooking your herb like you get with a conduction vaporizer, also creates a slightly stronger reaction, creating slightly more byproducts that can influence the taste.
Convection heating is slightly cleaner than conduction heating.
Just look at how much by-products frying food creates vs baking food in a hot air oven. Something similar goes on when you compare conduction vs convection heating in vaporizers.
Convection Vapes Are Slightly More Efficient
Convection heating is also more efficient than conduction heating.
This is related to the fact that a conduction vaporizer continuously cooks your herb, whether you're drawing vapor or not.
The bowl or herb chamber IS what's heating your herb. Once it's on, it's on, and it will keep cooking your herb as long as it's on. Whether you're inhaling vapor or not, a conduction vaporizer keeps producing vapor. This wastes at least some cannabinoids.
With most convection vaporizers, you pull hot air over your herb, only when you inhale. So you're not continuously cooking your herb. This process wastes less cannabinoids.
In practice, if you just keep inhaling vapor from your conduction vaporizer until the bowl is finished, you won't waste much of your herb.
Conduction Vapes Emit a Slightly Stronger Smell
Frying generally emits a stronger smell than baking.
The exact same holds true for vaporizers.
A conduction vaporizers fries your herb, so emits a stronger smell than a convection vaporizer which bakes your herb.
The difference can be big depending on the specific vaporizer.
For example:
The Volcano emits only a very subtle smell. Mostly because all of the vapor stays within the balloon until you exhale. But exhaled vapor has a less strong smell than freshly produced vapor.
The PAX, on the other hand, emits a very strong smell. It's a 100% conduction vaporizer with a big bowl. And the bowl isn't air-tight. So while the PAX is continuously cooking your herb, it's also continuously emitting a smell.
https://www.herbonaut.com/does-vaping-weed-smell/
Most Convection Vaporizers Aren't 100% Convection
Most portable vaporizers that work with convection heating, also produce conduction and radiant heat.
Although some portable vaporizers get advertised as 100% convection, almost all of them are hybrid. Hybrid means a combination of convection and conduction.
Portable vaporizers are simply too small to be 100% convection heating. When you a portable vaporizer heats up, the whole device heats up, leading to at least some conduction heating.
So Which One Should You Get?
Today, I wouldn't let my decision depend on whether a vaporizer is convection or conduction.
Although not as clean as 100% convection vaporizers, today's conduction vaporizers have great vapor quality.
And although not as efficient as 100% convection vaporizers, today's conduction vaporizers don't waste that much herb.
Most portable vaporizers are hybrid anyway.
And desktop vaporizers are always convection.
When choosing a vaporizer ask yourself more important questions than:
Is it conduction or convection?
For example:
When we review vaporizers, the following metrics have the most weight:
extraction speed,
and long-term reliability.
But maybe you care more about efficiency.
The bottom line:
Choose your vaporizer based on other metrics than whether it's conduction or convection.
Conclusion
Although many years ago, conduction vaporizers were inferior to convection vaporizers…
Today conduction vaporizers only have slightly worse vapor quality and only slightly worse efficiency.
When it comes to portable vaporizers, most so-called convection vaporizers are hybrid anyway.
When choosing a vaporizer, look at more important metrics than whether the vaporizer is conduction or convection.
What's Next
More vaporizer guides: