If you've been struggling to find clear information on how to use CBD oil, the tips in this guide will help you find the most effective ways.
We analyzed over 40 scientific articles to look for dosage guides and optimal methods of use. Plus, we reviewed over 50 CBD oils to see what doses and methods worked best for us.
The results we found are a must-read for anyone who wants to maximize the benefits that CBD oil has to offer.
Keep reading!
Table of contents:
Using CBD Orally
Using CBD Sublingually
Methods for Increasing CBD's Bioavailability
Vaping CBD Oil
How Much CBD Oil Should You Take?
How to Take CBD Oil Orally and The Benefits
The biggest benefit of using CBD orally is that you can take it closest to how nature intended it to be taken.
This means you need to use a full-spectrum CBD oil that contains a wide variety of cannabis-derived:
Cannabinoids;
Terpenes, and
Flavonoids.
This isn't some woo-woo stuff.
Various studies indicate that CBD is more effective when taken together with other cannabis- or hemp-derived compounds (1).
And according to some studies, some effects attributed to cannabinoids occur only when they're taken together with other cannabis-derived compounds (2). This specific effect is called 'the entourage effect' by researchers.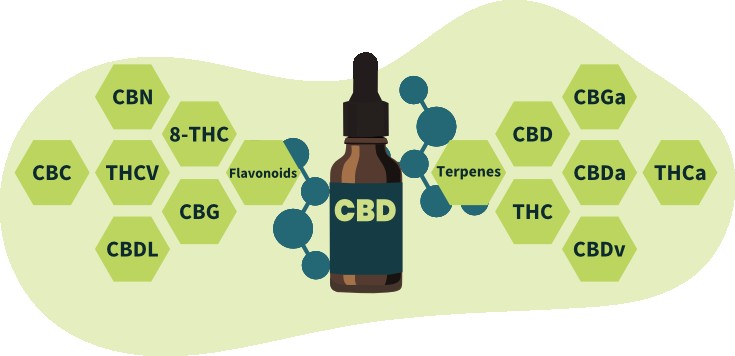 Although hundreds of studies have found that CBD as an isolated compound is greatly beneficial for your health, to increase its potency and reduce its side effects, there's a strong scientific foundation for taking it as part of a full-plant extract that contains many additional cannabis-derived compounds.
There's even practical evidence supporting this theory.
A recent study found that epilepsy patients who used CBD together with various other cannabis-derived compounds reported an effective dose of CBD (in mg) that was 4-times less than patients that used a CBD-only product (3). The study also found that the first group also reported fewer side effects.
What's the bottom line?
Currently, CBD products that qualify as 'full-spectrum' or 'whole-plant-extract' are all products that are intended to be taken orally.
Therefore the biggest benefit of taking CBD orally is that you have the possibility of taking it together with all other cannabis-derived compounds. This may result in better effects and fewer side effects.
How to Take CBD Sublingually and the Benefits
To take CBD sublingually, you put a few drops of tincture under your tongue and leave them there for at least 60 seconds.
The mucous membrane beneath your tongue stands in direct connection with your bloodstream. Any substance that easily dissolves in saliva can be taken sublingually, and directly diffuses into the bloodstream.
CBD is thought to, at least partially, pass through the mucous membrane beneath your tongue.
There are two main benefits of this method
1. First Benefit: Avoiding the 'First-Pass-Effect'
In theory, the main benefit of taking CBD sublingually is the following:
You partially avoid the 'first-pass effect'.
The first-pass effect refers to the metabolization and degradation of drug compounds and other substances in the gastrointestinal tract and liver before they reach the bloodstream. In the case of CBD, metabolization in the gastrointestinal tract and liver leads to loss of potency.
However, different studies showed that there was no significant difference in peak plasma concentrations when taking CBD sublingually compared to simply swallowing it in the form of an oral solution/capsule (4).
The same studies showed there was less variability in peak plasma concentrations of CBD when taking it sublingually or in the form of an oromucosal spray compared to simply swallowing an oral solution.
This indicates that although CBD's availability isn't significantly increased when taken sublingually, you'll get more consistent results when taking it sublingually.
2. Second Benefit: Quicker Effects and More Consistent Results
Another benefit of taking CBD sublingually is that the effects will be felt quicker compared to when you simply swallow it.
If CBD has to go through the gastrointestinal tract and liver, the time before it reaches your bloodstream can be up to 4 hours.
Various studies found that taking CBD sublingually resulted in faster effects when it's simply ingested orally (5).
However, both methods were slower to produce effects compared to smoking/vaping or taking CBD in a pro-nanoliposphere formulation (6, 7).
Keep in mind that when taking CBD oil sublingually, it's still recommended to swallow it after. This way you ensure that you get the benefits of all the compounds found in your CBD oil, even the ones that might not be very susceptible to sublingual absorption.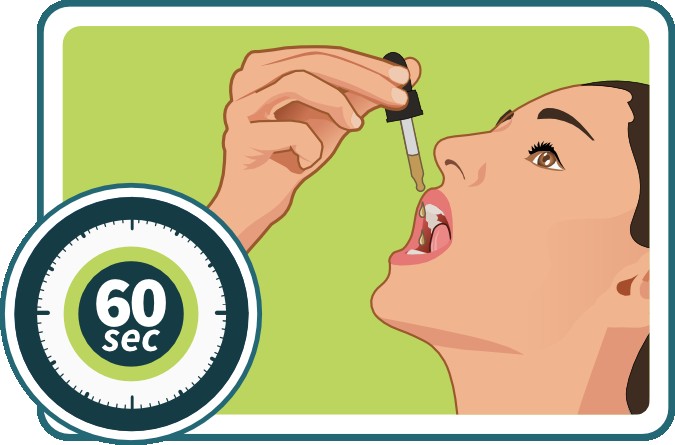 Methods for Increasing CBD's Bioavailability When Taken Orally/Sublingually
When you take CBD through oral ingestion or sublingually, there are ways to increase its bioavailability.
When you use these methods, you'll get stronger effects from the same dose and therefore will get value for your money.
1. Dietary Lipids Increase Bio-Availability of CBD Taken Orally
Although most manufacturers add edible oils to their formulations, when taking CBD through oral administration (sublingual and swallowing), we recommend taking it with a teaspoon of olive oil (or any other healthy and edible oil for that matter).
Here's why:
Recent research has shown that CBD has a higher bio-availability when taken together with other dietary lipids like olive oil (8).
2. Taking CBD Orally in a Fed-State Increases Bio-Availablity
One phase 1 clinical trial found that taking CBD orally in a fed state compared to a fasted state increased both (9):
Total maximum measured plasma levels, and;
The time it stays in the blood.
This indicates that for optimal absorption of CBD, you should take it after eating a big meal that contains at least some fat.
3. Unheated CBD Has Better Uptake and Metabolism vs. Heated
One study found that peak plasma concentrations of CBD were 4-times higher when the cannabis extract was taken in its unheated form (10).
The unheated extract contained:
A much higher concentration of CBDA than the heated extract, and;
A lower CBD concentration than the heated extract.
In other words the CBDA:CBD ratio was higher in the unheated extract.
CBDA is the precursor of CBD. It's the acidic form. And although CBDA is associated with health benefits as well, 95% of research is about CBD and NOT CBDA. The health benefits associated with CBD don't automatically extend to CBDA.
When talking about CBD oils, unheated extracts are very rare, but cold-ethanol-extracted and subcritical CO2-extracted CBD oils sometimes are sold in their unheated form.
Other names for this type of product are 'raw CBD oil', 'raw CBD extract'.
How to Use CBD with a Vaporizer and The Benefits
First, it's important to mention:
Although some CBD oils can be vaped, most edible oils are not suitable for vaping.
When you inhale edible oils over an extended period, you risk getting exogenous lipid pneumonia (11). This is an inflammatory lung disease that in some cases causes severe damage to your lungs.
That's why when you want to vape CBD, you have to make sure that your product is specifically manufactured to be vaped.
In general, unless explicitly stated that your CBD vape oil is edible as well, I don't recommend 'eating' it. It may be filled with chemical compounds not suited for human consumption.
The First Benefit: Immediate Effects
The main benefit of vaping CBD is that you'll feel the effects very fast and sometimes even immediately. Compare this to taking it orally, which can take 4 hours before you feel any effect.
The Second Benefit: Higher Bioavailability
Another benefit of vaping CBD is that it has a higher bio-availability than eating it, meaning, theoretically, you'll need fewer milligrams to feel the same effect.
However:
Earlier we saw there's scientific evidence supporting the idea that CBD is more potent taken together with all the other hemp-derived compounds. Currently, there are CBD vape oils that contain these other hemp-derived compounds in high concentrations.
The Third Benefit: Discreetness
Another benefit of vaping CBD is that it's discreet. When you vape with a regular vape pen, no one will associate your vaping with CBD use. Vaping has become somewhat of a socially accepted behavior, and CBD doesn't have a particular smell, which means you can easily stay under the radar while you're puffing away.
The Downsides
The main downside of vaping CBD is that there aren't many vape products that contain other hemp-derived compounds in high concentrations.
These other hemp-derived compounds make CBD more potent, plus have uniquely beneficial effects of their own.
Another downside is that although vaping produces quick effects, the effects don't stay as long compared to taking CBD through oral ingestion.
For our current recommended CBD vape oils, check out the article below:
How Much CBD Oil Should You Take? Dosage Guidelines
It's important to note that because different methods of CBD oil consumption come with different levels of bioavailability, an effective dosage is also highly dependent on the method of use.
Add to that the fact that there are large differences between individuals in:
Metabolism, and;
Other physical characteristics like weight and body mass,
and you'll quickly understand why it's difficult to give a general dosage guideline for effective CBD oil use.
That said, based on the latest scientific research, we can come up with guidelines that have at least somewhat of a scientific basis.
The Maximum Known Dose of CBD That's Considered Safe
Currently, it's unknown whether you can overdose with CBD.
The maximum dose of CBD ever taken in a study, without any serious side effects is 1500mg (12).
Taking 1500mg of CBD means clearing a big bottle of CBD oil in a gulp. It's not meant to be taken in that way, usually, you drop 10-20 drops of CBD oil under your tongue. No one will ever recommend finishing a big bottle in a single gulp.
CBD Dose for Epilepsy
One study that looked at the effects of CBD on patients with epilepsy found that 200-300mg taken daily had a positive effect on the occurrence of convulsive crises in 7 of 8 patients (13).
One survey-based study that looked at CBD use among epilepsy patients found that 73% of patients, used a daily dose between 10–25 mg/kg. If you weigh 70kg, this amounts to 700-1500mg of CBD. As you can see this is a very high dose and for most people, it's financially impossible to use such large doses of CBD, without their health insurance backing them up.
Important to note here is that the patients in this study used purified CBD. sometimes called 'Isolate'. A recent study that looked at the differences in effects and doses between epilepsy patients that used CBD-rich Cannabis extract vs. purified CBD products (3), found that CBD-rich Cannabis extract not only was more effective in treating epilepsy symptoms …
But was more effective with a dose that's 4-times smaller than the reported average effective dose for purified CBD products.
The average daily dose reported by the patients for purified CBD was 25.3 mg/kg/day, while the average daily dose reported for CBD-rich Cannabis extract was only 6.0 mg/kg/day.
CBD Dose for Psychosis
There haven't been any large-scale studies that looked at the effects of CBD on psychosis in humans. And the few studies that looked at the effects of CBD on psychosis found limited evidence for its use.
For example, in a case study, a 19-year old woman with schizophrenia got a successful treatment with a dose of 1200 mg/day of purified CBD (14).
In another study that compared the effects of CBD vs. a traditional antipsychotic named 'amisulpride' (15), researchers found that a daily dose of 200mg CBD, increased stepwise by 200mg per day to a daily dose of 200 mg four times daily (total 800 mg per day), was as effective as the traditional antipsychotic medicine amisulpride. CBD also had a superior side-effect profile (fewer side-effects).
CBD Dose for Anxiety
A 2015 study that reviewed the results of 25+ human experimental, clinical, epidemiological, and chronic studies (16) found that the current evidence strongly supports the potential for CBD as a treatment for anxiety disorders at oral doses ranging from 300mg to 600mg.
There's especially strong evidence for CBD reducing experimentally-induced anxiety like public speaking tests, and for reducing social anxiety disorder.
Important to note here is that the respondents used a purified form of CBD and not a full-plant extract. This means, unfortunately, no dose recommendations can be given with regards to taking CBD in the form of a full-plant extract for anxiety.
CBD Dose for Pain
Most studies that found painkilling effects with cannabis-based medicines used a combination of both THC and CBD.  Unfortunately, the doses used in these studies can therefore not be translated to recommendations for a CBD-only dose.
There is however one recent study that found painkilling effects of CBD in some kidney transplant patients (17), with an initial dose of 100 mg/day and a progressive increase up to 300 mg/day (spread out over the day in smaller doses).
An interesting note here is that this same study found that more CBD is not always better. One of the patients experienced stronger painkilling effects with lower doses (it's unclear how much lower than 300 mg/d).
CBD Dose for Sleep
Studies that specifically looked at the effects of CBD on sleep in healthy patients are rare. Most studies that looked at the effects of CBD on sleep had subjects that suffered from conditions like PTSD or Parkinson's Disease and therefore the results of these studies bear little relation to the average person who's looking to use it for sleep.
That said, there's one study done in 1981 that looked at the effects of CBD on sleep in otherwise healthy insomniac volunteers (18).
The researchers tested 3 doses with purified crystalline CBD: 40mg, 80mg, and 160mg. The volunteers reported significantly less dream recall with all 3 doses (compared to placebo), which could indicate fewer sleep disruptions. With the dose of 160mg, all volunteers significantly increased the hours slept.
Important to note here is again that the researchers used a purified form of CBD, and it's possible that you'll get the same effects of 160mg of purified CBD when you take fewer mg in the form of full-plant cannabis- or hemp-extract.8
CBD Dose for General Health
Studies that look at the effects of CBD always look at the effects on a specific condition or the effects on the symptoms of a specific condition.
That said, CBD has strong anti-inflammatory and anti-oxidant characteristics. You don't need a specific condition to reap the benefits of CBD oil. Anyone can benefit from food with strong anti-inflammatory and antioxidant properties.
Our unscientific and unofficial recommendation for taking CBD oil for general well-being is 25mg, in the form of a full-plant extract/full-spectrum CBD oil.
What's Next…
Now that you've learned what's the best way to take your CBD, and learned what dosages of CBD oil potentially work best for specific conditions (based on the latest scientific articles), you have a better chance of using your CBD oil effectively.
If you're still looking to find a potent CBD oil, the ones in the article below have all submitted their oil to third-party analysis and offer certificates of analysis checking for contaminants like heavy metals and pesticides, sometimes even on a batch-by-batch basis:
If you're interested in a more convenient (but less potent) way to use CBD, check out our list of:
If you want to read up on the potential benefits of CBD oil, check out the article below where we review the most important scientific articles about the effects of CBD on health:
If you want to read a full consumer's guide on what CBD oil exactly is and what types are being sold (including their pros and cons), check out:
If you want to learn more about how it could be beneficial specifically for pain or anxiety, check out the articles below:
Scientific References:
Russo, E. B. (2011). Taming THC: potential cannabis synergy and phytocannabinoid-terpenoid entourage effects. British Journal of Pharmacology, 163(7), 1344–1364. https://doi.org/10.1111/j.1476-5381.2011.01238.x

Ben-Shabat, S., Fride, E., Sheskin, T., Tamiri, T., Rhee, M. H., Vogel, Z., . . . Mechoulam, R. (1998). An entourage effect: inactive endogenous fatty acid glycerol esters enhance 2-arachidonoyl-glycerol cannabinoid activity. European Journal of Pharmacology, 353(1), 23–31. https://doi.org/10.1016/s0014-2999(98)00392-6

Pamplona, F. A., da Silva, L. R., & Coan, A. C. (2018). Potential Clinical Benefits of CBD-Rich Cannabis Extracts Over Purified CBD in Treatment-Resistant Epilepsy: Observational Data Meta-analysis. Frontiers in Neurology, 9. Published. https://doi.org/10.3389/fneur.2018.00759

Millar, S. A., Stone, N. L., Yates, A. S., & O'Sullivan, S. E. (2018). A Systematic Review on the Pharmacokinetics of Cannabidiol in Humans. Frontiers in Pharmacology, 9. Published. https://doi.org/10.3389/fphar.2018.01365

Guy, G. W., & Robson, P. J. (2004). A Phase I, Double Blind, Three-Way Crossover Study to Assess the Pharmacokinetic Profile of Cannabis Based Medicine Extract (CBME) Administered Sublingually in Variant Cannabinoid Ratios in Normal Healthy Male Volunteers (GWPK0215). Journal of Cannabis Therapeutics, 3(4), 121–152. https://doi.org/10.1300/j175v03n04_02

Devinsky, O., Kraft, K., Rusch, L., Fein, M., & Leone-Bay, A. (2021). Improved Bioavailability with Dry Powder Cannabidiol Inhalation: A Phase 1 Clinical Study. Journal of Pharmaceutical Sciences. Published. https://doi.org/10.1016/j.xphs.2021.08.012

Cherniakov, I., Izgelov, D., Domb, A. J., & Hoffman, A. (2017). The effect of Pro NanoLipospheres (PNL) formulation containing natural absorption enhancers on the oral bioavailability of delta-9-tetrahydrocannabinol (THC) and cannabidiol (CBD) in a rat model. European Journal of Pharmaceutical Sciences, 109, 21–30. https://doi.org/10.1016/j.ejps.2017.07.003

Zgair, A., Wong, J. C., Lee, J. B., Mistry, J., Sivak, O., Wasan, K. M., Hennig, I. M., Barrett, D. A., Constantinescu, C. S., Fischer, P. M., & Gershkovich, P. (2016). Dietary fats and pharmaceutical lipid excipients increase systemic exposure to orally administered cannabis and cannabis-based medicines. 

American journal of translational research

, 

8

(8), 3448–3459.

Stott, C. G., White, L., Wright, S., Wilbraham, D., & Guy, G. W. (2012). A phase I study to assess the effect of food on the single dose bioavailability of the THC/CBD oromucosal spray. European Journal of Clinical Pharmacology, 69(4), 825–834. https://doi.org/10.1007/s00228-012-1393-4

Eichler, M., Spinedi, L., Unfer-Grauwiler, S., Bodmer, M., Surber, C., Luedi, M., & Drewe, J. (2012). Heat Exposure ofCannabis sativaExtracts Affects the Pharmacokinetic and Metabolic Profile in Healthy Male Subjects. Planta Medica, 78(07), 686–691. https://doi.org/10.1055/s-0031-1298334

Marchiori, E., Zanetti, G., Mano, C. M., & Hochhegger, B. (2011). Exogenous lipoid pneumonia. Clinical and radiological manifestations. Respiratory Medicine, 105(5), 659–666. https://doi.org/10.1016/j.rmed.2010.12.001

Hunt, C. A., Jones, R. T., Herning, R. I., & Bachman, J. (1981). Evidence that cannabidiol does not significantly alter the pharmacokinetics of tetrahydrocannabinol in man. Journal of Pharmacokinetics and Biopharmaceutics, 9(3), 245–260. https://doi.org/10.1007/bf01059266

Cunha, J. M., Carlini, E., Pereira, A. E., Ramos, O. L., Pimentel, C., Gagliardi, R., . . . Mechoulam, R. (1980). Chronic Administration of Cannabidiol to Healthy Volunteers and Epileptic Patients. Pharmacology, 21(3), 175–185. https://doi.org/10.1159/000137430

Zuardi, A. W., Morais, S. L., Guimarães, F. S., & Mechoulam, R. (1995). Antipsychotic effect of cannabidiol. 

The Journal of clinical psychiatry

, 

56

(10), 485–486.

Leweke, F. M., Piomelli, D., Pahlisch, F., Muhl, D., Gerth, C. W., Hoyer, C., . . . Koethe, D. (2012). Cannabidiol enhances anandamide signaling and alleviates psychotic symptoms of schizophrenia. Translational Psychiatry, 2(3), e94. https://doi.org/10.1038/tp.2012.15

Blessing, E. M., Steenkamp, M. M., Manzanares, J., & Marmar, C. R. (2015). Cannabidiol as a Potential Treatment for Anxiety Disorders. Neurotherapeutics, 12(4), 825–836. https://doi.org/10.1007/s13311-015-0387-1

Cuñetti, L., Manzo, L., Peyraube, R., Arnaiz, J., Curi, L., & Orihuela, S. (2018). Chronic Pain Treatment With Cannabidiol in Kidney Transplant Patients in Uruguay. Transplantation Proceedings, 50(2), 461–464. https://doi.org/10.1016/j.transproceed.2017.12.042

CARLINI, E. A., & CUNHA, J. M. (1981). Hypnotic and Antiepileptic Effects of Cannabidiol. The Journal of Clinical Pharmacology, 21(S1), 417S-427S. https://doi.org/10.1002/j.1552-4604.1981.tb02622.x