Today you're getting the results of our month-long review of the Firefly 2, including its update based on 2+ years of using it. We tested the Firefly 2 on every possible metric a vaporizer can be tested on:
Vapor quality;
Battery-life;
Draw-resistance;
Efficiency, and many other metrics which you'll learn about today.
You'll also get an easy comparison table to compare the Firefly 2 to its 2 biggest competitors.
The best part? You're getting simple but effective tips to optimize the performance of the Firefly 2.
Firefly 2 Review Summary
Features
Size: 5.1(h) x 1.4(w) x 0.96(d) inches / 12.9(h) x 3.5(w) x 2.4(d) cm
Weight: 140g ( = 4.9 oz / 0.3 pounds)
Battery-Life: 5ish bowls with 12ish draws
Heating System: Convection
Draw-Resistance: High
Bowl-Capacity: 0.15 grams
Heat-Up Time: 10 seconds
Materials Outside: Die cast magnesium
Material Inside: Gorilla glass
Warranty: 2 years
Pros and Cons
Best vapor quality (pure taste and smooth vapor)
Works with pinches of herb (0.05 grams), great for micro-dosing
Great vapor quality, even after first few hits
Quick and easy to clean
Quick heat-up time (10 seconds)
Learning curve and high draw-resistance
Size and density of clouds unimpressive
Gimmicky app
View at:
Design (8)
Holding the Firefly 2 in your hand, you'll quickly realize what an elegant and sleek portable vaporizer the Firefly 2 is. It has 'quality' written all over it.
From the lightweight, die-cast magnesium body, to the well designed magnetic lid, everything about this vaporizer feels well thought out.
Even the gimmicky touch sensors with which you operate the unit feel intuitive, and work surprisingly well.
The inside of this vaporizer is highly premium as well. Its vapor path is fully made from gorilla glass. This is unique, I don't know any other portable vaporizer with a gorilla glass vapor path, AND protects its glass vapor path with a sturdy metal shell.
The Firefly 2 shows a glass vapor path and sturdiness can actually go hand in hand.
Portability (7)
Size & weight
While the original Firefly was a bit too large and especially too heavy to be a true pocket-vape…
Firefly Vapor not only reduced the size of the Firefly 2 by 33% but reduced the weight by a whopping 55%, compared to its predecessor.
How did they do this?
They basically replaced the stainless steel body of the original Firefly with a body made of die-cast magnesium, which obviously is more lightweight than stainless steel.
So how big and heavy is the Firefly 2?
It's bigger than the PAX 2 but smaller than the MIGHTY vaporizer, so its size is close to that of the Arizer Air basically (it's more portable than the Arizer Air though because there's no glass mouthpiece sticking out).
Its weight is 140g, which is more than acceptable for a portable. While the original Firefly kind of felt like a burden in your pocket (0.53 lbs / 240 g), the Firefly 2 feels alright in the pocket. Not as lightweight as the PAX 2 for example, but it doesn't feel a big burden taking up all the space in your pocket. I actually can fit it in the same pocket as my phone (Nexus 5X).
So although it's not the most stealthy or discreet vaporizer in terms of its size, it won't stand out like a sore thumb when you pull it out either.
And the point is:
You won't have to pull the Firefly 2 out for a long time, because depending on your temperature setting, its heat-up time is 5-10 seconds (yes you read that right).
Discreetness of design
Its design and the way you hold it while inhaling also give the Firefly 2 extra points on the discreetness scale. People have asked me if I was testing my alcohol percentage while using the Firefly 2.
People don't really associate the size, shape, and operation of the Firefly 2 with vaping weed.
Smelliness
Now:
You might be afraid of weed odors coming off of your vaporizer…
Keep calm…
With the Firefly 2, you don't have to be afraid if you keep the lid closed. If you open the lid, it's smelly like any other vaporizer with an open bowl.
But with the lid closed, the Firefly 2 is, in fact, the LEAST smelly portable vaporizer I've ever tried, especially during use.
So even from a smell-perspective, it's super stealthy and discreet.
Battery life
The battery life is average. I usually get around 5 bowls with 12+ draws per bowl (these are full bowls). The batteries are swappable and you get an extra battery when you purchase your Firefly 2. That's definitely a big plus.
Safety (5)
The heating element and air path
While the original Firefly had a stainless steel vapor path, Firefly Vapor decided (except for the plastic mouthpiece) to design the second version of their vaporizer with a 'mostly glass' vapor path.
Although the vapor path is mostly glass, the heating element isn't encapsulated by glass. In fact, the heating coil will come in direct contact with the air that will be used to heat up your herb.
This means that although a large part of the vapor path is glass, the most important part, the heating element, is made from an unspecified combination of metals.
In this day and age, we expect more transparency from a vaporizer manufacturer.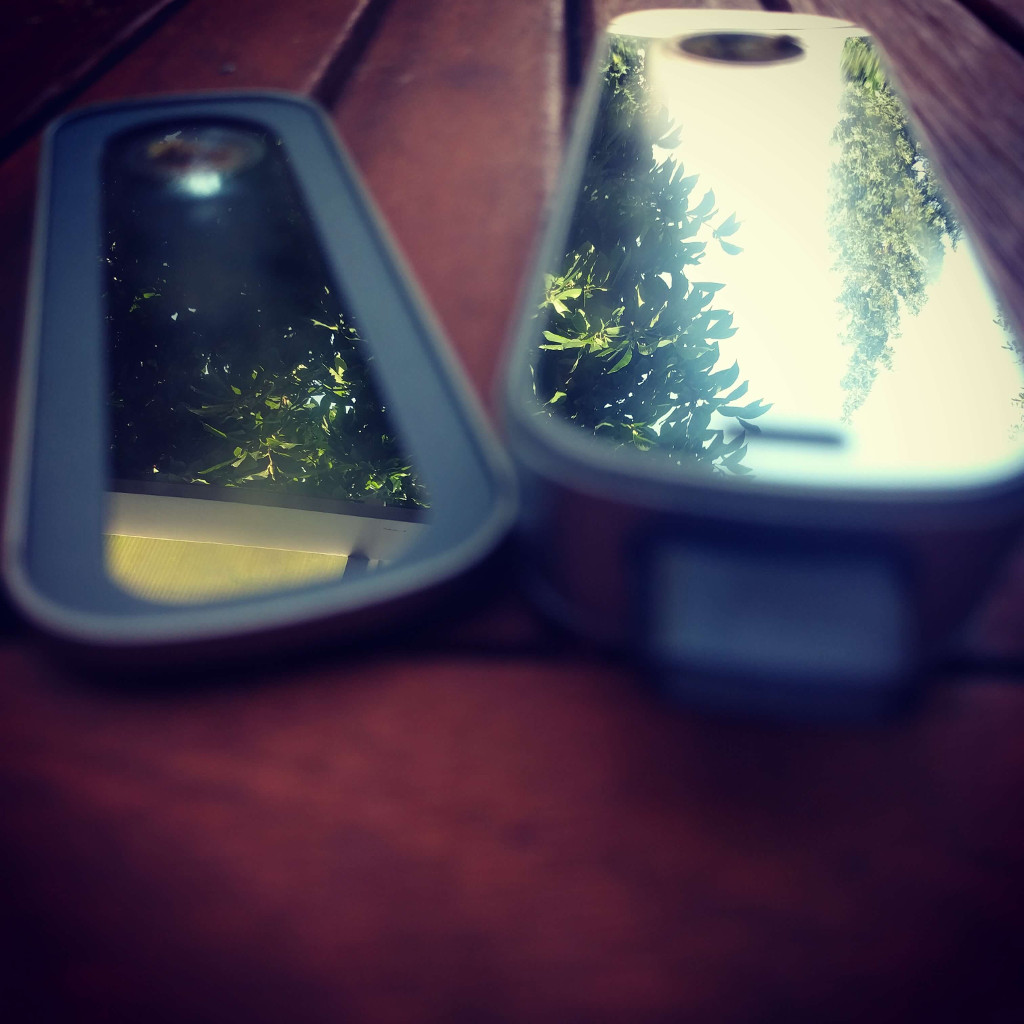 Nature reflects on the gorilla glass of the FF2
We are the biggest fan of glass in vaporizers and if I had the power, EVERY vaporizer would have a full glass air path and a glass-encapsulated heating element. The Firely 2 unfortunately, can't be qualified as such. You can read here why glass is the most preferred material in any vaporizer air path from a safety standpoint.
Separation air path and electronics
One safety concern that keeps popping up with any vaporizer, is the concern about the air that you inhale passing over the electronics of your vaporizer.
A teardown of the Firefly 2 showed that the air path isn't separated from the electronics. In practice, it's hard to tell whether hot air will pass over the electronics, but it looks like cold air at least can.
If you're looking for a safer choice in this regard I recommend the MIGHTY or the CRAFTY+.
Potency (7.5)
Potency is one area where the Firefly 2 is not in the absolute top ranks.
Although it's a 100% convection vaporizer and does produce vapor which is of great potency, it won't produce the clouds of a MIGHTY or CRAFTY for example (then again which portable vaporizer does?).
If you're a cloud chaser the Firefly 2 is not your best option.
Now:
If you're not a cloud chaser and don't necessarily need your vaporizer to hit you like a truck, the Firefly 2 will be good enough for you.
It gets me where I want to be 100% of the time (but I don't have a high tolerance).
This vape medicates me really, I mean really well, with a small amount of herb.
Tip: I noticed with the FF2 especially, if you have moist herb, you tend to get whispy hits. Always try to use well cured and well-dried herb.
Tip: Depending on the weed strain your vaping, you might or might not get visible vapor depending on your temperature setting and moisture of your herb. Set the temperature higher and give your Firefly 2 a couple of hits before it starts producing visible vapor.
Tip: Sometimes you just don't get a lot of visible vapor with the FF2. An easy way to check if you're getting the goods out of your herb is to check the color of your herb after 5-6 proper hits. If it still has the same color as when you put it in, there might be something wrong with your unit. Especially if you get this a lot.
Tip: Remember to draw for at least 10 seconds, with quite some power.
Tip: Vapor doesn't have to be visible for you to feel it.
Flavor (10)
Vapor quality is where the Firefly 2 truly shines.
This is the BEST tasting portable vaporizer I've ever tried, PERIOD. The flavor is so pure and unadulterated, really, you will be tasting the herb as it's intended to be tasted.
The flavor it produces is not only extremely flavorful but extremely smooth as well. Even on the highest temperature setting (no I don't mean concentrate setting, NEVER use the concentrate setting with dry herb) the vapor doesn't have any harshness to it.
Its long vapor path does seem to be one of the biggest factors to this, it seems to act as a natural cooling mechanism.
But the two (2) main design decisions that make the Firefly 2 the BEST tasting portable vaporizer are the following:
100% convection-style heating;
An all-glass air-path (except for the plastic mouthpiece).
Convection-style heating simply is best if you want pure unadulterated flavor. And glass is the most inert material that can exist in a vaporizer. Any other material in your vapor path will alter the taste of your herb slightly at the very least.
Efficiency (8)
On-demand and 100% convection
Being a 100% convection, on-demand vaporizer, the Firefly 2 is extremely efficient by its core design.
Let me explain:
On-demand means your heating element is only active while you're pushing the touch sensors. And since The Firefly 2's heating mechanism is 100% convection based (your herb will get heated through means of hot air), your herb will only be exposed to hot air while your fingers are on the sensor AND you're drawing. The hot air only gets pulled over your herb IF you draw.
You simply cannot waist any herb in a system like this.
This is exactly the opposite of a conduction session-vape like the PAX 2:
In such a system your herb gets directly cooked by being exposed to the heated surface of the chamber in which it resides. Whether you're drawing or not, your herb gets cooked. Plus, since its session-based, the heating chamber stays warm for at least a couple of minutes, which means you either quickly finish your bowl or waste herb.
Bowl size
Now add to this the fact that it has a small bowl (capacity of 0.15 grams)…
…and you got yourself what I would say is the most efficient portable vaporizer (butane vapes not included and read here why small bowls tend to be more efficient).
The minimum amount I've been able to get a satisfying hit and get medicated with (keep in mind I do have a low tolerance) is 0.05 grams. This means one (1) hit can get me medicated. No, it won't propel me into unchartered psychedelic territories, but I will feel it for sure!
Tip: An easy way to enhance your unit's performance with small amounts of herb is to put the concentrate pad, or any other screen that fits in the bowl, on top of your ground herb to compress it (keep in mind this does increase draw-resistance, so you'll have to draw a little harder).
Ease of Use (7)
Learning curve
While the original Firefly had quite steep a learning curve…
Once you've had the learning curve down, you would have supreme control over the vapor quality your unit produced.
Anyway, here's the deal:
With the Firefly 2, you still have a learning curve, but it's less.
You still have to take care of your drawing pattern:
Don't draw weakly, draw with some force;
Draw at least 10 seconds to get proper vapor production.
But it has definitely improved over the original Firefly where how you had to draw was also closely related to the way you used the heating mechanism. With the Firefly 2, this dependency is removed because there really is only one simple and reliable way to use the heating mechanism:
Choose 1 of the 5 heat settings with the app (more on that later), just keep your fingers on the heating-sensors on the side of your unit, until the green led on top of your unit stops blinking. When it stops blinking you just draw at a consistent pace for at least 10 seconds.
Now with regards to stirring:
It's still useful to stir your bowl every couple of draws, but even without stirring you will get a good extraction. To get a good extraction though, it's important that you fill up the bowl properly by spreading your herb so that it really covers the bottom of your bowl. And if you use small amounts of herb (like 0.05 grams), to really use a screen to compress your herb a little.
What's the bottom line?
There's still a learning curve but it has drastically improved over the original Firefly.
Draw resistance
This is where the Firefly 2 kind of sucks.
It definitely does have quite a bit of draw resistance. You will have to draw quite hard and because the vapor is so cool even on the higher temperature settings (which is a good thing honestly), sometimes you will be drawing for 10+ seconds without physically feeling a lot of vapor.
It gets better:
Even though sometimes you might not physically feel the vapor coming out of your firefly 2, you WILL get medicated from it.
The Firefly app
Firefly Vapor decided to develop an app that connects your phone to the Firefly 2 via Bluetooth.
An app sounds really fancy, but not necessarily when you NEED it to have your vaporizer be fully functional.
They made it so that you will need the app just to change the temperature settings. I find this annoying and feel like they should've included this on the vaporizer itself.
You can also check the battery status, but this is bugged (it's always full in my app). Plus you can change the way your unit heats up (both sensors, the left sensor only, the right sensor only).
The good thing with apps is they can keep being developed and improved, and Firefly Vapor already stated they intend to do so ;-).
Maintenance/cleaning downtime
Cleaning the Firefly 2 is super fast and easy.
All you have to do is brush out your bowl after all of your herb is vaped (I would say after your session here, but you can easily leave your herb in the bowl after a couple of draws if it's not finished yet and continue vaping at a later point) and clean the bowl and the vapor path with some ISO alcohol wipes.
I would also advise to periodically clean the mouthpiece, especially the screen that's in it (every 10 bowls is a good benchmark).
And that's it…no deep cleaning needed with the Firefly 2, as long as you maintain your unit the way described above.
Temperature Control (9)
The Firefly 2 has an interval based temperature-control system that will suffice for anyone but the most extreme temperature control-nerds.
With 5 temperature settings for dry herb and one for concentrates, you probably won't have a hard time finding a setting that suits your needs:
| FF2 TEMPERATURE SETTING | TEMPERATURE IN FAHRENHEIT & CELSIUS |
| --- | --- |
| 1. LOW | 340°F / 171°C |
| 2. MEDIUM-LOW | 360°F / 182°C |
| 3. MEDIUM | 380°F / 193°C |
| 4. MEDIUM-HIGH | 400°F / 204°C |
| 5. HIGH | 420°F / 215°C |
| CONCENTRATES | 500°F / 260°C |
Keep in mind these temperature settings are only controllable with the Firefly Android and iOS app.
Here's the deal with these temperature settings:
You won't have full control over your temperature, thus you also won't have absolute full control over your high (read here about how temperatures affect the medical effects of your vapor).
But you will have a good enough control to tailor your high pretty well to your specific needs.
And if you're efficiency-obsessive, five (5) temperature settings are enough to start at the lower ranges then work your way up. You can read here why starting at the lower temperature ranges then working your way up is the most efficient way to vape your herb.
The heat-up time is where the FF2 truly shines: 10 seconds is all it needs to produce delicious vapor. This is really quite insane because it's a full convection vaporizer.
What this means for you is the following:
Getting a quick couple of hits in, is extremely easy with the Firefly 2, and they will be of extremely high quality.
THIS is on-demand vaporization at its finest.
Reputation & Reliability (8)
Firefly Vapor is one of the youngest vaporizer manufacturers around. The inception of their first vaporizer, the Firefly, dates only back to 2013. In that short period from then until now, they build up a mixed reputation.
For starters, they did design a revolutionary vaporizer which basically was any connoisseurs dream.
Here's what I mean:
Extremely tasty, cool and potent vapor blessing your taste buds and lungs in just 10 seconds, without wasting any herb.
Designing a vaporizer with these qualities, you can't help but build a great reputation in the vaporizer world.
But there were issues as well:
Mainly faulty and unreliable battery performance.
Their customer service was decent though and they usually were prepared to replace any faulty battery. Also, there were heating issues in the sense that some units had an unreliable heating mechanism.
The warranty covered all of these issues, but it cannot be denied that the original Firefly was not a very reliable vaporizer.
It seems Firefly Vapor really took these complaints to heart when designing the FF2:
It has been a short time since the FF2 came out (April 2016 for the public). I've had mine for 2.5 years now (in 2019). I haven't encountered any problems yet, but I have to admit that because it's not always easy to get the same performance every time with the Firefly 2, I've been using mine less and less. Lurking on fuckcombustion.com you will find a few users with battery issues and problems with the lid not fully hermetically sealing their unit, resulting in wispy vapor production.
Here's what you have to understand:
With the production of any vaporizer batch, there is bound to be a small percentage of faulty units. Unfortunately, this is simply the nature of manufacturing. The percentage of faulty units coming with the FF2 seems to be nothing out of the ordinary up until now.
So what if you happen to get a faulty unit?
Captain obvious says: even though it's annoying, you send it back and wait for a new one…if it happens to fall within the two (2) years of the warranty.
The Firefly 2 only has a 2-year warranty, which is quite short compared to the industry average.
Conclusion
The Firefly 2 is my go-to vaporizer if I'm feeling in a connoisseur's mood looking for those tasty hits, or when I just want to take 2-3 quick hits. I am flavor-Nazi and the flavor it produces simply is the best.
In terms of portability (size, discreetness, stealth-factor, battery-life) it has greatly improved over the original Firefly and can now qualify as a true pocket-vape.
Also, it medicates really well. No, it won't produce the clouds of a monster like the MIGHTY or CRAFTY. But it's potency is definitely good enough for me (remember that I have a low tolerance and for users with a higher tolerance the Firefly 2 might be lackluster).
The Firefly 2 is one of the most efficient vaporizers because it can produce good vapor with only 0.05 grams of herb.
There's a slight learning curve with the FF2 and you have to stir every couple of draws to really get the most out of it.
It does have quite a lot of draw resistance (borderline annoying). But its cleaning downtime is literally 1-2 minutes and you'll never need to do a deep cleaning, really adding to its ease of use.
I'll be honest with you:
The flavor, safety that an all-glass vapor path provides, and quick hits that an on-demand vaporizer like the FF2 provides, haven't made me look back to my other portable vapes when I first got the Firefly 2. But after the initial honeymoon period, I fell back more often on my favorite portable vaporizer of all times: the MIGHTY. With the Firefly 2, sometimes I can't produce good clouds and it's not always easy to tell why. A vaporizer like the MIGHTY is so consistent, that whatever you throw in it, it produces the same impressive clouds each and every time.
The Firefly 2 is still a good vaporizer, especially if you:
Don't really vape sessions often;
Don't in-your-face hard-hitting clouds, and;
Don't mind the draw-resistance
Alternatively, I recommend to check out the MIGHTY (not portable but very reliable) or CRAFTY (more portable, but has reliability issues). These vaporizers are extremely powerful and extremely free-flowing (no draw-resistance) and you won't give up much in terms of vapor quality (flavor and smoothness of vapor).
If you want to quickly compare the Firefly 2 to various other portable vaporizers, click here.
The Firefly 2 really is a connoisseur's vape: modest, extremely well-tasting hits available on-demand. It won't impress anyone looking for those hard-hitting clouds.
Where to buy the Firefly 2:
Tips and Tricks for the Firefly 2
How to grind your herb:
Use a coarse grind. A finger-grind is perfect. With a fine grind, you will clog the vapor path and especially the small holes in the mouthpiece. Or you will be eating your herb.
How to pack your bowl:
If you fill the bowl less than 50%, use the liquid pad to compress your herb;
At least cover the surface area of your bowl to get satisfying hits (for me this is with 0.05 grams).
How to draw:
Draw for AT LEAST 10 seconds;
Take large and deep breaths. Really breathe into your lungs and make sure to do it with power.
Stir your bowl:
Stir up your bowl every 2-3 draws.
How to get bigger clouds:
If you really want bigger clouds…you can remove the screen in the mouthpiece. If you happen to get herb particles in your mouth this way, use the concentrate pad on top of your bowl (make sure the bowl is only half full though).
How to get medicated with only 0.05 grams:
Use a finer grind than usual (finer than finger-grind, but not super-fine);
Cover your bowl with your herb;
Put the concentrate pad or any other screen that fits in the bowl, on top of your herb;
Continue as usual.