Although vaping cannabis doesn't smell as strong as smoking it, it still produces a noticeable smell.
But there are ways to reduce the smell of vaped cannabis.
Today, you will learn what type of weed vaporizers produce the least amount of smell. And also:
What you can do to reduce the smell with any vaporizer.
Keep reading!
Table of contents:
Difference in Smell Between Smoking vs Vaping Cannabis
What Vaporizers Produce the Least Amount of Cannabis Smell?
What You Can Do to Reduce the Smell with any Vaporizer
The Difference In Smell Between Vaping Cannabis vs Smoking It
Before we get into ways to reduce the smell of vaped cannabis, it's important to understand what makes up the smell of smoked or vaped cannabis.
The characteristic smell of cannabis is produced by specific combinations of various terpenes inside the plant. And whether you smoke or vape, this characteristic smell will always be there.
Now, here's the kicker:
Although both vaping cannabis and smoking it produces a characteristic cannabis smell, both the strength and quality of the smell are different in both cases.
Here's why:
When you smoke cannabis you literally burn the plant and this combustion process creates hundreds of toxic byproducts that all come with their unique smell.
And while vaping doesn't reduce the creation of these toxic by-products completely, it can do so by up to 90%.
This means that cannabis vapor has a significantly 'cleaner' smell than cannabis smoke. What you smell with cannabis vapor are mostly terpenes. With cannabis smoke, a large portion of the smell also is made up of the toxic by-products created by the combustion process.
This is also exactly the reason why cannabis smoke smells much stronger and lingers around for much longer. Tar, which is a by-product of burnt plant material, sticks on surfaces and fabrics, and if not removed can stay there for years.
Cannabis vapor doesn't contain any tar and has a much less potent smell because it lacks the majority of these toxic by-products. Cannabis vapor dissipates into the air significantly faster than smoke.
What Vaporizers Produce the Least Odor?
All vaporizers produce a smell, but some more than others. If smell really is important to you, look for a vaporizer with the characteristics explained below.
Session vs On-Demand Vaporizers
Generally speaking, session vaporizers produce a stronger smell than on-demand vaporizers, simply because of the fact that they cook your herb for longer periods of time. A session-vaporizers usually stays on for around 10 minutes, all the time cooking your herb.
An on-demand vaporizer only heats your herb in intervals of 5-10 seconds. Basically, it only heats up your cannabis when you click the heating button.
Now, because an on-demand vaporizer usually has a stronger heater than a session-vaporizer, the initial smell in the first minute or so, is still strong and can even be stronger than the first minute of a session vaporizer. But after 10 minutes, a session vaporizer will have created significantly more cannabis smell than an on-demand vaporizer.
On-demand vaporizers produce significantly less cannabis smell than session-vaporizers.
Classic example on-demand vaporizer:
VapCap M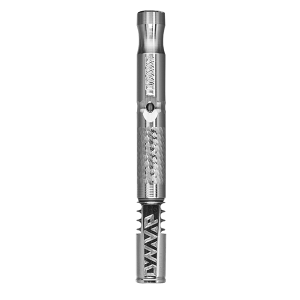 Conduction vs Convection Vaporizers
Conduction vaporizers create a slightly stronger smell than convection vaporizers. It's a bit similar to regular cooking: frying creates a stronger smell than baking in a hot-air oven. A conduction vaporizer 'fries' your herb and a convection vaporizer 'bake' your herb with hot air.
Convection vaporizers produce significantly less cannabis smell than conduction-vaporizers.
While there's a difference in smell between convection and conduction vaporizers, in my experience, this is the least significant factor in getting a vaporizer that produced the least amount of cannabis smell.
Classic example convection vaporizer:
E-Nano
The Oven
Vaporizers with a tightly closed oven (or herb chamber) will emit less of an odor than ovens or herb chambers that have open parts.
This, anyone can understand:
A closed herb chamber can't direct the vapor anywhere else than the next part of the vapor path. An oven that isn't tightly closed will leak vapor to other areas than your mouth.
Vaporizers with a tightly sealed oven produce significantly less cannabis smell than vaporizers with ovens that have open parts.
Classic example vaporizer with a tightly sealed oven: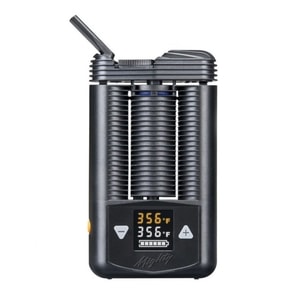 Vaporizer Finder: Answer a Few Questions and Let Us Find the Best Vaporizer for You in Less Than a Minute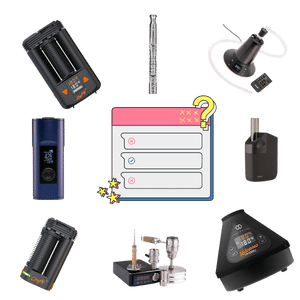 What You Can Do to Reduce the Smell With Any Vaporizer
Getting a vaporizer that's designed in a way to produce the least amount of smell is the first step in reducing cannabis smell.
The next step is making sure you use the guidelines below, independent of the vaporizer you have.
Avoid Vaping In a Closed Space
The first and most important advice I can give you with regards to avoiding smell is: never vape in a completely closed space. Even if it's your sleeping room, open a window. The better the flow of fresh air into your room, the less of a cannabis smell you'll have.
Even a small opening and small flow of fresh air can make a huge difference in how fast the vapor dissipates.
Mask the Smell
Now, if you're going to vape in a closed space anyway, there are ways to mask the smell. For example, one of the best ways to mask cannabis smell is with an essential oil like lavender oil.
You could also get lavender spray. While this method won't immediately get rid of the smell completely, it will significantly speed up the process of making your room cannabis-smell-free.
Keep Your Vaporizer Clean
Another important way to keep cannabis odor to a minimum with your vaporizer is to keep it clean. See, when you vape, cannabis resin sticks to various parts of your vaporizer.
This cannabis resin has a pungent smell and if it sticks to your vaporizer in large amounts…
Every time you pull out your vaporizer, it will lead to cannabis smell spreading through the area. That's the case even without you turning your vaporizer on.
What's Next
More vaporizer guides: