Today you're getting the results of our month-long review of R+R Medicinals CBD oil. We tested R+R Medicinals CBD oil on two subjective metrics:
But we also compared some objectifiable metrics like:
The transparency of the company;
Cannabinoid- and terpene-profile;
Cleanliness of the oil, and;
Price,
to other high-rated CBD oils that we've reviewed in the past.
After reading today's review of R+R Medicinals tincture, you'll exactly know if this is the CBD oil you should give a try, or whether there are better options for you.
R+R Medicinals Full Spectrum Tincture Review Summary
Features
CBD: 9.3%
THC: 0.233%
Total Cannabinoids: 10%
Terpenes: 0.3%
Total CBD-content: 2500mg/bottle
Price: 25.7mg CBD/$1, and 29.9mg hemp-extract/$1
Full-spectrum: Yes
Full-spectrum-ratio: For every 1mg of CBD you get 0.12mg of different cannabinoids + terpenes
Satisfaction Guarantee: 30 days
3th-Party lab-tested: Yes
Flavors: Mint and unflavored
Carrier-oil: MCT oil from coconut
Pros and Cons
­ True full-spectrum product
­ Made from organic Hemp
­ Best value for money tincture
Cannabinoid- and terpene profiles differ between batches
Ratings
Check current price at:
Potency and Effectiveness
The potency and effectiveness of a CBD product are related.
The more potent it is the more effective it usually is.
But what exactly makes a CBD product potent?
Of course, its CBD-content.
But that's not all…
We are interested in the full cannabinoid- and terpene-profile.
We want to see an as complete as possible extract of the hemp plant.
Hemp plants contain hundreds of beneficial compounds that work together with CBD.
Cannabinoid- and Terpene-Profile R+R Medicinals (Theoretical Effectiveness Rating)
When we look at the cannabinoid and terpene test-results of R+R Medicinals 2500mg Full Spectrum Tincture, we see that this is a full-spectrum CBD oil of the highest order: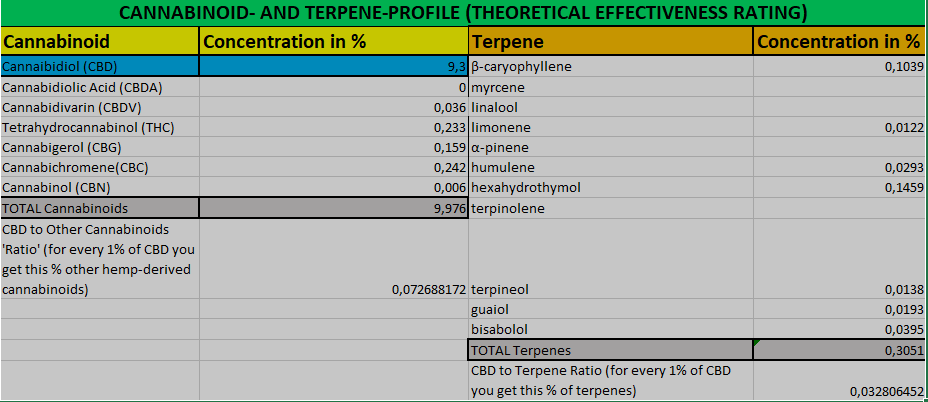 It not only has an extraordinary high CBD-content, but it has significant concentrations of other beneficial cannabinoids as well.
The most noteworthy cannabinoids that are present in especially high concentrations are CBG and CBC. Both of these cannabinoids have been associated with health benefits like anti-inflammatory and anti-oxidant effects.
We also see a THC-percentage of 0,233%, which is below the legal maximum, but high enough for you to fail drug tests. That being said, THC is associated with various health benefits as well, and at Herbonaut, we prefer to take CBD products that have some THC inside them.
It's important to mention that if you take large servings or know that you're sensitive to THC, it's possible to experience very subtle psychoactive effects, even with these low concentrations.
Therefore we always recommend starting with small servings, especially when it comes to CBD products that contain THC.
Its terpene-profile is better than 90% of CBD oils as well. With a total terpene-concentration of 0,3051%, this CBD oil is in the top 3 of all CBD oils we've reviewed, when we look at hemp-derived terpenes. There are CBD oils that have higher concentrations of terpenes, but these are usually added terpenes, not derived from the hemp plant.
Why does this matter?
Well, although terpenes are highly beneficial in general, hemp-derived terpenes are thought to have better synergy with CBD.
The only brand that produces CBD oils with a more favorable hemp-based terpene-profile is Receptra Naturals.
The bottom line?
When we look at this product's potency and effectiveness from a theoretical standpoint, we see that it's one of the most potent and effective CBD products you can get.
Our Test Results with the Product (Practical Effectiveness Rating)
At Herbonaut, we test A CBD product's effectiveness according to how well it improves:
Exercise-induced inflammation and pain;
Situation-dependent anxiety, and;
Sleep in general.
We always test any CBD product with 3 different persons. You can see our test results below:
As you can see, R+R Medicinals 2500mg Full Spectrum Tincture scored very high on all metrics.
We see that its high theoretical effectiveness rating is strongly backed by practical experience.
Sleep
This is how we test the effectiveness of CBD products for sleep improvement:
Take a dropper that approximately is the equivalent of 50mg CBD.
Keep a sleep diary (see below);
Document how well rested I feel the next morning (on a scale of 1 to 5).
How well-rested you feel the next morning is dependent on countless variables. This is a highly unscientific and subjective test. And we want to make sure you understand that we can't objectively 'prove' that one CBD oil is better for sleep than the other.
I don't have insomnia or major sleeping problems.
Now:
When it comes to sleep, the more CBD you take, the better your results will be.
Since the CBD- and cannabinoid-content can differ widely in serving-sizes between different brands and even between bottles of the same brand, comparing the effectiveness of servings would be like comparing apples and oranges.
To compare the effects of different products, we have to standardize the serving.
When it comes to sleep, we have standardized the serving for sleep with regular CBD oil to 50 mg. of CBD.
A serving-size of 50 mg CBD costs $2 with this product.
Exercise-Induced Inflammation
Exercise always leads to mild inflammation. Every workout, whether it's a modest or demanding workout, causes micro-damage to muscle-fibers.
Now:
This isn't actually all bad, mild inflammation promotes the recovery process of muscles.
But it also has a negative side. In some cases, exercise-induced inflammation is also thought to cause secondary muscle damage because it leaves the muscles in a longer state of inflammation.
Secondary muscle damage is the reason your muscles ache 1, 2, or even 3 days after your workout which is called delayed-onset muscle soreness (DOMS).
We have noticed that high-quality CBD oil can reduce DOMS.
Also in my situation, the cartilage in my left knee gets easily irritated when I do knee-heavy exercises. A good CBD oil helps lessen the inflammation and irritation in my left-knee quickly.
In my experience, full-spectrum CBD oils like the one from R+R Medicinals are most effective in reducing pain and inflammation. So it's not strange that we have rated the effectiveness of this oil when it comes to exercise-induced inflammation with 8 out of 10 points.
Situation-Dependent Anxiety
None of our CBD testers have chronic anxiety.
But all of us know exactly when we get situation-dependent anxiety:
For some of us, it's in high-pressure social situations. For me personally, I have arachnophobia (I have an irrational fear of spiders).
A good CBD oil significantly reduces anxiety, also in these specific situations.
Testing if my fear of spiders is less after taking CBD oil is relatively easy.
But what exactly is a high-pressure social situation?
Well, when testing CBD oil, sometimes we create these high-pressure social situations by giving each other 'tasks'.
For example:
We have tasks like:
Find a random group of 3+ people and tell a 2-minute story;
Ask a random girl out.
A high-quality CBD oil reduces the initial anxiety you feel when doing such a task. Therefore if a CBD oil doesn't reduce the anxiety in such a situation, we know it's not of the best quality.
R+R Medicinals scored an 8,1 (out of 10) on anxiety. This is much higher than the average CBD oil we've tested, but not the highest we have ever rated.
In general, we like full-spectrum CBD oils with relatively high levels of THC. Except when it comes to testing situation-dependent anxiety. This is where a relatively high THC-percentage can work against you. THC has been associated with anxiety. Although THC-levels in CBD oils are very low, if you're sensitive to THC, it can dampen to anxiolytic effects of CBD.
That being said, full-spectrum CBD oils with relatively high levels of THC consistently reduce anxiety more effectively than THC-free CBD oils. Therefore don't let relatively high THC-levels stop you from getting a full-spectrum CBD oil, whether you want to use CBD oil for anxiety or something else.
Click this link for a list of our current best CBD oils for anxiety.
Safety and Transparency
For safety and transparency, we refer to the R+R Medicinals general brand review page.
Taste
There are two different taste-options for R+R Medicinals CBD oil:
I highly recommend getting the mint-flavored option. It doesn't taste sweet, but good nonetheless.
R+R Medicinals adds MCT oil from coconut as the carrier oil and natural mint-flavoring to its hemp-extract.
It may not be the best-tasting CBD oil, but it tastes good enough that you'll look forward to taking it.
Price
This is where R+R Medicinals outclasses every other CBD oil:
Even though it belongs to the most effective and best quality CBD oils that we have ever reviewed, its price doesn't necessarily reflect that.
This CBD oil is more affordable than options that are of less quality.
To compare CBD oils we have to standardize the price.
At Herbonaut we standardize the price in the following two ways:
As explained before, to determine the price-rating of a CBD product, it's also important to know how many other (than CBD) hemp-derived compounds we get and for what price.
When we compare these two value-metrics, we also get a good idea of the 'full-spectrumness' of a CBD oil.
Let's take a look.
R+R Medicinals 2500mg Full Spectrum Tincture gets you:
25,7mg CBD per $1, and;
29,9mg hemp-extract per $1.
This is superb value for money and R+R Medicinals Tincture is currently rated as our 'best value for money CBD Oil'.
Go to the R+R Medicinals Website
Conclusion
R+R Medicinals 2500mg Full-Spectrum Tincture is the best value for money CBD oil you can get.
It has a wide variety of hemp-derived cannabinoids and terpenes in high concentrations.
While most full-spectrum CBD oils are expensive, R+R Medicinals is extremely affordable, without compromising on quality.
Get R+R Medicinals 2500mg Full-Spectrum Tincture, by clicking the link below:
Go to the R+R Medicinals Website
If you want to learn more about CBD or see our reviews of other CBD oils, check out the articles below:
R+R Medicinals Full-Spectrum CBD Tincture Ratings
Cannabinoid-profile

Terpene-profile

Our test-results

Transparency

Taste

Price/value